'DIL' - (Vikram - Laila)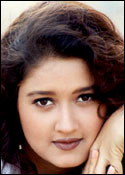 Vikram and Laila team together for the first time in a film titled 'Dil'. The film is produced by Poornachandra Rao who has to his credit 65 films, that include the Tamil 'Naan Sigappu Manithan', Adisaya Piravi', 'John Jani Janardhanan' and the Hindi 'Akhri Rastha' and 'Andha Kanoon'. It is after a long gap that the banner is venturing into the production arena with two films in Tamil - one with Vikram, as the hero, and the other with Ajit.
'Dil' is directed by Dharani and it is the director's second film. He had earlier directed the Mammootty-Napoleon starrer, 'Ethirum Puthirum', under the name of Ramani. With Vikram and Laila, others in the cast are, Nasser, Vivek, Vyapuri, Mayilsamy, Shukran, Pandu, Rajsekhar, Raviraj, Kalairani and Deepa Venkat from the small screen. Malayalam actor Mohanraj plays an important role. Stunt master Vijayan has a crucial role to play.
Playing the main villain is Ashish Vidhyarthy from Hindi films. This is Ashish's first film in Tamil. The actor is playing the villain in yet another film where Sharat Kumar is the hero. Ashish plays the role of 'Encounter Shanker' the villainous, trigger-happy cop. Says Ashish about his role, "I have to wear prosthetic make-up that makes me look quite grotesque. It takes an hour to put on. The eye really pains, but the role is worth it. Even after I remove the make-up, at times my eye forgets to bat. Working with Vikram was a pleasure. My favourite is Nasser, who is so unassuming for a man of his stature. I learnt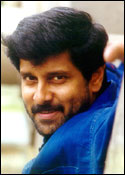 so much from him. Working with a Tamil unit was really educative. The work is fast, and they do it within the stipulated time and budget, unlike in Hindi films."
The shooting of the film is almost completed. It has editing by Lenin-Vijayan, dance choreography is by Kalyan; Rocky Rajesh has arranged the stunts, sets are designed by Maniraj and music is by Vidyasagar. The film introduces a new cinematograhper in Gopinath. Vikram has pinned his hopes in this film, what with his earlier one 'Vinnukkum Mannukkum', released almost a year after his successful 'Sethu', not doing as well as expected at the box office.