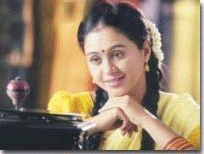 Actresses may come and actresses may go but Devayani goes on forever. With her scintillating performance in 'Kadhal Kottai', Devayani has carved out a niche for herself in the minds of filmgoers. She continues to sit pretty on the throne of their hearts as a result of the continual success of her films. She is masquerading in Tamil film industry as an unchallenged heroine. Her position is unassailable.

Her character 'Chellamma' in 'Bharathi' has catapulted her fame to great heights. She is brimming with joy on this score. Now she is awaiting to bask in the glory of the success expected from her next film, "Vinnukkum Mannukkum".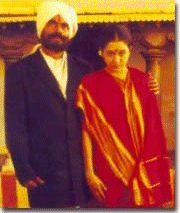 "I am traversing a triumphant and jolly period of time, as it is 'Devayani declares. "I have received raving reviews for having acted as Chellamma. Men of many positions, from officers to students come towards me on their own volition, to congratulate me on my success in depicting chellamma's character. Now only I am able to know the extent to which Tamilians love Bharathi". She is very jubilant while speaking about the movie, "Bharathi".

On questioning about "Vinnukkum Mannukkum", she tells, "I am my usual self in 'Vinnukkum Mannukkum'. Also the story is a village subject, I would be donning rich costume. With the success of that film, I hope to herald the beginning of 2001 A.D. with a happy frame of mind". Her eyes sparkle as she speaks exuberantly.





---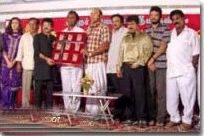 The Place was T. Nagar. The venue was Andhra Club. The occasion was the release of the Cassettes of the film, 'Thali Kaththa Kaliamman', produced by Sundar's Theatres. Some leading lights of Tamil Cinema like Sathyaraj, Prabhu, Pandiarajan, Kousalya, Kaeyar and K. Rajan were there to grace the occasion.

K. Rajan spoke at length detailing why he labors for the causes of film technicians. Sakthi Chidambaram, who directs the film, 'Mister Naradhar' under the banner of Sundar's Theatres gave the details of the playful gimmiers and fun fare provided in his film by Sathyaraj who is an expert in cracking jokes at his will, with all spontaneity. The whole hall reverberated with laughter.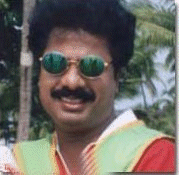 Pandiarajan appears in a guest role in this movie. It seems producer Kannappan has presented him with a new car. The generous producer visibly charged Pandiarajan with emotion when he revealed this act of kindness.

The broad mind of the producer ought to be hailed. Sirpi was without work for quite some time. But the producer did well to break the lull by fixing him as the music director for his two films. Apart from this, he adorned Sirpi with a gold chain on the occasion. For all practical purposes it is an act of nobility. Help in need is help indeed! In addition to this, the producer chose the occasion to honor the lyricists Pazhani Bharathi, Paa. Vijay, Kalaikumar and Kalidas. Each was given a gold ring.

The function reached finality with the show of love and commaraderie, which exist between the producer and the technicians of his film.





---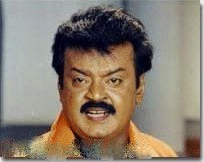 The news of Viji's death has affected Vijaya Kanth to a great extent. It may be stated that his grief over this matter is next only to that of her father. There was sensational news about her love affair two days prior to her death. But Vijay Kanth had no time to have a glance at the newspapers during these hectic days and the fateful day of her death, as he was too busy with the shootings of 'Vanchinathan', a film that is being made by him. News reached him only after the demise of the actress.

Vijaya Kanth shares his grief with his friends in Tamil Cinema field. He speaks with a heavy heart "When Viji regained her health, I gave her an opportunity in the film, 'Simmasanam'. Her father requested me to give further chances to act and I had promised to give her a chance in 'Vanchinathan' also. But the news about death has come as a bolt from the blue. Had I known before the details about her love and the problems it gave rise to, I would have lent her my helping hand through my mediation. Definitely I would have arrived at a fitting solution to her angst and anxieties. I have succeeded in putting an end to many problems. But there was nothing I could do in this girl's case. Who could have thought that she would jump to a decision like this? It is all, to late now. Things have gone out of our hands.





---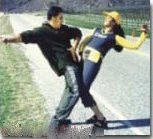 K.S.Ravi kumar has proved that he is a tower of strength not only in direction but also in production. It goes without saying that Tenali has attained a tremendous and thumping success. That film is being displayed in one hundred and seventy six theatres across the world. In chennai alone, the film is run in seven theatres.