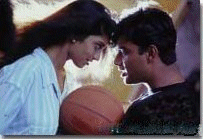 Madhavan is at once a jolly person and a tense person. As an when time we ask him why should he lay so much importance on scripts so as to frighten the directors, he had been reply in the following manner.

"I am not hurting anybody's feelings. People blow up things when they don't get my call sheets. They take me for granted. How can I give my nod to them, if they come to me with a story tailored, just in the same fashion of 'Alai Payuthe'? I don't have any friction with the directors whom I work with".

Now things have taken a different course, it looks. When we ask about his current assignments he just smiles. The meaning? Make hay while the sum shines. Or strike the iron while it is hot!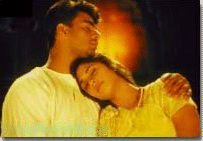 Some tit-bits about him:

1. The instant success of Alai Payuthe brought him 74 opportunities. He has selected only five films among them on the strength of their scripts.
2. He has traveled 98 times in the air in the course of the last eight months.
3. Madhavan's Tamil can be likened to that of a child. He likes Kalaignar's Tamil most.


---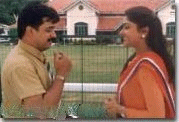 Sun T.V. has kept 'Tenali' in second place for its first four consecutive weeks in its 'Top-10' program.

They had accorded the first spot to 'Vanavil' causing annoyance to the discerning audiences. The Viewers wondered on what basis Vanavil had a walk over 'Tenali'.

Some of them called up Sun T.V. to point out the lesser success of 'Vanavil' and the thinner crowd in the theatres where it is being exhibited. They drew the attention of Sun T.V. to the packed crowds that witness the shows of 'Tenali'. The media firm had to bow to the people's verdict.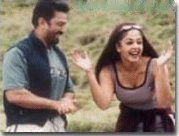 Promptly, it made amends by correcting its wrong. Now it has come forward to accord the crowning honor to the more deserving film, Tenali.

Why is the double standard in the order of preference of Sun T.V.? On probing, one comes to recognize that Tenali has given prominence to Raj T.V in preference to Sun T.V. and Sun T.V. had chosen to do this to settle its score over its rival should the movie-lovers suffer because of the rivalry that exists in between two mass media organizations?


---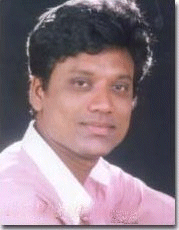 S.J.Surya gave two super hit successes successively in 'Vaali' and 'Kushi'. Now he is busy with the remake of 'Kushi' in Telugu.

Bhoomika is going to act in the role of Jothika. This has given rise to criticisms. 'It is known that 'Vijai' won't act in Telugu films. What happened to Jyothika?" This was the question posed before Surya.

Surya gave a cool and collected reply. "Bhoomika is the top-ranking actress in Telugu cinema. She is also suitable to the role played by Jyothika. Therefore we had to choose her. But, Jyothika remains my best". He has explained out his case nicely.

Ajith would be the male lead in his next film. And the heroine is none other than Jyothika. The name of the film would be 'new'. Once again, he banks upon a title with two letters (in Tamil). After all, Tamil cinema is a world of sentiments and success formulae.


---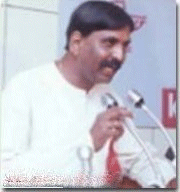 Dindigul Leoni is known for his Vairamuthu - baiting in the course of his literary debates (Patti Mandrams). Recently, a Connoisseur questioned him, "Why do you criticize Vairamuthu at times?". Leoni quipped, "There is no animosity in between me and Vairamuthu. Truth to tell, I am also a lover of his poems and lyrics. My criticism towards him is a constructive one. He is a great writer. I want him to write better pieces of literature than his present ones. He is capable of writing better than this. The best is yet to be. Hence my analysis of the merits and demerits in his writings.

You must know one thing. Wherever and whenever I meet him, he moves with me in a friendly manner. He is used to send invitations to me as and when he holds his festivals of poetry. He has had a word of praise for me even while addressing the populace of alien countries. According to him, "Leoni functions as a bridge for the Tamil community living in various parts of the world". We are good friends and we use to hail each other. He doesn't take it to his heart when I criticize him on valid grounds. Definitely, I don't harbor any hatred in my heart for him". This explanation should have satisfied the listener.