TAMIL CINEMA 2000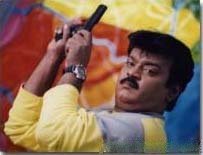 Well, whom would you choose as the most lucky, successful hero of last year

Kamal… Tenali is okay. But what about Hey Ram?

Ajith… He has a big scar due to the defeat of 'Unnaikkodu Ennaiththaruven'.

Vijay… Has not his 'Kannukul Nilavu' turned out to be a New moon?

Prashanth.. Where are they? 'Good Luck' and 'Appu'?….. No sooner they were released in theatres, than they disappeared too.

Madhavan… 'Ennavale' was just moderate success.

Vikram…. 'Kandaen Seethaiyai' had jerked tears in the eyes.

….And then who? It is Vijayakanth who towers over all of them on the basis of box-office collections. Out of his three pictures released, 'Vanaththaippola' and 'Vallarasu' were super-duper hits. Kollywood gives the following comment. "Lakshmi, the goddess of wealth stands on his side. Hence the abundant revenue!"

Tamil movie-goers had a reason to feel sorry for no Rajini film was released during last year. The rest of our actors need at least one successful film per year to keep their image intact.

As we praise Vijayakanth, we must mention the names of two more actors also. They are Sathyaraj and Madhavan. Both of them may have given twenty interviews at least during the course of last year; most of the interviews took place during the second half of the year. Last year, the lives of both have undergone a major change, for the better. 'Alai Paayuthe' took Madhavan to the pinnacle of glory. 'Ennamma Kannu' became the break through of life-time, for Sathyaraj.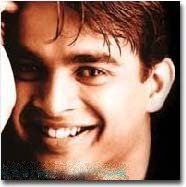 The center piece of Tamil Cinema is its hero. Their salary itself is a shining example. How many directors have received more remuneration than a lead actor? The actors try to justify the prominence given to them with one argument. A film runs most successfully for the first three weeks only because of the credentials of the hero of that film, they claim. We have to accept their explanation as partly true. Yuhi Sethu gives us food for thought as he defines the role of an actor with regard to the success or failure of a film. According to him, "'Sethu' attained success because of a new face. Kamal ought to have made 'Guna', 'Mahanadhi' and 'Heyram' in the model of 'Sethu' only".

What he says is quite right. As it was Vikram who acted in 'Sethu', none could guess about the climax. Similarly, the grace of Madhavan contributed greatly to the magnificent success of 'Alai Paayuthe'. Women thronged the theatres in great numbers to view Madhavan to their heart's content. Sometimes, new faces add to the strength of the stories. They make the coffers also full, as evidenced by Sethu and Alai Paayuthe.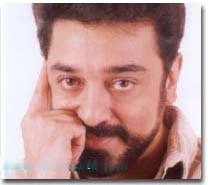 The biggest expectation of last year was reserved for 'Heyram', for the film was produced and directed by Kamal. Spot dubbing was done on the sets itself, simultaneously for its Tamil and Hindi versions. No one expected the movie to bomb at the box-office, despite the fact that it was another milestone in the acting career of Kamal. But Kamal did not fall flat grief-stricken. The endless trier has jumped once again into the fore-font. At the moment, he has three films in his hands. He has once again proved in 'Tenali' that he can shine as a loadstar in his capacity as an actor in a full-length comedy too.

To win a national award, an actor has to choose a film that has a serious, weighty subject as its base. This is an unwritten law and a tradition by itself. The film industry has an anxiety, as no actor who acts in a comic film is able to bag the prestigious national award. People concerned may break a new ground and thereby set a new trend by giving a national award to Kamal in recognition of his excellent performance in 'Tenali'. Who ever can forget the long dialogue delivered by him at the end of which he would break into uncontrollable tears? Oh, it was a matchless performance. An unparalleled scene indeed!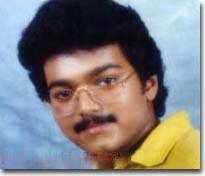 Turning towards young artistes, one should say that Vijay had a sorrowful start. But the successes of 'Kushi' and 'Priyamaanavale' have seated him on a throne of honour. With the success of 'Mugavari', Ajith was masquerading award, majestically. But 'Unnaikkodu Ennaith tharuvaen' had toppled him down. The thumping success of 'Paarthaen Rasiththaen' catapulted Prashanth to great heights of fame, enabling him to seize seven more films to deal with.

Once it was the principle and practice of Sathyaraj to act in only one film at a point of time. But things have changed after the stupendous success of 'Ennamma Kannu'. Now he has five movies to concentrate upon. It was 'Maayi' for Sarat Kumar and Budget Padmanabhan' for Prabhu. Both were hits, but single successes.

When all the actors of Tamil filmdom were about to finish the year on a happy note by writing down at least one hit against their names, they had to confront a sudden challenge from the side of the producers. The producers objected to give exorbitant remuneration to all the actors except the top five of them. They wanted to have their say on the salary to be disbursed to the actors other than the selected five. A cleft erupted within the acting fraternity. A standstill followed in the Tamil film industry. But there was light at the end of the tunnel. Things changed for the good. Wisdom prevailed soon. Persons of both camps shook each other's hand. And the year saw a pleasant end.

[Hullo! Don't worry that we have not covered the matters regarding the comedians and the character artistes. Do they not deserve a separate article on them? You will be knowing about them in the weeks to follow.]



---


Prashanth's Sixer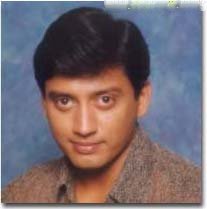 From "Vaikasi Porandhachchu" to "Parthaen Rasiththaen", Prashanth had acted in 175 films. Many of films had a successful run of more than 100 days. But no celebrations had been held in the bygone years, either by him or by the producers or by the theatre owners. No commemorations No felicitations on a grand scale. Therefore, Prashanth Fans Associations have come forward now to conduct a big celebration in order to hail the numerous successes attained by their hero over the years. They are very busy at the moment with the preparatory works regarding that grandiose function.

They have proposed to commemorate the successes earned by the six films, 'Jeans', 'Kannethire Thondrinal', 'Kadhal Kavithai', 'Jodi', 'Poomagal Oorvalam' and 'Parthein Rasiththaen'. It would be a six-in-one function at a single venue on a single day. For obvious reasons, the venue would be Chennai. The celebration is aptly named as 'Prashanth Sixer'. On that occasion, Prashanth's fans have planned to honour the producers, directors, actors, actresses and various kind of technicians who have worked all along with their idol; each of them would be receiving a suitable gift. There would be a display of performing arts also in that gala function. Many artistes would participate in that artistic programme. Many of his foreign fans also are expected to grace the occasion Sun T.V. would give a coverage of the proceedings for the benefit of the Tamilians residing all over the globe and especially for the countless fans of Prashanth.

Prashanth learns music and Sanskrit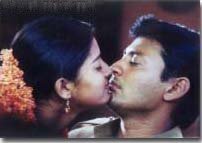 Prashanth is a master of all trades. He is an all-rounder of merits. He wakes up as early as 4 a.m. in the morning and undergoes training in music. He studies Sanskrit. He learns with avid interest to pronounce the mantras properly. He pays obeisance to God on daily basis, does pujas and offers prayers to the lord.

Verily, he is a man of parts. He has mastered the martial art of Karate and has acquainted himself very well with the computer. Desirous of knowing all the things on the earth, he leaves no stones unturned in equipping himself with all the branches of knowledge. He has a vampire thirst for knowledge. He has learnt the nuances of Carnatic music and the greatnesses of the Cherished language of Sanskrit from Shri Parthasarathy. Shri Parthasarathy is deeply religious. By the by, he is Prashanth's auditor too.

The rain of greetings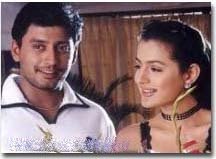 On the eve of the last Deepavali, Prashanth's fans who live in various parts of the world, had sent more than 50,000 greeting cards. This has been an annual phenomenon with them. Wonder of wonders, 30,000 cards among them had the pictures of Prashanth himself striking different poses the costly greetings have come from America, Malaysia, London and Singapore. His fans had never bothered about the expenses incurred by them in doing so. Prashanth had duly computerized all those greeting cards. He had sent return greetings to all of his fans.

'Jodi' in Myanmar (Burma)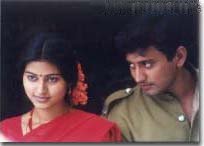 The movie, 'Jodi', in which Prashanth and Simran have acted as a pair under the direction of Pravin Gandhi, was released on the last Deepavali day, in the theatres at all the Burmese towns in including the capital Yangon (Rangoon). The picture has proved a blockbuster everywhere there. It is success all the way!

Prashanth won the hearts of many in Myanmar. Many have become his ardent fans. They have sent him letters his ardent fans. They have sent him letters of appreciation along with the notices printed by the theatre people there. 'Jodi' has enthralled many young people of Myanmar, it seems. Prashanth is very jubilant in receiving rave reviews about a film of his from his fans living in a foreign country. For obvious reasons, he is in high spirits. He is completely drenched in the torrential showers of greeting from his fond fans of the alien soil.

Prashanth in S.A. Rajkannu's film


S.A. Rajkannu, the successful producer of the films such as 'Pathinaaru Vayathinile', 'Kizhakke Pohum Rail', 'Kannip Paruvaththile', 'Enga Chinna Rasa', and 'Maha Nadhi' is going to have one more stint in Tamil filmdom. Shortly, he would be producing a film at a total cost of Rupees seven crores. It would be a mammoth movie by all standards. And Prashanth, the 'Prince of love' would act as the lead actor.

The heroine would be chosen from the trio of Simran, Jothika and Devayani. The movie is yet to be titled. A director belonging to the front rank would direct it. The tempest of music, A.R. Rahman would provide the music for the film. The selection of the rest of the cast and the technicians is on.


---
Another heroine from the North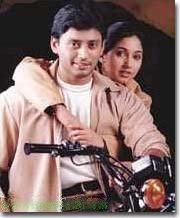 Frictions are common to erupt between a producer and a star before the completion of a film together. But there is oneness of opinion prevailing between C.T.V. Doctor Murali Manohar and Prashanth. There in no rivalry at all between them. The doctor-cum-producer has already made three hit pictures, namely, 'Jeans', 'Kadhal Kavithai' and 'Jodi' with Prashanth as his official hero. He has now launched his fourth film with Prashanth under the title, 'Majnu'. The film is going to be directed by Ravichandran who was the director for 'Kannethire Thondrinal'. The heroine is Rinky Khanna. She is no less a person than the younger daughter of Rajesh Khanna and Dimple Kapadia, the famous Hindi stars.




Across the seas and in the midst of pretty damsels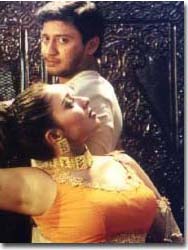 Prashanth is knowledgeable. He is aware that he should act in different kind of stories to ensure a permanent place in film world. He is used to note down the one-line stories he has already done in his diary. When now directors seek his appointment to tell their stories, he insists them to tell them in a single line. In case the story is an impressive one, he would accost them to come in person for further talks.

One should not hide love. Love must be expressed open-mindedly - Kannedhire Thondrinal.

Love is no taboo. But it is a crime to desire to elope a person - Jodi.

A small lie can spoil the life of a girl - Hello.

These are some of the one - line stories that have found place in Prashanth's diary.

He flies away to foreign countries, once in a while, to conduct and participates in programmes of fine arts. This is his way of relaxing.

Prashanth shows have taken place twice in Malaysia, London and Singapore. Thereby he has reserved a permanent seat for him in the minds of the Tamilians who reside in those places. He would be visiting Australia during this month.

Thiyagarajan, father of Prashanth would take his son to the land of Kangaroos. Knowing the extent of parental care he exercises over his son, one is tempted to equate Thiagarajan himself to a Kangaroo that fondles it's offspring.

People of Australia are going to envy him, as he would be embracing several dream girls such as Jothika, Devayani, Ramya Krishnan, Suvalakshmi, Kausalya, Maheswari and Manthra as he dances along with them at a single stage.

The programme would bear the name, Prashanth Live - in Concept'. As usual, the programme would have forty dances of Prashanth at a stretch.

When he had been to London last, an aged female fan of his has wondered: "You are capable of giving so many dance numbers continually on a single evening! It is simply incredible. I am afraid some people may cast their evil eyes on you." In addition to saying so, she had the traditional act to offset the effect of evil eyes also, performed on the stage itself. Prashanth was moved a lot by this gesture of sentiment by that lady.


---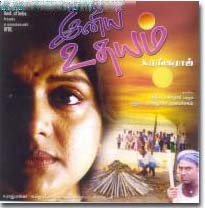 The Social Welfare Department of the Government of India has produced a film called, 'Iniya Udhayam', with Banupriya and 'Thalaivaasal' Vijay as its lead artistes. K. Rangaraj, whose banner was flying high during the eighties of last century, has directed the film that would run for two hours.

Set in a remote Hamlet in the Southern most part of Tamil Nadu this film highlights the need for awareness of Health & Hygiene to be propagated amidst the inhabitants of many such villages. In a village called Vadivel Karai … the story unfolds.

The Central character, Thulasi, A young village Health Nurse, comes with her father Chokkar, to this Hamlet. She undertakes the near impossible task of inculcating the Awareness of Hygiene and the ills of consuming illicit liquor. Her battle to help them gain better Health, earns her the respect of the village people, but also earns her some powerful enemies. And Thulasi gets to know a graveyard worker, Kathamuthu's daughter.

A motherless Thulasi comes to know that Chokkar was not her real father and that she was an orphan. Kathamuthu realizes that young Thulasi was the baby girl he had abandoned 20 years ago, in his quest for a male child only … and Chokkar had done an admirable job of rescuing the baby and having brought her up to serve people.

He fears that the people of the village would ostracize Thulasi. So decides with Chokkar to hide this fact from her.

Chokkar dies… At this juncture, Thulasi perforce has to contest the Panchayat Election …. Kathamuthu loses his life in his attempt to protect Thulasi from the plot to kill her, by the undesirable powerful elements. Thulasi learns the truth of her Birth from her real father on his deathbed. She shocks the superstitious villagers declaring the truth about herself.

Given the support and the right opportunity, Thulasi proves that women are equal to men - and goes further by undertaking to perform the last rites which was a son's prerogative thus far…

She reiterates the need for radical changes in the society for the betterment of the people…. Draws them to her… One by one they awaken and join her in the March towards a New Sweet Rising.

Director Rangaraj's opinion about the film:
"I have directed the film with a view to emphasize that there should be equal right for women in our society. I was also keen in creating an awareness on health among our public!"





---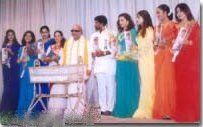 Formerly, one could locate the notebooks containing the addresses of artistes and technicians on the tables at the Cinema Companies. But one would see Parthiban's book of poems, 'Kirukkalgal' embellishing those tables today.

'Kirukkalgal' seems to have captured the imagination of each and everybody. Once they take up the book in their hands, they get completely absorbed and deeply immersed in it.

Parthiban has pains takingly attached a post card to the book with due request: 'Please point out the merits and demerits of the book'. But the people are use to greet him only over the invention of Graham Bell.





---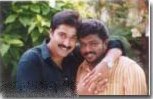 The starting trouble of the picture, 'Ninaikkatha Naalillai' is over now. There were differences of opinion, initially, between Producer K. Rajan and the hero, Parthiban. But they have reconciled with each other.

The picture has come now to a final shape. Producer Rajan has satisfied himself completely, on seeing the rushed of the film. As Parthiban had concentrated on his acing after sinking his difference with the producer, the picture has turned out to be a wonderful creation. Parthiban has given his best for this film.

The movie has been made on a small budget. Yet the unit members of the film affirm that the film would attain success on the strength of its story, comedy and the feats in histrionics.


---
It is a mega hit, in Telugu. The name of the movie: 'Kurukshetram'. Soundharya longs a lot for the film to be dubbed in Tamil. Even the producer of the film may not be as anxious as her in bringing out the Tamil version of the film.

Soundharya's reign in Telugu film world has been shaken up with the arrival of Simran and Bhoomika there. Therefore, she wants to set her foot once again on Tamil land. Already words are around to the effect that her name is being mentioned along with that of Kamal for a film to be directed by Mouli. In the event of Kurukshetram's successful run all over Tamil Nadu, Soundharya can make her re-entry into Tamil films with added strength. Eager as she is, Soundharya is doing penance for the victory of Kurushetram. Will her long wait pay off?





---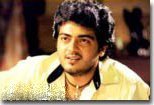 A segment of Tamil film fans have a reason to worry about. It is long since they have seen Ajit in a comic role. In case they wait until the next Deepavali day, their dream would come true. The picture 'New', scheduled to hit the screens on that day will fulfill the long cherished desire of Ajit fans.

The film to be made by S.J. Surya with the literal help of Ajit may very well prove to be the most hilarious comedy of 2001. Surya's early film, 'Kushi' had a rumour spun around it is a film that had something fishy. S.J. Surya says smilingly, "Don't worry at any rate 'New' would be a 'fishy' picture by all means!





---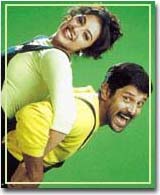 A song-dance album is being made ready with the title,'Kadhalism', under Meena's own production and the direction of Pushpavasagan. Vikram would pair with Meena.

Meena and Vikram are going to sing and dance for this album.

An array of questions are aimed at Meena as arrows. "Why have you taken up the burden of production too? Would it not suffice if you confine yourself merely to songs and dances?" Meena has grown tired by answering these queries.

"People think that I am lacking in chances to act in films. Seeing the continual failures of Tamil pop attempts, I wanted to give an exemplary pop album on a grand scale with fascinating shoots on foreign soil. I am damn sure that I will win in my venture." Meena vows. For this purpose, she is undergoing hectic training in carnatic music, at present.





---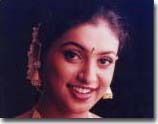 At last, Roja has heaved a long sign of relief. Maybe, she would be on cloud nine at this point.

'Roja 100' could not be celebrated as planned on December 31. Various kinds of rumours erupted instantly. Misfortunes come in a row. But Roja is not new to taunts and tormentations.

But this time, Roja has accomplished it big. She was able to translate her thought with an actuality.

'Roja 100' was conducted with all fan fare at M.G.R film city on last Saturday. It was an elaborate, elegant celebration. There was an impressive guest list. Many film stars graced the occasion and made their appearances on the podium. As usual, Saratkumar and Radhika were sitting together as if to capture the imagination of the media.

At the outset, Bharathiraja accosted Roja to come on the stage. In a fitting gesture, it was Prashanth who offered the first bouquet to her. Needless to say that he was the first hero to act with her.

Many eulogized the qualities of Roja on the occasion some excerpts from them.

Parthiban: Roja is the heart inside the heart of Selvamani.

Saratkumar: It is very hard to score a century in the world of films. Roja venerated work as God himself.

Arjun: Friends are for keeps. It is friends who help at the time of necessity. A friend in need is a friend indeed. I am proud to have a friend in Roja.

Prakashraj: Roja reposed her confidence on many. But several of them have stabbed her on her back. But it was not for her to lose heart. She was able to laugh heartily as a butterfly amidst all grief.

Radhika: Soon after my first meeting with Roja, Chiranjeevi had this to tell about her. "Another rowdy girl like you has arrived on the scene". She is that much bold.

When the function came to a close, Bharathiraja tied the hands of Selvamani and Roja together with a piece of yellow cloth. He announced: "This pair has been loving each other for quite a long time. Now I unite them in public." The twosome came nearer to each other with shyness and hesitation.

Beauty pageant was held thereafter under the stewardship of Parthiban in his usual style. She shot a question at a pretty damsel, "What kind of males do you like most?". The aspirant for the title of beauty queen's answer was: "A South Indian with a sense of humour!" Parthiban retarded in his inimitable style, giving rise to a wave of success: "You see, I am a also a south Indian with a rich sense of humour!." His remark drew a spontaneous, shy smile from the lady concerned.


---
Felicitation of the week:

By Bala:

I have great regard for Director Cheran as he delivers a message as a matter of routine. In all his four movies, there were messages, all right. I don't have that much of commitment in stressing good ideas.




---

The Boast of the Week:





By Suvalakshmi :

Bengalis are book-lovers. They are painstakingly eager to know new things. They would spend their time in discussing about newly released pictures. By nature, they are broad-minded.


---

This Weeks Allegation: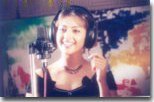 By Meena :

All those who boast to hold the number one status in film world are not that busy now as they were before. So, to say that my market alone is dull is utterly wrong.



---
Shanthi - Madhan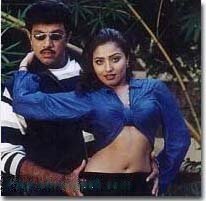 "Hai Shanthi! How did you spent your Pongal holidays?"

"Oh! It all started on the Bhogi day. The festival had run away from our place once the 'Kaanum Pongal' was over."

"Really you are tough-minded and nonchalant to the core!"

"It's alright, Madhan! What are the new movies seen by you? Formerly, I was used to see a newly released picture on the day of Pongal itself. But things have changed now, altogether. Nowadays, we have the cultural instrument called television in our drawing rooms. And the small screen provides us the trailors of new films, new movie songs and fresh cinema jokes so, I kept my eyes glued to the T.V. on all those three days. What about you?"

"Me? I was duped by the trailor of 'Looty' shown in T.V. I took for granted the words of Sathyaraj when he said over the T.V. that people who see 'Looty' thrice at least. Joining many people who confided in the star's opinion I obtained tickets in black market to see the picture. But the movie proved to be a terrible love. Sathyaraj has chosen to give a big piece of halwa to all the movie-goers through the satellite channel."

"Madhan! I wonder why Sathyaraj had come forward to give interviews on T.V? Had he continued to deny giving interviews as he was doing before, many film fans would have been saved from the torture given by that awful film. By the by, what happened to the Prashanth starrer, 'Piriyatha varam vendum'? Was it not tipped to released on Deepavali itself? Now Pongal too has come and gone. Even the birth of 'Thai' month has not paved the way for the film. It is not a matter of pity?

"Well said, Shanthi! Prashanth and Thiagarajan are in rage in this context. Prashanth fretted and fumed: "This is a plot hatched by my enemies. But I will emerge safe from this ordeal. Following his personal efforts, the film is scheduled to be released on the Republic Day. And the day is not far off.

What Shanthi? What has happened? It seems you are crying? Are you breaking into tears? What for?….

"Then what? How many times can a human undergo surgical operations?"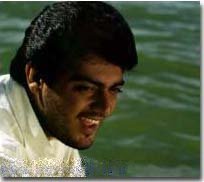 "Don't bother much. It won't be a major, risky surgery this time. Ajit worked hard restlessly for 'Deena' and 'Citizen'. After finishing Deena he involved himself seriously with the shoots of 'Poovellan Un Vaasam' directed by Ezhil. He developed an ache in the back of his neck when he acted along with Vasundara Dass in a song sequence.

"Is it so? Was the dance movement that hard?"

"He had to lift Vasundara Dass on his shoulders in the course of his dance. That's all!"

"Oh my God! I just dare not think what would have happened to him if it had been either Khushboo or Manthra in the place of Vasundara Dass!"

"Do you really care so much for Ajit?" Madhan laughs it away "He rushed immediately to Apollo Hospital. The doctors there recommended surgery. Ajit startled a little. But he had to bow to the pressures of his responsibilities. A large set is there waiting for his arrival for about a month, in connection with the shoots of "Poovellam Un Vaasam". He has to don many more get-ups for 'Citizen' also. As such, he had to curse himself and yield to get operated upon. It was a surgery of five hours' duration. Doctors have suggested a fortnight's rest to him!"

"Good Heavens! But there is no other go for him. I wish at least this incident should ward off the evil effect of the wicked eyes set on him."

"I have a good news also about Ajit. Manoj who had sung along with Meena before for an album is going to bring out another album in which he would sing alongside Ajit!"

"That's nice Madhan! The award-giving ceremony of the Government has brought Kalaignar and Superstar once again more closer!"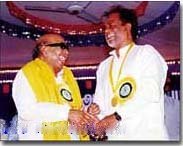 "Quite right, Shanthi! Kalaignar was simply elated as Rajini also stood by his side when he away the awards. Rajini pinpointed during the course of his speech who should rule the people in the years to come. His praise seems to have melted the heart of Kalaignar. As Rajini has made an indirect suggestion in a government function itself, as to who should rule the state after the coming elections, the picture has become clear for the Rajini camp as well as the D.M.K party cadres. Naturally both groups are satisfactory. By the by do you know what happened when a friend of mine went to see 'Deena'".

"Oh, another episode! What can I do! Will you make it fast, please…."

"He along with his friends bought tickets in black market paying an exorbitant price. It is a sophisticated theatre in the city too. The picture did not at all impress them when they came out of the theatre they saw that the tickets for the next show were being sold in the black market like hot cakes. The scene irritated them no end. They went straight to the avid fans and spoke to them. "The picture is just average. Don't pay anything extra for the ticket, as you give Rupees ten over and above the mater charge to an auto rickshaw driver!" Then they ran away from the spot and left the theatre complex riding on their motorbikes. Their timely alert signal has made the ticket-buyers use their discretion. Promptly, they made themselves bold to argue with the black-marketers and to reduce the quoted price of the tickets!"

"What is the use?" Shanthi wondered "The situation is as different. Despite the warning of your friend and his pals, the viewers purchased the tickets only in the black market. Have not they? It is a crime to sell and buy tickets in black market. Isn't it?"

"Fine, Shanthi! Surely, you have a good message to drive home. But you will have to tell it to a hearing impaired person. He only would pay heed to your valuable suggestion!"