TAMIL CINEMA 2000 - ACTRESS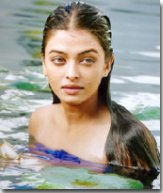 We devoted the last week for the analysis of the actors in general. Let us allocate the week for the analysis of actresses in brief.

Not only in the present times, Tamil Cinema has never in its history has attached enough importance to the actresses with respect to weight in stories as well as in characterization. This is a sorrowful fact.

In those days, K.P.Sundarambal was looked to act in "Avvaiyar" against a payment of rupees one lakh. Years have rolled by. Now there are persons in Tamil filmdom to offer remuneration in several lakhs of rupees to Aishwarya Rai and Jothika. The suitability to the story was the reason for the payment of yesterday' whereas glamour demands an exorbitant price nowadays. And this is how our film industry has progressed over the years.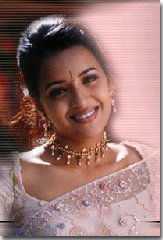 Year 2000 has witnessed the entry of many an actress into Tamil filmdom. Many pretty damsels from the metropolises Mumbai, Kolkata, Bangalore and the state of Kerala such as Rinky Khanna, Sneha, Pradhiusha, Sindhu, Richa Palot, Abirami, Divya Unni, Mumtaj, Radhika Chowdry and Vasundra Das have practically sieged the Kollywook. Traditionally, Tamil Nadu has the reputation of protecting those who come to stay within its ambience. It is famous for sustaining the prosperity of the people from other places. And most of the actresses who have made their way last year into the Tamil film world have at least three films in their hands.

One doubts whether the year 2000 belongs out and out of Jothika. In that single year, the young actress had accumulated elaborate fame and enormous fortune. A decade ago, Nadhiya caught the imagination of all through her confident approach towards acting. Yet she was not high profile. The same can be said about Jothika also. She has modeled herself on the lines of Nadhiya. In all her pictures, Jothika would exhibit all her beauties even in the scene of introduction itself. She is capable of contorting her face in many angles. She can act through her expression eyes themselves. She can emote with finesse bringing in various kinds of facial expressions. Through her inimitable histrionic powers she stands a cut above the rest of the actresses. Apart from acting as Kamal's pair, she has acted alongside all the young heroes too. Inevitably, now, she has an eye on Rajini.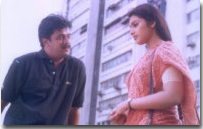 Last year, we saw meena in eight films. She had been a guest actress in two of them. She had released a pop album of her own under the title, 'Kadhalism'. She won the recognition and the felicitations of all for her performance in 'Rhythm'. 'Rhythm' was unprecedented success for her. Her natural way of acting lent an additional grace to that film. In general, no hero would hail the acting talents of an actress who acts with him. But, Arjun, who was the hero in 'Rhythm', paid glowing tributes to Meena's acting ability. He went to the extent of saying that he had become a fan of Meena. Meena had proved her mettle in no uncertain terms so as to draw that Open-minded statement from an established hero of Tamil film world.

Simran had been playing hide and seek with all in all these days, keeping her love as a hidden in functions, along with Raju Sundaram. It is the prediction of many that her film life would come to an end during this year soon after her wedding. Meanwhile, she has proved that there is still fire in her, through her impressive performances in 'Parthen Rasithen' and 'Priyamanavale'.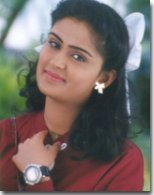 Kausalya in another front-ranking actress, in terms of the number of films played by her. Though she landed a small role in the movie, 'Vaanathai Pola', the exuberance and vivacity shown by her in the song-dance sequence, 'Nadhiye, Nile Nadhiye' fascinated many. As a result of this, many pictures came her way and she became the actress who had more films to her credit than all others. But, as ill-luck would have the beginning of the current year heard certain rumours linking her name with that of a director. This had enraged her a lot. But now she has regained her balance of mind.

Devayani had won unrivalled and unsurpassed fame through her performance as Chellamma in the movie, 'Bharathi'. No other actress could win such reputation. One can say that the film had put an end to the glamour dreams of the actors.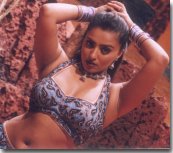 In addition to these four actresses, Mumtaj was the other busy bee. She had established her as a glamour queen following her humming perfomance in the song sequence 'Kattippudi da' for 'Kushi'. She had become the most sought after glamour actress of the day. She has become the brainwave that hits any director, whenever a scene requires some glamour of sorts. But her sexy appearances distract the attention of female viewers.

Vasudra Das made a dual entry into Tamil film world through 'Hey Ram', as a heroine-cum-songster. People expect that she would raise ripples once again during this year by her performance in 'Citizen'.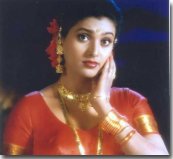 Roja is another actress to be memtioned. Much water has flowed down Kaveri since she made her sensational appearance in 'Chemmbaruthi'. The flower has blossomed in full. She has scored a century with the release of 'Pottu Amman'. A fitting function was also had in her honour, in recognition of her rare feat. So much, so soon. She has imported a lesson to other actresses on how to take roots in the film world. But it is a misfortune that she has become an example as to how the lure of money would shatter the prospects of a person.

Glamour has raised its head once again in Tamil filmdom. This fact hurts all the discerning audience who have been viewing films for a very long period of time. Following the films, 'Kadhal Kottai' and 'Kaadhalukku Mariyadhai', the banner of subtle love was raised in Tamil World. It was heartening and appealing to see the hero and heroine making love with dignity through the mild approach of soft gazes. The scene has changed altogether now. With the arrival of Mumtaz, Radhika Chowdry and the like from North India the Tamil film world is getting inundated in the sea of glamour. It is a matter to grieve that the Tamil films are losing its fair and real connoisseurs.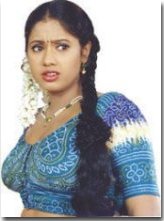 The actresses dish out glamour because of the lure of money and not for the need in the story. But the very same actresses who show their glamour throw challenges to the effect that they too can shine histrionically in the event of getting proper opportunities. Radhika Chowdry has this to say in an interview: "I too desire to shine as a good actress in Tamil filmdom. It is not my intention to be a glamourous in order to get further breaks."

Actress Roja gives this piece of advice: "The fans would like us only when we act glamourously in the initial stages. After reaching a level and establishing herself in her career, an actress can try to show her histrionic talents".

Actresses like Khushboo, Simran and Roja have got themselves drenched in rains, appeared in thin sarees and mini skirts, to start with. Lately, lady luck smiled on them. Certain good pictures came in handy for them. Then came the label of 'Good Actresses' to them.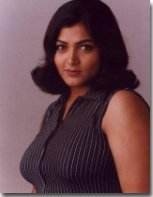 When all things are said and done one thing is clear. Jothika, Simran, Meena, Laila and their ilk won't have an easy time in 2001. A bevy of girls is waiting there in the sidelines to give them all a shock. Many are there to make their mark during this year. A stiff competition is there ahead, for sure.

Let us not view secretly those competitions in pirated V.C.Ds and spoil our eyesight. Let us go to the theatres to view the glittering beauties and appreciate their talents with proper lighting and sound effects. Let us give the right food to our appetite for artistic enjoyment.



---

MADHAN - SHANTHI

"Hai Shanthi! Why are you in a melancholic mood?"

"What else can one do, Madhan? The catastrophic earthquake in Gujarat has given me sleepless might's?"

"Shanthi! I also share your sorrow. All of us remain grief-stricken, thinking of the pitiable lot of our brethren in Gujarat. We can't help it. We have to face the challenge posed by the superpower, somehow or other. Can we fail to furnish any Cinema news to our readers on that account?

"No, not like that. First let me wipe off my tears. Now, I have gathered myself. It's okay. You can now tell you pieces of news".

"Shanthi! You are aware that our film people have thousands of differences among them. They are a divided lot. The film world is ripe with so much petty polities and so many strife's. To put it simple, the industry itself is a rat race. But all film personalities remain united with oneness of opinion at this hour of extreme need to the people of Gujarat. No doubt, they are all humane. The catastrophe of earthquake has made them tense. It has definitely made them to feel their responsibility and rise to the occasion".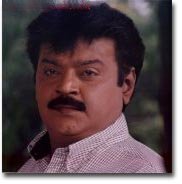 "Well said, Madhan! It was Vijayakanth who extended his helping hand immediately after receiving the first news about the earthquake. On hearing the terrible news, when he was engaged in the shoots for the film, 'Narasimha' at a location in Kerala, he was shocked very much. Instantaneously he issued orders to donate Rupees five lakhs through his personal assistant. As if having taken a clue from him, actors like Prashanth, Karan and S.V.Shekhar took to streets to collect donations for the relief work in connection with the earthquake in Gujarat. They have done real good work to be commended. And the people contributed their mite enthusiastically as it was the cine artistes who collected the donations!"

"Yes, Shanthi! Parthiban has donated two tones of clothes as the first installment of help on his part to the Gujarat Association at Chennai. In addition to these things, many actors and actresses have requested Vijayakanth to organise a cultural programme so that the proceeds from it may be sent towards the earthquake relief works. Vijayakanth also has assured to announce a date suitable to all the artistes, shortly".

"All these things are good gestures, no doubt. I heard that Vivek is going to act as a hero in a film. Is it true, Madhan?"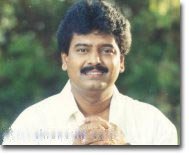 "Yes, Shanthi! It is true that Vivek is going to act as the hero in the film, 'Panju'. Chinni Jayanth, the comedian, has already directed a movie and earned a good profit thereby. Following the example set by him, many comedians wanted to do something great to make big money. Now, Vivek has taken the first step in that direction.

"Why, Madhan! It is necessary for Vivek to do such poison tests?"

"You cannot say like that. For the past two years he has become very popular with all sections of people as his comedy has reached all quarters. Many pictures have run very well because of the presence of Vivek rather than the participation of big stars in them. Are we not aware of this fact? As the public enjoys each and every minute of the half-an-hour duration in which he dished out his comedy in a film, Vivek has ventured to take this new step of presenting with a full length from the front."

"It's alright, Madhan! We all laugh heartily at his comedy. What I wish for Vivek is that he should also be happy and smiling as his countless fans forever. All his fans would join me in wishing so, I hope!"

"Of Course, You are right! Would you like to know some news about 'Aalavandhan'?"

"By all means, you can speak out. But you must tell a news not expected by me!"

"Okay. Please listen to me Raveena Tandon is acting tremendously in 'Aalavandhan'.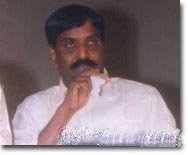 "Stop, Madhan! Stop a while! I know, I know for sure that you are going to bubble something about Raveena only. You can talk about any other thing. Or, else, you can quit. Enough of you!"

"Cool down, Shanthi. I will tell you something different. It is poet Vairamuthu joins hands with Kamal after a long time; he has taken pains to introduce much novelty in his lyrical lines and thus has worked wonders. Though there would be a Hindi Version of 'Aalavandhan' the original lyrics would be in Tamil only. Javed Akhtar will have just to transliterate them into Hindi. But the Hindi lyricist would be receiving a remuneration of three times more than that to be handed over to the Tamil lyricist."

"Why is it so, Madhan?"

"The state of affairs in the Hindi film market in such that!"

"The original creator is lying low. And the duplicator is riding high. What a paradox!"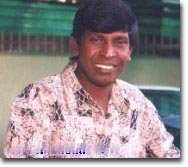 "We can't help it, Shanthi. Vadivelu's case is entirely unique. The credit of performance is with him. But the money due to him is with another person".

"What? What happened?"

"Vadivelu gave two days of call sheets for the film 'Ninaikkatha Naal Illai' against the honorarium of Rupees Two-and-a-half lakhs. Vadivelu received advance payments to the tune of Rupees Two lakhs. But, when he demanded the balance amount after finishing the job given to him, Producer K. Rajan told him that the duel would be settled just before the date of release on the plea that no area has so far been sold. But Vadivelu believes that producer is about to cheat him, as the latter had settled the amounts due to all others without any hitch. Both of them have now lodged their complaints against each other with the Artistes' Association.

"I see! We started our conversation in appreciation of the unity prevailing among our film community. It pains me to conclude our conversation with a news that speaks about the dissent between two of our film personalities".

"Don't take this to your heart, Shanthi! As Kaundamani would comment, all these things are quite common in the history of Cinema. We have no other go except to take all these things in our stride!"



---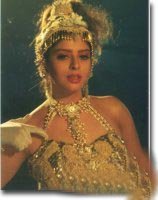 Nagma presented herself in glittering attire for the song, 'Vaththikkuchi Parththikkadhuda' in 'Dheena'. But her calculations did not work and he had to remain low profile.

What was her calculation?

She had expected that many opportunities would knock at his doors once the news spread that she is acting with Ajit. But her dream didn't come true. She could not catch any big fish. But Ajit has come forward once again to extend his helping hand to her.

In an Ajit starrer, Vasundara Das would be the lead actress. Meena has been assigned a guest role. Now Nagma's name also has been added in the list of guest artists. Nagma's spirits have soared with this.





---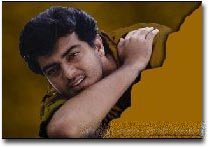 Ajit established his statues firmly in Tamil film world enacting a Villainous role in 'Vaali'. Now he is going to step into Hindi film industry on the strength of the very same time-tested success formula.

It is a known fact that Ajit is acting in 'Asoka'. But what we didn't know was the character to be played by him. Ajit had accepted to act in 'Asoka' as he has been invited by the redoubtable super star Shah Rukh Khan. As he was impressed very much with the villainous character earmarked for him, Ajit became doubly happy in accepting the opportunity that came his way. He had no hesitation at all.





---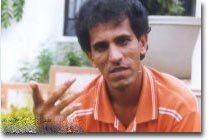 "What Mr. Vaiyapuri! You have expressed your eagerness to act alongside Vadivelu. But, in real effect, it is you who have replaced Vadivelu in the film 'Kadalpookkal'! How come this to be?" We enquired Vaiyapuri, the Comedian.

"It was originally conceived in the story that both of us were to act in the film, one as Ira Pandian and the other as Sura Pandian. Both would be doing our own brands of comedy without seeing each other face to face. It was a fine proposition. But things took a different turn, unfortunately. For reasons unknown to me, he was removed from the list of actors. Finally, I am acting as the single comedian of the film. But, surely, I will team up one day with him. And the film featuring both of us is slated to make history," Vaiyapuri quipped.

Vaiyapuri is all happy at the moment. "The month of February would witness the release of the film 'Dum dum dum' as well as my own 'Dum dum dum', i.e. my wedding." The actor makes a pun upon the phrase, 'Dum dum dum'.





---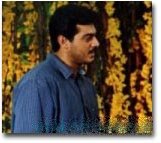 It is not known who had set their evil eyes on Tamil filmdom. Immediately after the joys of Pongal festival, have settled down, the busy bees, Vijayakanth, Ajit nd Devayani had to be hopitalised.

The back pain suffered by Ajit necessitated him to undergo a surgery. Vijayakanth and Devayani had to cancel the shootings of 'Narasimha' and 'Thambiyudayan' in which they were acting, on developing severe fever.

Ajit is still recouping his health. As he has not yet recovered from his problems, the shootings of 'Poovellam Un Vaasam' have been postponed. But two other films of him continue to progress.




---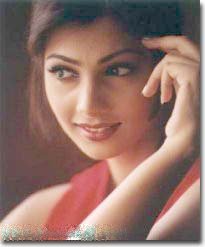 Aishwarya Rai and Sushmita Sen have made it big on the silver screen. They practically ruled over Indian Cinema for quite some time. Yet no other beauty queen ventured to make her way into the tinsel world following in the footsteps of the successful twosome. Now, Yuktha Mookhe, a former Miss World, has emboldened herself to try her hand in the world of films too.

So far, she confined herself only to modeling. But, at the instigation of media-men and the insistence of her close friends, she has jumped into the arena of show business. The film industry too has responded well to her. The pretty woman has already bagged the chances of acting in two Hindi films.

Will Tamil film industry to fail to notice this new arrival? The Tamil film world has introduced ever so many charming women from Mumbai in the past. We can expect that the industry would give a warm welcome to Yuktha also, in keeping with its long-cherished tradition with a bias to Mumbai. So, let's wait, folks!





---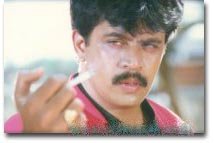 Nothing was heard about Arjun after 'Suthanthiram'. No one knows what he was doing in all these bygone days. But Arjun has paved a new path for him in a grand manner, with the advent of Thai month.

He is producing and directing a film titled 'Vedham', at the moment, apart from acting in 'Arasatchi' under the direction of Maharajan of 'Vallarasu' fame. Slowly but steadily, Arjun is scaling great heights. Doubtlessly, he is growing in his stature, by leaps and bounds.

'Vedham' provides a family backdrop and stresses the virtues of humanitarian considerations. 'Arasatchi' has a theme entirely opposite to that of 'Vedham'. 'Arasatchi' is being produced by CITV Film Company that had made 'Jeans' and 'Jodi' before. Harris Jeyaraj who had scored the music for 'Minnale' is in charge of the music for 'Arasatchi'.





---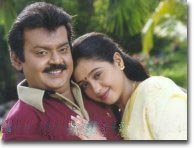 Maharajan, the successful director of 'Vallarasu' went straight to Bollywood soon after finishing his first film. In the meantime he had written the story and dialogues for the movie, 'Snehithiye', style and aplomb. He has turned his attention now on making a film titled 'Arasatchi' with Arjun as its hero.

A thought crossed at the back of our mind at this juncture. What has happened to his earlier vow that he would continue to make films only with Vijayakanth even after 'Vallarasu'?

But the things have gone out of Maharajan's hands; it is true that Vijayakanth and Ibrahim Rowther had booked Maharajan for the utilization in their next venture.

When Vijayakanth wanted to do the preparatory works for his next film even while he was being with the shoots of 'Vanchinathan', Maharajan was preoccupied with the Hindi version of 'Vallarasu'. As Maharajan was not free to work for him, Vijayakanth had to opt for another director. And the mantle fell on the shoulders of Tirupathisamy who directed the Telugu blockbuster 'Azad'. Thus the lot has fallen on Tirupathisamy, the Tamilian, to direct Vijayakanth's next film, 'Narasimha'.

As he found time to make his second film in Tamil, that too an action-oriented one, Maharajan has Hobson's choice. He had to go in for Arjun, who stands second to Vijayakanth, in the list of Tamil action heroes. Maharajan is too happy in having selected Arjun as the lead actor of his next film, which would comprise of the graphics wonders of Venky also.





---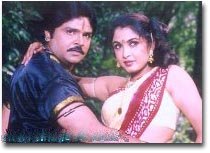 Kavithalaya's 'Adhi Bhagawan Films' is concentrating upon the production of pious films alone. Their next movie would be 'Sri Raja Rajeswari'.

It will have the regular features such as an Amman who is more bent upon causing troubles to her own followers than the actual Villains of piece and the usual gimmicks and graphics such as a spear coming out of the eye of the Amman. In addition to these usual formulae, the film has the distinction of having another highlight.

There is a song stringing together a series of names of 108 Ammans such as Melmaruvathoor Adhi Parasakthi, Mahamayi Karumari, Woriyur Vekkali, and Mayiladuthurai Abhayambika. The film unit has planned to shoot at all the 108 temples where those deities preside over. Already the Picturisation of the song has covered 75 temples.

In order to take the involvement of the pious women viewers to the apex, the makers of the film have planned to use the song in the climax scene.



---

TAMIL CINEMA 2000 - DIRECTORS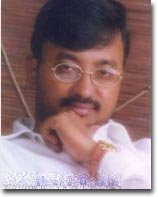 Our Concentration in this week is on the directors who are the backbones and the real creators of films.

Year 2000 cannot be accounted for as a happy year as far as the Tamil film directors are concerned, for only… films out of the 69 directly made Tamil films have crossed the success target of 100 days.

But the year didn't fail to provide a highlight on the side of the directors also. The leading directors like Manirathnam, Vikraman and K.S. Ravikumar have made a super hit film each. No doubt, they have all cut and polished themselves honing their rough edges and are shedding their luster like diamonds. The young directors S.J.Surya and Saran also achieved continuous successes. Tamil film world can take heart by these welcome features.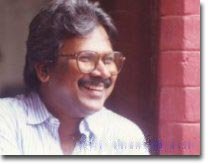 The defeats of 'Iruvar' and 'Uyire' have subjected Manirathnam to untold sufferings. This we could gauge from the extreme caution exhibited in his subsequent film, 'Alai Paayuthe'. In 'Alai Paayuthe', Manirathnam had poured his labour in Toto. He had striven every steel nerve of his, so to say. It was a brand new hero; there was freshness in the story; the screenplay was still modern. Manirathnam had taken pains to dish out a sumptuous feast of a film. After providing the gist of the whole story in the very first scene itself, Manirathnam moves along the story in detail, in an effective fashion. It is not for him to be easily satisfied. Can cite an example in this respect. Madhavan was shown to call Shalini from a Nadar's shop. He spared a whole day to call Shalini from Nadar's shop in beautiful Camera angles. He always wants to better the best. Through this example you can imagine for yourself how much trouble he might have taken in choosing an excellent story and in shooting endearing scenes. He is an exemplar and exponent of sound technologies in filmmaking. This exceptional director does not fly to foreign countries to picturise beautiful song - dance sequences. He doesn't follow suit. He is a stickler to ole virtues. India is more than enough for him to film pretty song scenes in equally exotic locations. Really, he belongs to a different class of his own - wonderfully brilliant! 'Alai Paayuthe' is a reward for the Herculean tasks of Mani Rathnam.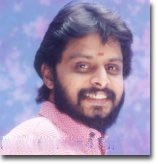 Vikraman attained a Himalayan success with the film, 'Vaanaththaippola'. The spectacular success earned by that film has placed the director, rightfully, on the pinnacle of glory. Today, Vikraman has become the most highly paid director in Tamil film world. The secret of Vikraman's success is that he knows the pulse of the moviegoers. He is aware of the strong points as well as the weaknesses of the film viewers, at the same time. He has a unique technique of utilizing certain successful scenes from the earlier films at the appropriate places in his films. He makes the most of the time-tested success formulae.

The youthful S.J.Surya has done Tamil film industry proud. He has given two tremendous victories in 'Vaali' and 'Kushi' at the times when the heroes of both the films were out of form. Story and screenplay are the foundation for his films. In fact, he has given new leases of lives to the top heroes of the day.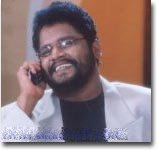 Hitherto, K.S.Ravikumar has been contributing to the profits of others. The director-turned-producer himself has become a profiteer, with his blockbuster, 'Tenali'. The film, which was screened simultaneously at 186 theatres, had created a deluge in box-office collections. Beyond all doubt, K.S.Ravikumar has proved his mettle in no uncertain terms. The stupendous success of Tenali is a shining example for the filmi acumen of K.S.Ravikumar. Verily, he can be called the Machiavelli (English Equivalent to 'Chanakya') of Tamil movie world.

'Vallarasu' was a huge success of the year 2000. Maharajan, despite being a debutant as a director, could achieve the honour of making the most successful film of the year. He has accomplished an enviable feat. Immediately after the unequalled success of 'Vallarasu', he has entered into the Hindi film world also. Now he is re-making 'Vallarasu' in Hindi too against the remuneration of Rupees 75 lakhs. Indeed, Maharajan is going great guns!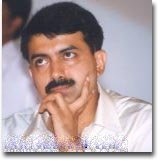 'Kandu konden, Kandu konden' was not received very well in Tamil Nadu. But Rajiv Menon, the film's director has won due recognition and reputation at the International film festivals. He should be congratulated for bringing laurels to Tamil film world.

Rama Narayanam has become the first person to score a century among Tamil film directors. For him, 2000 was a year for celebration, no doubt. His movie, 'Palayaththu Amman', which was released at the fag end of the year, has given fillip to the release of many more religious films. Rama Narayanan is playing it safe. He continues to take low budget films purposefully and yet turn them into successes. The thought that crosses his mind seems to be: "One can escape if one falls down from the first floor. But what would happen if one gets toppled down form the one hundredth floor?" It is however deplorable that he has not improved the quality of his production.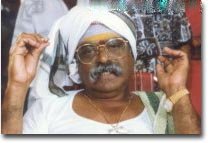 Story and the screenplay is the bulwark of film world. When a film derails from these two key factors it gives rise to many problems. Ajit had expressed his dissatisfaction during the filming of 'Unnaikkodu Ennaiththaruven'. Likewise, Producer Thanu had made known his differences with the director during the shootings of 'Kandukonden Kandukonden'. But the directors concerned remained obstinate and stubborn in their views. Both the films flopped at the box-office. This is a clear proof of the unlimited freedom being enjoyed by the director. In certain other cases, we witness certain instances in which the freedom of the directors is curtailed considerably by the intervention of certain heroes with a high image. The fans should consider them very lucky if they are able to view some good pictures even after so much power politics that prevails in the tinsel world.




---
The boost of the week:
Laila:

Many congratulate me for my good performance in Deena. "We thought that you are just a beautiful doll. But we have changed our view now after seeing you in Deena. Yours was a grand performance!" my fans write to me. Well, all of you are in for a surprise. As time passes by, I will win the fame befitting a highly talented actress!



---
This week's Allegation:
Ilayaraja:

"I have noticed certain mistakes in the musical notes of Beethoven too. But I have never noticed been a small flaw in your notes. You are a very special composer". These were the words spoken by a famous music composer to me, in Hungary. It needs a man from Hungary to pass such a judgment. I feel ashamed to talk high of me. On my own accord in this way. At the moment, I realize that I have wasted twenty five precious years of life, closeting myself within the four walls of the fortress of filmdom"


---
This week's felicitation:
Director Ezhil:

One cannot see another man like Shayaji Shinde, as far as the professional involvement in acting is concerned. Although it would be somebody else who is going to dub for him, he would never come for the shot without knowing beforehand the meaning of his dialogues and the correct pronunciation pertaining to them.




---
TITBITS

The film unit of Vijayakanth starrer 'Narasimha' is now stationed in Kerala. The 'Kalari Payattu' fight scenes are being picturised there, with Vijayakanth figuring along with some Kalari fighters in real life.






---

So far, Ramya Krishnan has featured in four Amman films and thus has become a K.R. Vijaya in the making. In these circumstances, one more dubbed film in similar lines in which Ramya Krishnan has acted is awaited. The film has the title, 'Kuzhandaiyum Deivamum'. Ramya Krishnan has undergone a fast for 60 days during the filming of this movie.






---

Music director Dina of 'Siththi' fame is scoring the music for the movie, 'Middle class Madhavan' in which Prabhu and Abhirami are Co-starring. Vaali writes down the lyrics.





---

After 'Puratchikkaran', Velu Prabhakaran had planned to produce a film with the title, 'Deepavali', changing heart now; he is now going to make a love film in the mean time. This film also would have a message of advice for the lovers who move about in society.





---

Despite the favourable propaganda made by the magazines, 'Pappa' is making just a moderate progress. Naturally, Producer R.B. Chowdhry sits shell-shocked. This is quite understandable for the producer has tasted continual successes in the past from his medium budget films themselves.




---

History repeats itself. Vijay is going to act again in a film to be produced by R.B. Chowdhry. A newcomer with the name Ravi is going to direct the film.






---

The three pictures, Kadal Pookkal, Rishi and Piriyatha Varam Vendum, originally scheduled to be released on the bygone Deepavali day would hit the silver screen during this month.






---

The movie, 'Aalavandhan' would feature Manisha Koirala also in addition to Raveena Tandon.







---

After 'Vaali', Simran and Jothika are going to act together in the film '12B' to be directed by Cinematographer Jeeva.







---

Reema Sen has acted in a Commercial to advertise 'Thums Up' before figuring in 'Minnale'. A dubbing picture, 'Chitram', featuring her is going to be released shortly.