Alavanthaan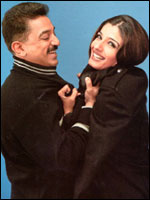 Kamal Haasan has launched his new film - a bilingual to be shot in Tamil and Hindi. With a lot of hype and publicity it was a lavishly staged function at the Nehru Indoor Stadium, Chennai. Titled 'Alavanthan in Tamil and. 'Abhay' in Hindi it has Kamal playing a dual role - that of Nanda Kumar and Vijay Kumar. Produced by Kalaipuli Dhanu, it is directed by Suresh Krishna. Suresh had earlier directed Kamal in 'Satya' and 'Indran Chandran'. His teaming with Rajinikant resulted in such successes as "Veera', "Annamalai' and 'Baasha'.
Kamal pens the story-screenplay-dialogue and paired with him is Ravina Tandon & Manisha Koirala. Playing his parents in the Tamil version is Sharat Babu and Fatima Babu, while the Hindi version will have Navin Nischal and Smita Jayakar playing the same roles. The story has been inspired by Kamal's own subject 'Daayam', a serial he had written for a weekly magazine a decade and half back. 'But for those who have read the story there will be surprises h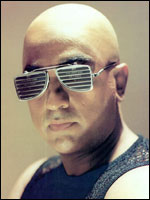 ere,' says Kamal. The publicity stills feature him in one role as a bald toughie with a tattoo on his arm, and in another as a jean clad modern youth. Yet another still has him pictured nude in jail. One of the roles is that of a commando, for which Kamal had taken a week's training at an army training camp.
Setting to tune Vairamuthu's lyrics is singer Shanker Mahadevan who with partners Ehsan and Loy composes the music here. The trio has already worked as music directors for the much-awaited Hrithik Roshan film 'Mission Kashmir'. 'Alavanthaan' is an action-oriented film. Grant Page, performer and stunt co-ordinator from Australia (Mad Max, Mr.Nice Guy, MI2, etc), has been roped in to choreograph the stunts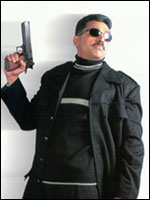 together with Vikram Dharma. Page is a master at arranging car chases.
Computer graphics form an important part of the film and the work has been given to 'Cutting Edge', a graphics company from Australia. Art design is by Samir Chanda, who has worked with eminent directors like Shyam Benegal and Mrinal Sen, and for films like 'Iruvar', 'Uyire' and Saudagar'. Thiru who had photographed Kamal in three films (His best was in 'Hey Ram'.) cranks the camera. Editing is by Ramesh Mythur.
'It is a 20-crore project,' says producer Dhanu who is known for his lavishly budgeted ventures and cuts no corners where expense is concerned. The film will have no scenes shot abroad. 'But the camera will travel to many parts of our country. We still have so many unexplored virgin locations here. I want to bring them to the people,' says Kamal. Shooting has commenced and the film is slated for a January release