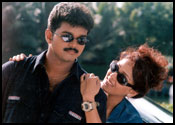 Art director Geekay and more than 200 technicians joined hands to create a high tech city of the next century, in Vahini studios. The whole location was wearing a new look with fibreglass structures, colourful lights and a grand market place. The grand set was for the movie, Badri. Vijay will roll, loll and gambol in the sets with his friends and of course, with the Kolkata imported heroine Bhoomika and also with Simran's sister, Monal. Two heroines in the film. Unfortunately both did not have anything to do, when we visited the spot.
Instead, Vijay was dancing along with junior artistes – a hundred of them in flashy costumes – claiming to be the king of Chennai. 'I am the king of Chennai' proclaims the number. No. It is not a translated version. The lyric starts with the English line. The day is not far off when all the dialogues and lyrics and will be penned in English. You have to be in line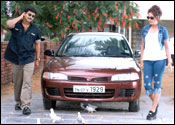 with the times, you see. Palani Bharati is penning the lyrics. Thamizh vaazhga.
The movie is produced by Sri Venkateswara Art Films. Camera is by Jayanan Vincent. Ramana Gokula, a new music director enters the arena through Badri. Badri is directed by Arunprasad, who directed the Telugu version, Thambudu. Almost all the technicians are from the Telugu field.
Vivek, Sanjay, Dhamu, Riazkhan, Kitty, Malaysia Vasudevan, Paandu, Vicky, Husaini are in the cast. A new villain, imported from Mumbai, Bhupinder joins the team.
The movie is scheduled to be released on Tamil New Year's day.