Cast: Ajit, Vasundhara Das, Meena, Nagma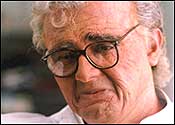 Ajit Kumar sports 9 get-ups in his new film 'Citizen'. And paired with him is Vasundhara Das of 'Hey Ram' fame. Also in the film are Meena and Nagma. After the success of 'Vaali' and 'Mughavari', producer S.S. Chakravarthy of Nick Arts and Ajit team together again in 'Citizen'. 'Vaali' was released on May first, Ajit's birthday. "That was a co-incidence. But in future a Nick-Arts - Ajit film will be released on each May Day. 'Citizen' will be released on May 1st, 2001," says Ajit.
At a press meet held for launching the film, Ajit addressed the press in his usual candid manner. No attempt at diplomacy or hypocrisy here. He was very forthright in his comments. Said he, "When I was going through a lean phase there was this yearning that a Maniratnam or a Shanker would offer me a role. But nothing happened. It was people like Chakravarthy who stood by me then. My earlier film with him was a flop. So I sort of compensated by doing a 'Vaali' for him, and it was a success. We have been together through a lot of trying times. I know what it is to struggle. I've now taken a conscious decision that I would give a chance to a new director."
Ajit also quipped that he was probably the only actor who gave seven flops in a row. But all that is a matter of the past and Ajit can have his pick if he wants to, today. But he is selective, choosy, his heart and his head in the right place. About his make-up for the nine different looks, Ajit says that John Westmore ('India', 'Avvai Shanmughi') was the first choice. "But when I met Kamal Hassan, he suggested that I try out Anil Pemgrekar the make-up artiste from Mumbai. And have only the more difficult make-up done by Westmore, for his charges are too high. So I contacted Anil and you can see the effect in the photograph." Ajit naturally is not very revealing about his role in the film "as that would spoil the suspense". A couple of songs tuned by Deva and written by Vairamuthu would be shot on locations like Australia. Along with Ajit in the film are VMC Hanifa, Mohan Natarajan, and Nizhalgal Ravi, among others.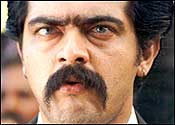 Present at the press meet was Vasundhara Das who was not seen on the Tamil screen after 'Hey Ram'. "I was busy with my music album which I recorded with Pravin Mani. Then I also acted in an English film directed by Meera Nair (of 'Salaam Bombay' fame)" said she. The film boasts of big names on the technical side. Like Sabu Cyril who does the art-design and Srikar Prasad who edits the film. Kanal Kannan is in charge of the stunts and Ravi K. Chandran wields the camera. "P.C. Sriram was the first choice, but he has a busy schedule. We thought of Chandran, because everyone appreciated his work in "Kandukonden Kandukonden". I'm sure he will do a fantastic job here."
'Citizen' is directed by Saravana Subbiah who has had his apprenticeship under directors - like Pavithran and Ratna Kumar. "I've taken a subject that is quite different. My 'Citizen' is not a man who is satisfied in merely pointing out the ills afflicting society. He has a broader perspective, and strives to better the place he lives in. Ajit's commitment and encouragement only goads me to work harder. You'll see a new Ajit here," says the director. Ajit is confident that the film will fetch some national awards. "I'm not talking for myself; probably for the direction, artwork, cinematography and for its make-up. But I'm sure it will fetch a few national awards," concludes Ajit.