Everyone is a ruler-to-be….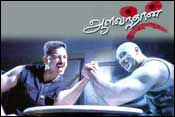 It is not Ajithkumar or Vijay who are featuring in most of the films in the making. Kamal outnumbers any of the present day heroes. ' Thenali' is followed by S. Thanu's 'Alavandhaan'. 'Anniyan'. Another film by Thenappan. And, Kamal's passion - 'Marudhanayagam'. 'Thenali' is nearing completion. Dubbing is almost over. ' Alavandhaan' has started rolling into the camera. Kamal plays the role of a mentally deranged person in 'Thenali'. He plays a coward in the film. 'Alavandhaan' casts Kamal in a dual role. A handsome hero and another one almost an anti-role. The ads carry photographs of Kamal clamping hands against Kamal, focussing on his rippling biceps and triceps. "Where are those hands Kamal?" we ask him. "Hidden under my shirt," he laughs.
What follows is an excerpt from his press meet on the sets of 'Alavandhaan'.
Q: This was a story - Dhaayam - that you wrote in Idhayam Pesugiradhu about 17 years ago. What was the reason for the delay in shooting the story?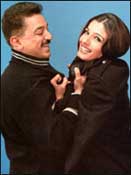 I wanted this story to be filmed by my Guru, Balachander. But, the story was ahead of its time then. Therefore, we had postponed its filming. The time is right now. Suresh Krishna - disciple of Balachander - directs the movie. He has worked with Balachander from his 'Ek Dhuje Ke Liye' days. Ananth has an indirect role in the screenplay of this movie. I made 'Apoorva Sagodharargal' for Balachander. I am making this movie in order to thank my master. I named the other movie 'Avvai Shanmugi' in memory of my other Guru, Avvai T. K. Shanmugam. It is my way of thanks giving.
Q: To what extent has the story undergone changes?
Those who have read the serial in the magazine would be surprised to see the movie. There were many aspects in the story which were new to the readers 20 years ago. The movie will convey several ideas that are new to the present day film fans. I pen the story and dialogue. This is directed by a seasoned Director, Suresh Krishna who has been mentored by Balachander in thirty and more movies. We have a good producer in S. Thanu. I have full faith that my story will be a success with the assistance of the technicians I have and with the co-operation of the producer, Thanu.
Q: Are you introducing new technicians in this movie?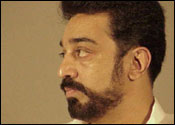 Shankar Mahadevan enters the arena as Music Director. He has two popular albums to his credit. Even as I speak to you today (17.10.2000), another of his album is being released in Mumbai and is setting new records. Two songs - no… super hit songs - have been recorded for us so far. Esan and Lai have joined hands with Shankar and look after the music department. Vairamuthu pens the lyrics after a long time, for my movie. Mahalakshmi and I have sung a duet in this film. Grand Page, who was introduced for' Marudhanayagam' is in charge of the fight-scenes in 'Alavandhaan'. He was the guy who designed the fight-scenes in the movie, 'Mission Impossible'. Thiru, who was responsible for the camera in 'Hey Ram', is doing this movie too. This is shot both in Hindi and Tamil simultaneously. We are going to do the voice recording on the sets. Editing is by Ramesh Maidhoor and Art is by Sameer. Manisha Koirala, Raveena Tandon, Sarath Babu, Fathima act with me. Cinema, today, demands your blood to be sweated out in large quantities. We know that 'Alavandhaan' will demand more of it. And we are prepared for it.
Q: What is the significance of the name 'Alavandhaan'?
It is the name of a character in the movie. "You will be a king one day," parents tell their children. Alavandhaan (Ruler-to-be) is such a name. As far as I am concerned everyone is a ruler-to-be. Only one in 40 million sperms reach the egg and impregnate it. The triumph of living beings begins then. Whether the child becomes a king or a beggar is in the parentage and in the attitude of society.
Q: Was the suggestion to film the story, Dhaayam, from you or from Suresh Krishna?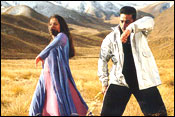 It was decided that a movie has to be made for Thanu, after 'Thenali'. We then gave the assignment to direct the movie to Suresh Krishna. He was excited when I told him the outline of the story Dhaayam in the sets of Thenali. He then read the story and said that we can give an excellent movie.
Q: It seems you are tonsuring your head for this movie.
When I did the old man in 'Indian', I could perform many a trick with my fingers. This is an action-oriented movie. You have to show something more different. People have seen the ad and have started questioning the other person who is engaged in a test of strength with Kamal. Here begins my success.
Q: Have you planned to shoot in foreign countries too?
We have to shoot several sequences in the foggy streets of Delhi and in the snow-capped mountains. We have not yet decided about shooting the movie in other countries. I can say one thing for sure, as for now. We won't be shooting in the deserts.