Naghma And Ganguly: The Love Birds

Nagmomu Naghma and pepsi wala Sourav Ganguly seem to be singing songs of love and praying to the god for the success of their love. Isn't it funny? First it was Md. Azharuddin and Bijlani and now its Ganguly and Naghma. It is not a rumor man, it seems it's a fact! A journalist in England first caught both of them. And now it seems they were spotted together in Sri Kala Hasti near Tirupati.

They were seen doing special pujas for sarpa dosham for which the temple is famous. This has created a sensation, as to why they should be involved in such puja? Are they praying to god to bless them with success in their love?Ganguly got married already once, and the irony is, it is also a love marriage. And our Naghma also had been linked up in the past with many cine stars both of Kollywood and Bollywood. Ganguly has to beware and should learn with his senior, Md.Azharuddin's experience. As we all know after marrying Bijlani, he got into problems.

Cine Stars Meet Jayalalitha: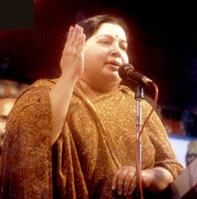 Though being involved in many scams our lady Jayalalitha doesnít seem to have lost her charisma. She seems to be still popular among the cine stars. Popular film actress Khushbu and her husband Sundar Saturday took their daughter Avantika to be blessed by All India Anna Dravida Munnetra Kazhagam (AIADMK) leader J. Jayalalitha at her Poes Garden home. Khushbu posed for photographs with Jayalalitha that were widely publicized in Tamil media.

Last week, actresses Nalini, Radha, Ambika and Vaishali also met Jayalalitha and pledged their loyalty to her. These leading ladies, most of them popular small screen actresses, also said they were willing to campaign for the AIADMK leader if she so desired in the forthcoming Assembly elections seats. Jayalalitha seems to be taking help of cine field to brighten her political career that is presently dull and life less..



Shakeela Upsets Brahmins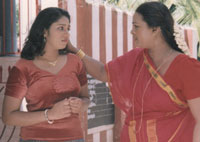 The conservative Brahmin community in Tamilnadu is very upset that Shakkeela is playing the role of a Brahmin lady clad in 8-yard saree in a soft porn film first to be made in Malayalam and later on dubbed in Tamil as Madisar Maami. The community raised its objections to the title and the producers have changed it. All the same the film will have viewers (both Brahmin and Non Brahmin) panting to see the 8-yard saree clad Shakeela stripped to the bare minimum.

Sarath: Radhika's Next Groom!


Sarath Kumar who has divorced his wife Chaya is soon to tie the knot with actress Radhika who is twice divorced. Both of them turned friends in the elections for the artistes association and have cemented their relationship by joining hands for the game show Koteeswaran on Sun TV. Radhika will bail out Sarath from his debts that amounts to Rs 3 crores and help him put his ambitious hospital project in Kovai back on the rails. Radhika was earlier married to director - actor Pratap Pothan and later to an Englishman Robert. She also had a live-in relationship with Vijaykanth

Kaushalya In Love!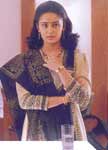 Tamil filmdom is abuzz that Kaushalya, the herione always clad in sarees is in love. The grapevine has it that Kaushalya has fallen in love with the director Shiva and has moved in with him.Shiva is married and has two children. Kaushalya as usual denied any involvement except saying that she is very close to Shiva and his wife and marriage with him is ruled out. Insiders say that Shiva's wife has accepted Kaushalya as her hubby's second wife. Long live bigamy.!!! Kaushalya is currently on the sets of Malayalam film Karumadi Kuttan.


---
Wedding bells for Simran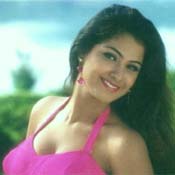 Simran, the popular Tamil actress, has admitted that she is in love with choreographer Raju Sundaram (brother of Prabhu Deva) and that she would be marrying him soon. Her parents, who had earlier objected to this affair, seem to have given up and the marriage will take place as soon as her current acting assignments are over.
Simran had first met her lover boy at the sets of her first film "Tere Mere Sapne" and love blossomed after her entry into Tamil films. Raju's family had no objection to the girl but Simran's parents had not accepted the idea of marrying a choreographer and that too a "madrasi". Simran earned the wrath of her parents when she smooched her lover in front of her mother at a party hosted by a Mumbai mag in Chennai. After this Raju and Simran, tried to maintain a low profile and decided not work together but her heart was with her lover. She took up fasting during the Durga Pooja festival to invoke the goddess's blessings and make her parents relent which seems to have worked. Simran has now left for the shooting of a Telugu film in Canada and would grace the stage in London with Sarath Kumar and others for the show directed by her lover boy. The wedding is slated to take place at the end of this year.

Ramya pays for her man-eating ways


Ramya Krishna, we hear, was all set to play the lead in Super Good Filmsí Anandam starring Mammootty and Murali but was surprisingly dropped from the project. The Malayalam superstar, it appears, is very put off by her man-eating techniques, which she tried on him on the sets of Dubai . He had then politely ticked her off and had her replaced by Anjala Zhaveri for the film and now has Soundarya acting with him in Anandam . Well, one canít really blame the producer. If he has to chose between her and Mammootty, obviously she would be shown the door. Time she learnt that there are still heroes who want to keep their hands off heroines!


Yours lovingly, Ajith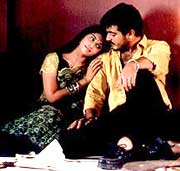 Ajith seems to have taken a leaf out of the life of emperor Shahjahan, who built the edifice of love, Tajmahal to proclaim his love for his wife. The Tamil heartthrob, who recently wed actress Shalini, is reportedly planning a beautiful estate on the outskirts of Chennai. The estate, which looks like a complete township, is obviously named after his wife and will be called Shalu Estate. Ajithís father is reportedly busy supervising the work on the estate that will turn out to be a major tourist attraction to those visiting Chennai but the final shape of the estate will be as per Shaliniís ideas. The newly weds surely know how to mix love and business.

Simran-Jothika duel heats up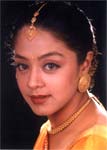 Remuneration demanded by film stars, like inflation, goes up and never comes down unless of course there are ulterior motives. Simran is a point in case. Apparently, the actress was booked as a heroine for the Tamil film Star but the filmmaker for some reason had second thoughts and instead settled for the current rage Jothika. Not one to take it lying down, Simran reportedly instructed her manager to make the rounds of all the producersí offices who have launched films with Jothika and ensure that she be replaced. And for this, sheís willing to act for any remuneration. Letís see if slashing her price will help her get even with Jothika but then one canít really blame her. Many other senior heroines too are feeling threatened by Jothika.


Fair sex being unfair to producers?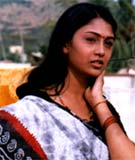 Every now and then one hears of heroines, especially debutants, complaining about producers being a pain but things seem to be turning the other way round now. Divyasri and Sneha are but two of the breed of actresses who can dishonour their contracts without any compunction when a better offer comes along.
Divyasri, much to the despair of her discoverer Srinath, Penghalís producer, has gone ahead and signed a Murali film and this despite an exclusivity contract that she signed with him for Penghal . The fate of Virumbikareanís producer Francis is even worse. He and director Susi Ganesan settled on Sneha after spending thousands on heroine-scouting. But now Sneha has signed a yet-untitled film opposite Madhvan, to be directed by Suresh, leaving the producer fuming. Not surprising as Francis is already into financial problems with his former boss K T Kunjumon directing all his debtors to Francis, who was the executive producer of Kunjumon Films.
Sympathies apart, maybe the producers are getting a taste of their own bitter pill!

Ravaliís revelation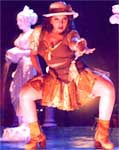 Ravali, who has been trying to get her career in Tamil films on track with films like Unnay Kan Theduthey, learnt to her dismay that Tamil producers donít always pay up. Apparently, she was not paid for Nagalingam, directed and produced by Ganesh Bob (real name Babu), even after the filmís release. Bob assured her that the film would be a sensational hit what with his plans to release scented smoke through machines in theatres to create an appropriate affect and a gullible Ravali fell for it. But Bobís plan backfired when the crowd in theatres turned irate due to the smoke irritating their eyes. The actress was then left with no option but to approach Vijaykanth of the artistes association. Ganesh has now agreed to pay her in installments but dare she trust Bob again?
---
Devyani: Daring or dumb?


Devyani who daringly signed up to play Muraliís sister in Kanuku Kannahe couldnít have been more wrong in her decision. Daring because she opted for it even though there was no dearth of heroine projects for her but the move appears to be a dumb one after all. Apparently, when the director of Muraliís next film Anandam suggested Devyaniís name for the heroineís role, Murali remarked that the public would not accept her opposite him as sheís already acted as his screen sister. The role finally went to Rambha.


Jothika keeps oldies at bay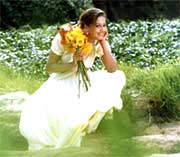 Jothika certainly hasnít taken long to wisen up. Two years into the industry and sheís already taking tough decisions. To begin with she has decided to act opposite only young heroes like Ajith, Vijay and Surya. That effectively rules out her doing the film she signed opposite Parthipan before Kushy and Thenali happened to her. Well, Kamal Haasan, her co-star in Thenali, is still young is certainly news to us. Her second decision seems to be more reasonable though. Henceforth, she will charge not less than Rs 35 lakh per film. Well, you canít really blame her Ė she needs the money. After all, a surgery, in London, to remove her excess tummy fat is a must for her!

Ajith stalls Prasanth-Shalini film


The Prasanth-Shalini starrer Priyatha Varam Vendum, the remake of the Malayalam hit Niram, has taken so long in making that itís doubtful whether it will be made at all now. First, in arranging finances the producer delayed the film and then he had problems getting hero Prasanthís dates. Now, when both the producer and hero are ready, Shaliniís husband Ajith is not allowing her to act in the film. Apparently, Ajith had warned the producer about it before marriage and after marriage even given a few weeks to him to finish the film but the film just getting delayed. Apparently, being more in demand than Prasanth, Ajith has now asked the producer to scrap the earlier film and make a new film with him as hero. So, in all probability, Ajith has succeeded in pushing Prasanth out of the picture.

Rhythm promos exclude heroine


Meena, the heroine of Rhythm, is peeved with the filmís producers. Apparently, the song clipping thatís been released for the promotion of the filmís audio features the hero Arjun with Jothika instead of her, even though the Kushy girl is seen only in a flashback sequence. But then Meena should remember that Jothika is the more saleable star of the two and nothing succeeds like success, right?

Ramya aborts baby


Ramya Krishnan, pregnant with her lover K S Ravi Kumarís child, has apparently gone in for an abortion. Recently, for the Prasanth nite in Malayasia she was made to do only some light dance moments on stage. And after the star nite, she flew to London for the abortion. She is presently housed in Hyderabad while her lover-boy is getting some vaastu changes done in Ramyaís house in Chennai. But wagging tongues in the industry are already recommending better knowledge of birth control rather than vaastu in future for the duo.


Jothika-Devyani battle it out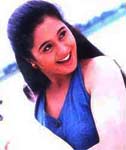 The cast and crew of Thenali, the Kamal Haasan starrer being directed by K S Ravikumar, during the filmís recent schedule in Ooty, were witness to the battle of the fair sex. Sadly, the filmís two leading heroines fought against each other.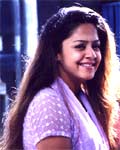 Jothika, who stars opposite Kamal in the film, felt that she alone deserved the star treatment and not Devyani, whoí s starring opposite Jayaram in the film. Being Jothikaís senior, Devyani could hardly take the uppity treatment from Jothika and the insinuation that Devyani had taken Naghmaís place in Sarath Kumarís life proved to be the last straw. Thereafter things only worsened and from trading abuses it became a physical combat. The two apparently pulled at each otherís hair and clothes and stopped only when Kamal and Ravi Kumar intervened. The unsavoury incident explains why women in films are generally shown as a quarrelsome lot. The fight also cost the producer heavily. One dayís shoot had to be cancelled.


Magnanimous Vijaykanth


Vijaykanth has spent around Rs 40 lakh helping students interested in pursuing their school or college studies. The reason behind the charity is his sonís English. Apparently, the star cannot understand or read English and complains that whatever his son says in English simply goes over his head. Now, he doesnít want others to suffer the same fate and so is helping them study. After all, itís better to teach a man fishing than to buy him a fish. Wish there were more people like him.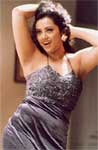 Meena too young to play mom?
Meena has refused to play a mother of two kids in the Prabhu starrer Mita Mirasu. Apparently, she felt it would affect her box-office image. But, we hear, Roja has agreed to do the role. Well, Meena, if the younger looking Roja has no hassles doing a mom's role, you probably need to sort out your professional priorities again. Doesn't image take a back seat compared to variety of roles? Mumtaz, by the way, will be playing the sexy siren in the film.
---
Kushboo seeks Shivaji's blessings
Surprise, surprise! Kushboo was recently spotted taking blessings from Prabhu's father, the veteran star Sivaji Ganeshan in his own house. Surprise, 'cos as long as she maintained her illicit relationship with the much-married Prabhu, the thespian had banned her entry in his house and ultimately succeeded in banning her even from Prabhu's life. But, the duo let bygones be bygones, when Khushboo along with other artistes came to invite the Nadigar Thilakam to visit the Nadigar Sangham.

C Sundar to start TV serial?
Director C Sundarís professional graph seems to be nose-diving after a personal high his marriage to Khushboo. His recent release Kannan Varuvaan has flopped and his current films Parvai, Unnai Kannu Theduthey, Kathal Solla Vanthen and Athai Magan are all stuck in various stages of production. Last heard, he was thinking of starting a TV serial.

Meena steers clear of Prabhu


Meena, who has always steered clear of any personal linkups, is terribly upset ícos of rumours about her romantic involvement with Prabhu Deva. True, she had always wished to act with the dancing sensation and the opportunity did dawn in the form of Doubles, but she was certainly not prepared for what followed. Apparently, they got close to each other becoming good friends - during the shooting, fuelling rumours not just about their love, but also a secret marriage. Now we hear, the actress, in an attempt to scotch all such rumours, has decided to return the signing amount of four films that she had signed opposite Prabhu Deva. Poor Prabhu! His heroine wants to stay away from him even before the release of their first movie together.

Cupid strikes Surya-Jothika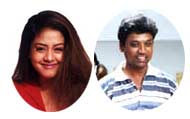 Loveís in the air and for a change there are no denials! S J Surya, the director of Valee and Kushy, is in love with Jothika. And of course she too reciprocates. After all she got her break in Tamil films owing to Surya who had first cast her in a song in Valee. The super hit Kushy followed, catapulting the duo to stardom. And now, that Rathinam has signed on Surya for a Telugu remake of Kushy with Pavan Kalyan as hero, there no points for guessing who'll be the heroine.

Anil Kapoor running scared of Laloo-Rabri?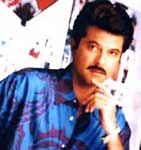 That Muthalvan, the hit Tamil flick directed by Shankar, is to be remade in Hindi with Anil Kapoor is old news. Whatís new is that Kapoor who agreed to do the film without seeing the Tamil version has now developed cold feet. This leaves the producer (Rathinam) in deep trouble as has made arrangements to have the filmís muhurath in South Africa. But Anil knows he has bigger trouble in store if he gives the nod. The film shows the hero, Anil, as a TV reporter cornering Rabri in a live interview and to escape from it she offers him the CM post for one day to get the feel of being in power and yet be powerless. Of course, in one day he starts off a cleansing drive and exposes the corrupt deeds of Rabri and by evening he has Rabri arrested. In retaliation, Laloo sets off his mafia on the heels of Anil. And Anil knows he might just escape Rathinamís wrath but not of Bihariís for sure. After all the Khans were no fools to have backed out of the film. Better late than never Anil!

Radhika sulks in Colombo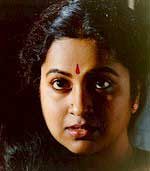 Radhika must have been delighted when her name was proposed for the post of vice-president of Nadigar Sangham, an apex body of Tamil film artistes and technicians. Incidentally, her ex-beau Vijayakanth, with whom she had a live-in relationship in the past, is also contesting for the post of president and is sure to win. For, Sarath Kumar, who is purportedly running the show, is ensuring that there is no opposition to the proposed candidates.
Unfortunately, Radhikaís expectations came crashing down when she found her candidature being opposed by a drama artiste. Her opponent is a friend of Radha Ravi, the ex-president of Nadigar Sangham. It may be recalled that Radhika was born to the Sri Lankan wife of M R Radha, who is also Radha Raviís father. Surprisingly, neither Vijayakanth nor Sarath Kumar came to her rescue. Finally, Radhika, was forced to send in her withdrawal letter from Colombo, where sheís staying presently.Poor Radhika, her parentsí past is catching up with her.

Roja walks over to Selvamaniís house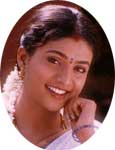 Plagued by creditors and inquisitive cops, Roja has shifted bag and baggage to her boyfriend, director Selvamaniís house. Surprisingly, her brothers, responsible for the financial mess she is in, have never bothered to call her back. Nowadays, she reports to shootings from Selvamaniís place, with her would be mother-in-law accompanying her to outdoor shootings. This is so reminiscent of Manthra (known as Rasi in Andhra) who had walked out of her house to start a new life with producer Ashok Samrat. Hope Rojaís decision too leads to a happy ending.