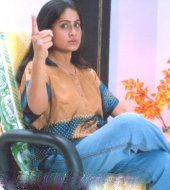 As usual, this week too, Madhan, whose eyes were glued to television was disturbed by Shanthi.

"What's this, Madhan? Why are they still telecasting the scenes of Kalaignar's arrest again and again on the T.V?"

"No one can help it. Both Sun T.V and Jaya T.V have indulged in confounding the confusion of the public more and more. It is very sad that Jaya T.V is showing video clippings so as to establish as if nothing wrong has been done. Quite unbelievable!"

"Madhan! Have you noticed one thing? Did the lady Super Star speak something in this regard as if she had meant to add insult to the injured?"

"Yes, I am observing a lot by constant watching. One has to wonder about Vijayashanthi. She is able to support Jayalalitha, and also she still owes her allegiance to the B.J.P. Is she playing a double game? It would be better on her part to join in with the A.I.A.D.M.K straightaway."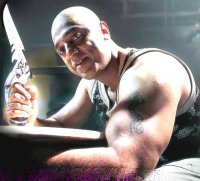 "Another thing, Madhan! Kamal also has come out boldly to issue statements of his own. He has expressed his views in no ambiguous terms in interviews!"

"Why not? Has he not said earlier that it was the powerful dialogues of Kalaignar that brought persons like him to the Cinema field. In his interview given to the'Times of India' he has vouchsafed that accumulating wealth to the tune of Rupees Twelve crores is not an irregular act at all. Parthiban has gone one step further. He has given a statement highly charged with emotion. Said he, "As a matter of habit, I don't see the Discovery channel on the T.V. I can't digest the scenes that show a big, ferocious animal pouncing upon a deer to make it it's prey. But the other day I had to see something cruel like those shown on the Discovery Channel!"

"Madhan! It seems, now, that the Tamil filmdom of today is divided into two wings because of the impact of political parties, as told by Kamal in his interview. Napolean issues counter statement to Vijayashanthi on the dot. Petrol bombs are thrown into the houses of Vijayashanthi and S.S.Chandran. By way of returning the compliments, Sarathkumar's house is damaged by an unidentified group. It is shameful to claim our country as the homeland of Mahatma Gandhi, who was an apostle of peace and a beacon light of love, pure and humanism.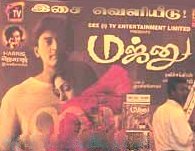 "Okay, Okay! Cool down, Shanthi! We are living in such awful days. We can't help it.

Let's change the topic of our discussion. You know, why is it that Tamil Nadu's Summer now is not that hot? The climate has become somewhat cool because of the recent visit of the Mumbai beauties Lara Dutta and Rinky Khanna!"

"Do you refer to the function of releasing the cassettes of 'Manju'?"

"Yes. Lara Dutta captivated the imagination of all, duly draping herself in a beautiful black Sari. She was all smiles throughout the function. There was always a smile blossoming her lips. Attractive to the core, she appears a typical Indian woman of very fair complexion. The inevitable question was posed to her: "Will you act in Tamil films?". Lara answered to the point quite in an affirmative way: "Inshaw Allah!" (Divine willing, if God decides so, I will act!")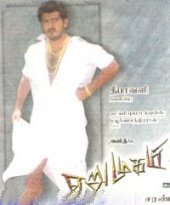 "Oh, I see! Then she would be the heroine in the next film of C.T.V. If not, why should she be present there at the function held in honour of 'Manju', a film with which she has no connections?"

"Correctly said. Shanthi! Have you seen the poster of Ajith's 'Erumugam'

"Mmm…. Wow!. Ajith appears majestically in his white and white dress. The way he is lifting his dhoti a little is very appealing. And he wears four or five gold chains around his neck. No doubt, the poster induces a desire in the heart to see the actual picture!"

"It is not the case with you. All of us are eager to see him in that get-up. Previously they had planned to release his film 'New' on Deepavali day. But the film cannot take-off till the pooja is over. Since the film has been shelved indefinitely, Ajith has started concentrating on launching the film, 'Erumugam'. 'Poovellam Un Vaasam' is also making fast strides, simultaneously. So, there are two of Ajith films, getting ready to go, to delight the hearts of his fans. The coming year is all set to give a feast to their eyes."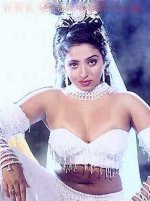 "Alright, Madhan! Have you got anything to say about Mumtaj who celebrated her birthday last week?"

The highlight of the day was Mumtaj's dazzling appearance in a glittering attire as an angel. Mumtaj is the heartthrob of many movie-lovers of the day. It is said that all the associates of her fans are the offshoots of the associations of Roja's fans.

"Very good. This is something interesting…."

"Yes. It is said that Roja's fans did not get honour and respect from either Roja or Selvamani during the function, 'Roja-100'. So the fans of Roja have dissolved their Mandrams in toto and assumed their new roles, en mass, as Mumtaj's fans it seems."

"Waugh, Waugh, Waugh! Madhan! This incident establishes the fact, as if a nail is hit on the head, that Cinema is no way inferior to party politics!……"


---
The Maestro's music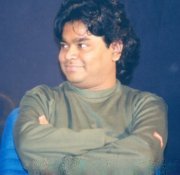 The songs themselves speak as to how Praveen Gandhi alone gets A.R.Rahman's song early. Rahman has adopted the song, 'Doli Sajake Rahna' as it is in the film 'Jodi'. For 'Chocolate', he has imported 'Daksak' song from Hindi.

In 'Star', the Rahman touch is hard to be seen. Though, as usual, the songs find it hard to make their way into our hearts, with the passage of time, each song manages to remain etched in our memory. This bears testimony to the extraordinary talent of A.R.Rahman.

'Thom Karuvil Pirandhom' is the best song of the film. It has been rendered beautifully by a Shankar Mahadevan in his scintillating voice which is full of life. The wonderful raga would stun even the experts of carnatic music for a minute.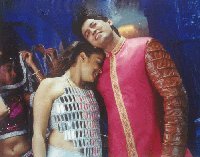 "Karuvil Irundhom, Kavalayindri Kann Thoongi Kidandhom; Tharayil Vizhundhavudan Kann Thookkam Tholaiththom" (In the wombs of our mothers we were asleep without any care; When we came into this world, we have lost our sleep forever). These lyrical lines are really wonderful. Still there is fire and poetic fervor in Vairamuthu. No wonder he remains a repository of wisdom. Naturally, we are proud of him. It won't be a wonder if he bags a national award for this song.

The lines of 'Machchiniye', another song written by Vairamuthu, depict the character of Prashanth in clear-cut terms. Then "Nilave Naan Ponaalum Kambi Potta Arai Vendum" (Even if I go on a honeymoon, I require a room closed with bars!). These lines personify a jail bird which Prashanth really is. "Ithodu Penn Sugam Eppadi Irrukkumendru Karpanai Varuvathundu" (At times I used to imagine the pleasure a woman is capable of giving). These lines endorse the natural urge of an individual. A.R.Rehman's music embellishes the lyrical lines clearly rendered by Unni Menon.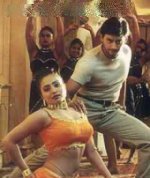 Piraisudan's song "Rasiha Thiru Rasiha' has been rendered by S.P.B. This song has the fast beats with the western touch. You can 'See' this song in the 'Top 10' programmes. 'Manasukkul Oru Puyal', the song sung by S.P.B and Sadhana Sarkam also bears the seal of A.R.Rahman.

'Nendhukitten' is the song that testifies the writing acumen of Pazhani Bharathi. It is a different kind of song with the admixture of the sounds of Ghatam, Thavil and Nadaswaram. This is also a beautiful song with the appealing words 'Aasai Dosai'. This song goes well with the new voices Karthik and Chitra Sivaraman.

But it is a surprise that the songs are unable to give ultimate satisfaction. Perhaps the circumstances of the story have created this constraint. (All of us felt such as feeling when we heard the songs of 'Tenali' for the first time)

Probably A.R.Rehman might have avoided criticisms such as these, had he employed his own original tunes instead of relying in and out on the tunes of Hindi films.

---
The Director's dilemma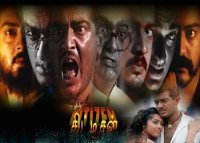 It was widely expected that the various get-ups of Ajith would be the talk of the town after the release of the film, 'Citizen'. But, fortunately (or unfortunately!) it was Nagma who over took Ajith in becoming the talk of all people. She has passed the cycle gap and created news of sensation.

She could emote her feelings of anger very well through her lance-like glances. She could bring about the expression of indignation on the tip of her aquiline nose. Hers was a painstaking performance of great histrionic merits. Yet, she could not reach the summit of success for all her efforts have gone in vain because of the background voice lent to her by the former glamour actress, Anuradha. All the work done by Nagma has fallen like ninepins. As the total effect, has shattered her hope of staging a grand comeback, Nagma stands upset and crestfallen. The Gods are not with her.

Many are the accusations and the defenses about her role in the film.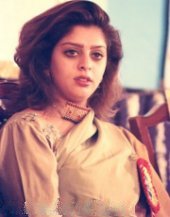 Nagma : Everybody shares their grief with me; they want to console me from their hearts. Usually it is Saritha, who dubs for me. But these people have utilized the voice of a woman aged more than forty years for my character as a C.B.I officer. If I had known before that these things would happen, I would not have acted at all in this picture!

Anuradha: I just modulated my voice as requested by the director to a rough and tough manner, so as to suit the stern character of a C.B.I officer. But now, people say that the voice given by me is somewhat masculine and resembles that of a male.

Director Saravana Subbiah: We opted for the voice of Anuradha pinning our hopes that it would suit that of a C.B.I officer. The producer and myself earnestly and fervently believed that a voice tinged with anger would very well suit the character and fit in well with the demands of the story.

Ajith: As far as a film is concerned, the director is the captain of the ship. I don't have anything to do with matters like these. I shouldn't poke my nose in all the details of a movie. I cannot sit and judge all the matters of a picture. It is the director who has the final say.

Poor Nagma! She continues to a be a constant object of criticism, no matter whether she is in cine field or even if she remains outside its confines.


---
The changing times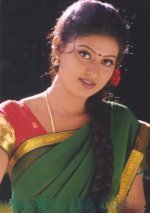 We are giving hereunder a trailer of the various happenings that took place, ever since the pooja was conducted for the film, 'Pammal K. Sambandam'. Please peruse the amusing incidents; see for yourself and enjoy, nay, sorry, read carefully:

Simran was fixed as Kamal's pair, and Devayani was paired with Abbas.

'Myself and Kamal!' exclaimed Simran, she was elated to the core and practically floating in cloud nine. On the other hand Devayani was very sad as she could not act as the heroine. She sat in grief, fixing her eyes vaguely on the skies.

We are aware that this athlete was an actress in the past. In reality, actress Devayani became an athlete in real life. She jumped over the gates of her own house, ran to Tirutthani and got married to Director Rajakumaran. This incident shook and jolted the Tamil film industry. The producers who had signed Devayani for their films were particularly affected.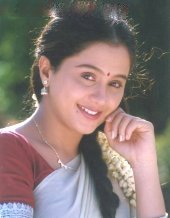 Unmindful of all these developments, Devayani proceeded on a mini honeymoon trip. When she returned to the central story later, after a long intermission, things had changed upside down.

The producers who had originally booked Devayani opted for substitute actresses and rushed to locales such as Ooty and Kodaikanal for shooting their films.

Consequently, Devayani was relieved from 'Pammal K. Sambandam' and Sneha captured her place.

A situation arose under these circumstances: Devayani had to sit in her house cursing the cinema people for turning a blind eye towards her, cutting vegetables to their size.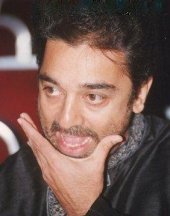 News reached the ears of Kamal. A protest was made for the exclusion of Devayani from the cinema circle. Aalavandhan declared that he too was married. Arrangements were made subsequently for the reentry of Devayani into the Aalavandhan crew.

Devayani received the sweet message of re-admission into the 'Pammal K. Sambandam' unit. The news reached Sneha also. Both Devayani and Sneha were confused. They didn't know what to decide.

Then came the climax.

Devayani ought to have seen the climax of many Tamil films. Suddenly she declared, "Let the confusion started by me end by myself. Should I act in the film when so many bitter things have happened?" though her heart was full of despair, disappointment and anguish. At last, she joined the hand of Sneha with that of Abbas.

Now it is the turn of Sneha to promenade with proud happiness. "Now I am starring in a Kamal film!"



---
The Parrots are on a kissing spree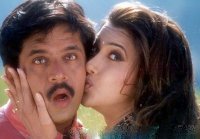 Some years back, actresses like Shalini, Devayani, Kousalya and Suvalakshmi gave hit films to Tamil Cinema. So characters with dignity were created for other actresses also, quite in the fashion of these actresses.

These actresses are now away from Tamil Cinema. So the present-day actresses have come out openly to state in their interviews that they are ready to display their glamour and that they are ready to act in kissing scenes also. This has caused a lot of jubilation in the minds of the directors. Now they have all started introducing kissing scenes in their screenplays. Resultantly, some exquisitely glamorous scenes are figuring in the films mentioned below: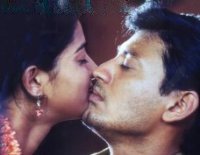 There would be very intimate scenes featuring
Sneha and Prashanth in 'Virumbukiren',
Sakshi and Arjun in 'Vedham',
Simran and Raju Sundaram in 'I love you da' (true story),
Laila and Vikram in 'Dil',
Raveena Tandon and Kamal in 'Aalavandhan' (Is there any need to explain?)
Monal and Malavika with Karthik in 'Lovely' (This is called the lucky spot).

Kisses are a plenty in these films, they say. You can quench your thirst by glancing over these photographs.





---
Simran on the peak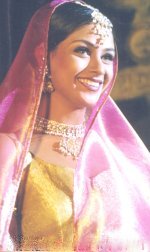 Generally, a gossip would end the opportunities that come in the way of an actress, although news is in the air that Simran and Raju Sundaram are in love. It has been officially announced that their marriage would be solemnized sometime next year. Yet Simran holds the number one position in Tamil Cinema (Sorry Jo!).

Presently, Simran is featuring for the first time and at the same time with the titans of Tamil filmdom such as Manirathnam, Balachander and Kamal Hassan. (Wow!)

"All these things would be there only for one-and-a-half years. After the marriage I will bid farewell to all this paraphernalia. Thereafter, my family would become my world!" says Simran.

But what would she do if her films turn into hits, and her market picks up greatly?





---
Hurrah!!!!!
Kousalya:

I am not in love with anybody. Still, I have age on my side. I would think of my marriage only after six years. I have forgotten the gossip that was spun around me sometime back treating it a nightmare. Therefore I don't have any need to tell a lie.




---
Boost of the Week
Roja:

I have participated in many marriage scenes in sixty or seventy films. But no one, so far, has tied three sacred knots around my neck. Only my husband should tie the wedding knot thrice around my neck. I am thrilled at hearing the sound of the marriage drum. I too belong to the Indian Culture. I am also born and bred in the Indian way of life.



---
T I T B I T S

Good heavens above! At long last, somehow, 'Virumbukiren' is going to be released this month. (Will the producer display the name of the director in the posters?)




---

Meena has only two films in Tamil. But she has eight films in south Indian Languages. She questions, "Come on, tell me now! Am I a neglected actress? Am I over the hill? (But yet, you have just two films in Tamil, isn't it?)




---

Karthik had dubbed for thirty-four consecutive hours for the sake of the film, 'Lovely' which had hit the silver screen this week.






---

'Chocolate', the Prashanth starrer would be sponsored by the makers of the five star chocolates. (Likewise, will Sathyaraj get any sponsor from Tirunelveli?)





---

As of now, the winds are favourable for Sathyaraj. Isn't this the month of Aadi, which is famous for its strong winds? Despite the fact that four of his films are struggling to see the light of the day, he has now simultaneously signed for new movies such as 'Sound Party', 'Military' and 'Cheran Express'. (Why these names at all? Tamil titles are hard to come by among his films. One has to search deep to find a Tamil title in the case of his films)


---

At first, 'Allithandha Vaanam', included Prabhudeva, Karthik and Sneha in its cast list. But the cast list has now been revised to have Prabhudeva, Murali and Laila. (Nice! Prabhudeva has escaped from getting axed)






---

Rajiv Menon who had recently directed the film that advertised coke is now making a mega T.V serial, 'Sembaruththi'. (Will the serial get the sponsorship of Pepsi?)





---

Lingusami who has directed 'Aanandham' is going to direct his next film with Vijay as the lead role.