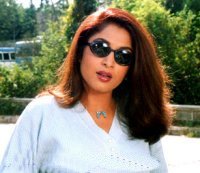 Alas Ramya!

Ramya Krishnan has one hundred films to her credit. But we her, these days, as an one-song actress, nay, danseuse. She has become a one-scene wonder. Tirunelveli, Vaanavil, Rhythm and the list grows. Producers do not seek her as she doesn't look as young as Jothika, Reema Sen and Amisha Patel, it seems. She is able to bag song middle-aged characters.

We asked her, "why should you act in single song sequences, especially after scoring a roaring success for your sterling performance along with super star Rajinikanth in 'Padayappa'?"

But Ramya Krishnan take things in her stride. She is very calm and unperturbed. "What is there? It is my fond dream to act in Tamil films. Acting in Tamil films itself is a rare honor. I am not avaricious even an appearance in a one-song sequence in a big banner film fetches me glory and fame. If I would act as a full-fledged heroine sparing call-sheet of 40 days, I can at the most get around Rupees 15 lakh. But, I am able to earn Rupees three lakh by enacting a song sequence straining myself for just three days. Who would deny such easy, quick money?"

No doubt, she has a point to make.

Make hay while the sun shines. Drench yourself when it rains.

---
Slow as Snails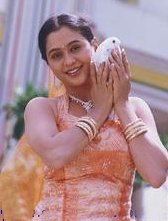 Certain films won't be released on Deepavali day as scheduled before. The release of those films has been proponed for certain trivial reasons.



Manuneethi :
This film has raised the eyebrows of Bharathiraja because of the rich content of the story. The film is ready in all respects. Concerned people have put in their earnest efforts for this film. Yet the release is delayed why so? Murali is the reason. He has given call sheets to many films freely.

As per the regulations, only one film of a hero should be released in a particular day. As another Murali starrer would be released on Deepavali day, Manuneethi has taken the back seat.

Vinnukkum Mannukkum :
From the beginning, the film was considered a certain Deepavali release. But the director Rajakumaran failed to utilize the call sheets of Sarathkumar to optimum use. Sarath got wild because of this. He too caused some delay in finishing off the shootings. A stalemate has set in. Producer R.B.Chowdry is highly dissatisfied with the ways of Tamil film industry as a whole. Under these circumstances, it will take at least one more month for the release of this picture.

Minnale :
Reema Sen has made problems with the allocation of her call sheets in record-breaking manner. So, 'Minnale' has failed to come out in lightning speed. The delay in the release of this movie is the handwork of the heroine herself that too, in her very first Tamil film. May be, she is bothered in the beast, as her Telugu film, 'Chithram' would safeguard her interests. One feels sorry for the sorrowful plight of the producer concerned.


---


Ajith's Allegation :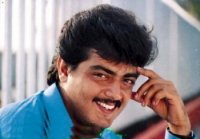 Recently, Ajith has attributed the following reasons for not acting in "Nanda".

"Some people will narrate the story in an interesting manner. But they won't be able to picturise properly. Some others may not be able to tell a story in an effective way. But the way they would film a story would be wonderful. Probably, Bala belongs to the second category. But I am very particular in listening to story and screenplay in a clear-cut fashion, that too, will be fore starting a film".

This remark has caused an alarm in Chennai film circle. Bala is an adept both in directing a film and narrating stories beautifully, clearly and efficiently. By all means, he is considerable to be one the great storytellers among the available directors in Kollywood. Many have certified before that he is capable of narrating a simple story such as a grand mother making eatables such as 'Vadais', in a different entertaining way. Ajith's comment has wounded the feelings of the dear and near ones of Bala.

"Why do Ajith speak like this and create problems?" they wonder, with grief.