Chinna 'Thirai'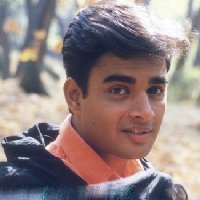 P.C.Sriram works wonders with both black and white colours. Once he was so fond of black colour and had been depicting everything in dark hues. But he has undergone a notable change, of late. Nowadays he performs a lot of magic through his camera.

At a fine point of time (we have not looked into the watch!) Jaya T.V had telecast the 'Pachchai Nirame' song sequence from 'Alai Payuthe'. The Cinematography in that scene was excellent to the core. The picturisation was pretty and the clarity was telling. When Madhavan jumped with outstretched hands singing 'Sahiyehh', P.C. Sriram showed showed deep red leaves that resembled the colour of betel leaves' juice. Where did they find such a wonderful tree and location? 'Pachchai Nirame' song proved to be a feast to eyes on the strength of P.C.Sriram's Camera tricks, Maniratnam's high commitment, Vairamuthu's youthful lyrical lines, Madhavan's exuberant dance and an eye-catching locale.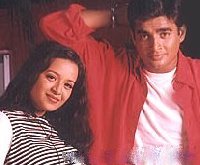 Injustice has been rendered to 'Minnale' again in Sun T.V. Minnale has been assigned nineth place in Top Ten Movies. It has been denied entry into Top Ten songs. Why is this animosity in between these two? If there is no malice, why is it Minnale is relegated the nineth place? Last Week, Minnale had crossed the landmark of Fiftieth day. If at all Sun T.V is in any doubt about the abundant collections made by Minnale they can make a visit to Devi theatre to confirm the fact that the film is enjoying a success full run of 'House-full' shows for the past fifty days.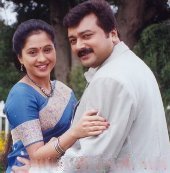 Jayaram who had acted as a doctor in 'Tenali' was introduced in Jaya T.V. at 8 p.m on Friday. Then he referred to his success in making all laugh through his performance in Tenali as the best achievement ever made by him. He can rightfully do so. It is Jayaram only who has earned equal fame to that of Kamal Hassan, that too in a Kamal starrer. In one particular scene in 'Tenali' he laments with anger in his face causing his son to laugh. He chides his son helplessly and asks his servant to come near him only to give him a kick !. All the audiences burst into a hearty laughter during these scenes. It is an injustice perpetrated by us to leave the stupendous actor utilised well and truly by the Malayalam filmdom.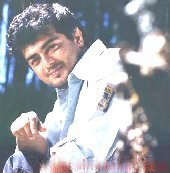 In the years of last millennium, we used to get up from the bed listening to Suprabatham song. In these days, people in many houses lose themselves in listening to film songs. Trends have changed upside down. On such a great dawn, we saw and heard 'Sollamal Thottu Chandra Thendral' song from 'Deena' in Sun T.V. This song bears testimony to the tall growth registered by Ajit.

Each line in this song has an unique modulation. But Ajit is equal to the task. He rises to the occasion easily. He brings meticulous variations in his facial expressions. He acts most realistically as if he had gained experience in the waiting game during the course of his love with Shalini. We are forced to feel sympathy for him for a few minutes at least. As we see this song scene, we are able to understand the truth of Vairamuthu's lyrical line: 'Sorkam Naraham irandayum Arivaai Kaadhalil' (know both about the heaven and the hell in love).



---

S H A N T H I - M A D H A N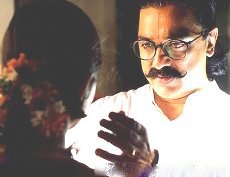 Shanthi is seated on her scooty. As she looked into real view mirror, she chanced to see Madhan approaching her fast in his motorbike.

As he stormed his way, Madhan stopped his bike brushing her a little. When he turned his head towards her he saw her thrown on the ground.

Managing to stand erect Shanthi questions me: "What the hell of a game is this? Luckily, I have fallen on the grass. Otherwise.... oh, my God!"

Madhan: (intervening) "Shanthi! My happiness knows no bounds. I am terribly happy. I am coming straight from Chepauk Stadium. You know, how fine Harbhajan Singh played?"

"Hell on you! No one can play as good as Kamal, you see!"

"What?"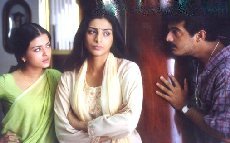 "I want to tell that Kamal is a record breaker. The filmfare award is akin to another national award for our film persons. Our Kamal has bagged this year's filmfare award for 'Hey Ram'. So far he has won 14 filmfare awards. Is it not a feat? But I can't understand one thing. Many people remain wonderstruck like me for they have selected 'Kandukondein Kandukondein' as the best picture and Rajiv Menon as the best director. It is hard to swallow this. Words go around cinema circles as to why these people do things like this, as to why these people do things like this, as there are better films and better directors. What man, don't you hear me? Where are you looking at?"

"No Shanthi, I just happened to glance at the headlines in the newsmart. I am afraid the T.M.C party without P. Chidambaram will turn out to be 'Virumbukiren' film without Sneha in it."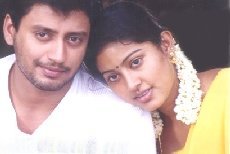 "Why? What happened to Sneha? Has she refused to act since her remuneration is less? Has she sung 'Paththala Paththala'?"

"Nothing of that sort, Shanthi. In the beginning all of them complained about her and worked against her interests. Now she has started retarding and posing problems again. She has accepted scenes of tamil as well as Telugu films. Therefore she is not in a position to attend the shoots of 'Virumbukiren' promptly. Hence the lacuna with 'Virumbukiren'. The film is staggering for the past one and a half years!"

"It is widely said that Prashanth gets on very well and lucky with the heroines. But the very same heroines stand in the way of the release of his films. Is it not an irony? If it is Shalini in 'Piriyadha Varam Vendum', it is Sneha in 'Virumbukiren'!"

"And in 'Panju', it is Kaveri and Radhika Chowdhry....."

"(Shockingly) My goodness! I think 'Panju' has been launched very recently. I don't know who the heroines are. Meanwhile you say that Kaveri and Radhika Chowdhry are creating problems. It is all news for me!"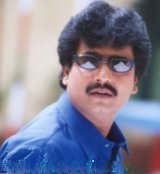 'You must be nuts. What I wanted to say is that Vivek has two sweethearts in Kaveri and Radhika chowdhry. That's all!"

"I see. Vivek is going to make his entry in the opening scene duly lighting a match stick. Who is going to be touched by him? I think, it' s Kaveri. She is more beautiful with chiseled facial features."

"Wait a little. I 'll tell you whom it would be after seeing the film!."

"Okay, man! tata! I am leaving now. I must go to receive my election identification card!"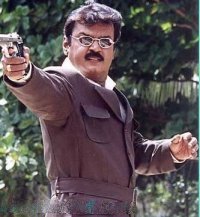 "Well! You are giving 'Tata' signal like Vijayakanth who gives 'Tata' signal to action."

"What did you say? I didn't follow"

After 'Vanathaipola' Vijaykanth has indulged well and truly in action pictures. Even his current picture 'Narasimha' also is a stunt film".

"Therefore?"

"Now his friends and fans press him to do another picture like 'Chinna Kounder' and 'Vanaththaippola'. So Vijayakanth has now decided to make a film based on a family-cum-comedy subject."

"Madhan! Will you please tell Vijayakanth one thing on my behalf?"

"Me? Okay. What should I tell to him?"

"Let him not conduct any Panchayat under a banyan tree or pass judgement standing in the middle of a marriage halls at least in that picture. If he still insists that he would be advising people, let him confine his leadership qualities within the premises of the Artistes' association. Will you please tell these things to him?"

"Sorry Shanthi. You are ventillating your grievance at the wrong hour. Don't forget that this is election time. This is the time in which actors give advice to the general public. So, there is no escape from these advices. You have to be more patient. That's all".

"Are you adding your advice too? Stop advising me. Don't drive me mad. I am fed up with these advices. Enough of all these advices!"

So saying she starts her Scooty, takes the reverse direction, picks up speed and dashes against Madhan's bike.

Alas! She has another great fall this time too.



---
The director's dilemma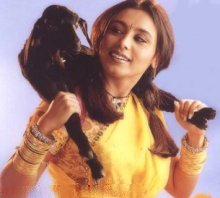 "I can finish 'Nayak' easily as I have 'Mudhalvan' as a handy example with me and 'Nayak' is just a remake of Mudhalvan"

These were the words uttered by Shankar while he started 'Nayak'.

But, contrary to his expectations, the film has proved itself to be a long haul for the past one year. Rani Mukherji's non-cooperation and Shankar's meticulous involvement and over-emphasis on trivial matters are cited the reasons for the delay.

As the time has come for Shankar to turn his attention towards Kamal's 'Robot', he is rushing through the shoots of 'Nayak' scenes at AVM studios for the past two months. (It is a cock and bull story that it required 38 cameras at one point of time to shoot the film's scenes).

As the film is a Hindi version, Shankar has incurred more than twice the expenditure that required for 'Nayak'.





---
Three mangoes in one stone!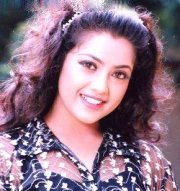 The parching heat of Chennai summer is a disturbing factor. As it is, every film star is drawing his or her own plan to beat the heat of the scorching Sun. Meena has planned to fly to Japan very soon giving a slip to the enervating Indian summer.

The visit to the cool country would provide her the required welcome relief. Moreover, she has decided to do three purposeful things during her stay in Japan. First, she would film the scenes connected with the album, 'Kadhalism', which has been produced and sung by her, at the beautiful idylls in Japan. Secondly, she would be completing the business deals with respect to the album. Thirdly, she would feature in a star nite programme there. All said and done, it would be a three-in-one triumphant tour, apart from being an escapade from the taxing and telling heat of Chennai.





---
Action hero Vijay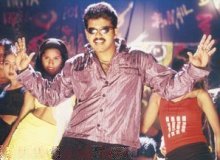 You would see an adventurous Vijay in 'Bhadri' slated to be released on Tamil New Year's Day. In the film, he has performed some risky ventures almost like Vijayakanth's acting.

It is an action-packed scene. Five cars would run over his hands. A piece of rock would be thrown against his chest. People would attack him with flaming torches made of teakwood. Vijay would break ten bricks with a single hit. The director was explaining the tasks to be done by the young hero. But Vijay did not develop cold feet. He was simply equal to the tall order made by the director. To the shock of the director and the rest, he coolly said: "Okay, Sir, I shall do all these things myself!"

He further said: "I have seen in the original Telugu version of the film that the hero himself had done all these feats without resorting to the help of any stuntman. That has inspired me. I too wanted to grapple the challenging situation on my own. I desire to act in a similar manner following the example set by the Telugu hero!".

To perform this wondrous, heroic scene, he underwent specialized training at the hands of the Karate hero, Hussaini.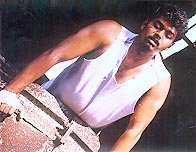 At the appointed date and the moment of truth, Vijay stetched himself against the earth. Five cars came rushing and sped past over his out stretched hands.

The shot was okayed. Luckily, no damage was done to the arms of the hero. All the members of the film unit were astonished at this spectacle. Everyone was spellbound at the bravery and the commitment of Vijay.

But a famous Cinema magazine displayed its lack of appreciaton when it wrote that there was an element of graphics gimmicks in this scene. This had obviously agitated Vijay and the others who belonged to the unit of 'Bhadri'. Vijay's moral indignation is natural. It is sad that brickbats were handed to him instead of bouquets.

No doubt, everyone would aim a stone at a tree full ripe fruits!


---
Ajit, the philanthropist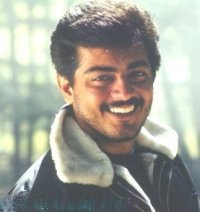 It is the practice of Ajit to present a car to the director who makes his film a success. It all started with the thumbing triumph of 'Vaali' when he gifted Director Surya with a Car.But this generosity had stopped with a failure of 'Unnaikkodu Ennai Tharuven".

But Ajit is going to prove his philanthropic nature once again as a result of the success of 'Deena'. Deena had a successful run throughout Tamil Nadu. It had brought about a veritable deluge in terms of box-office collection. As such, Ajit has decided to spring a pleasant surprise on Director Murugadass during the 100th day celebrations of 'Deena'.

Is it a car or a flat or a rich fund of money? The appointed day will provide the answer. Let us wait and see.





---
The New leap of Kamal
As 'Aalavandhan' has reached its final stages, 'Pammal Sambandham' would be his next great leap forward.

"Pammal Sambandham" is going to be produced by Media Dreams and directed by Mowli. It goes without saying that the film would be a comedy for all practical purposes as Mowli is the director. The film would reduce half of the anxieties of Simran's fans as she has not acted so far, with either Rajini or Kamal. Now she would act with Kamal in this film.





---
Suvalakshmi.com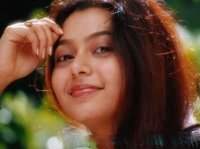 Only a few people of Tamil filmdom utilise the internet properly. Ignorance is the room for this. But some people like Kamal, Prashanth, Laila and Suvalakshmi have established websites of their own having their fans in their mind.

Of them, Suvalakshmi is the latest to start a website centering around her.

When one browses through Suvalakshmi.com, one can see for oneself, the active interest evinced by the actress in the matter. The fabulous lay out and the wonderful contents bear testimony to the actress in making her website a meaningful entity.

The website is full of interesting news about Suvalakshmi. She has come out openly to bear many facts including incidents that took place in her life from childhood to this date. It is more or less an open book about her life.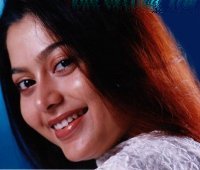 One incident narrated by her in that website stands out. It seems an eighth class student got infatuated with her when she was studying in class seven. When the boy sent word through one of her girl friends, Suvalakshmi was taken by surprise. Promptly she refused the advance made by the boy. This had angered him and he had attacked the girl who was sent as a messenger. Suvalakshmi took the matter to the principal and saw that the boy was suspended for three weeks from attending school. She gives a fitting finale to her narration: "That was the last news I have heard of him. Good riddance. Good Heavens!"

"I had butterflies in my stomach", Suvalakshmi describes idiomatically and exactly her state of mind when she went to meet Satyajit Ray, the legend of Indian Cinema. This website is a fine product and it proves to be a feather in her cap.

---
Cut here and Paste there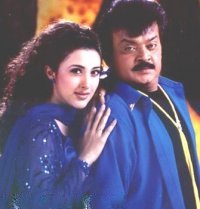 It is common knowledge that 'Vanchinathan' suffered many bruises while editing the final copy.

Three song scenes were deemed to tamper the free flow of the storyline. But the very same sequences are being added here and there as the Telugu version of the above film is taking shape.

Why were these three scenes discarded originally? Ramya Krishnan and Sakshi are the reasons. While Ramya Krishnan enjoys evergreen fame with the Telugu film watchers, Sakshi is the most sensational actress in Telugu filmdom. And the two women are in these three songs.

There is another fact on top of all these things. When Sakshi sought justice with Vijayakanth, the President of the South Indian Artistes Association as well as the hero of 'Vanchinathan', against the removal of certain scenes and song sequences of the film in which she had acted, the actor had promised her to add the scenes left out at the appropriate places while giving shape to the Telugu version of the film. Surely, Vijayakanth has kept up his words.





---
Time is money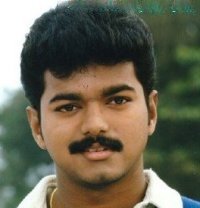 After a long time S.A.Chandrasekhar is making a re-entry into film industry through the movie, 'Dosth'. If that is the case, can Mrs.Shobha Chandrasekhar be far behind? On her part, she has made a story ready to be transformed as a film.

Then, why does she hesitate?

She is determined that if at all she makes a movie out of her story, she would have only her son as it's hero. But the hands of Vijay are full. He is already committed to many assignments. He can't spare call sheets to anyone until December, 2002. Mother too is not an exception. So Vijay's mother, Shobha, has to wait until 2003 to step again into the tinsel world as a story teller.





---
The Silent King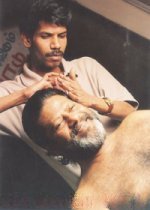 Rajkiran has just turned the corner. Lady luck has smiled on him recently. Opportunities are now in galore for him. Therefore many comforts and facilities have embraced him. Gone are those days of pain, penury, woes and anguish. Peace has come by. Evil effects have evaporised for him like dew in sunlight.

As of now, he is acting in the films being created by high quality directors Bala, Cheran and their like. Hence there is a revival in people's confidence on him. So many more opportunities have started knocking on his doors.

But the turn around in his fortunes has not tilted his balance of mind. He carefully avoids giving interviews to magazines. He has resolved to speak out his mind only after the release of 'Nanda'.





---
The return of the native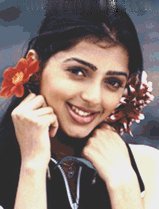 Director Sasi had tied down the fans who have viewed the picture, "Sollamale" on the strength of his wonderful magic with the screenplay of the film.

Afterwards, he remade Sollamale with the name "Seenu", with Venkatesh as its hero. But the audience was not prepared to accept the handsome Venkatesh as an ugly person, for the sake of the story. Hence the film bombed at the box-office.

In light of the above, Sasi has returned again to Tamil filmdom. He is going to direct a film titled "Roja Koottam" to be produced by Ravi chandran. The hero would be a new face and his name is Srikanth. Bhoomika is going to be the heroine.



---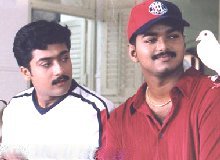 In this new segment which would come from this week onwards, we would bring the flaws and shortcomings of the films to the notice of the fans. Our objective is to infuse a desire in the minds of the concerned people to avoid and set right these drawbacks at least in future. We would venture to see the 'logic' both in the new and old films. We also welcome your reviews in this connection. We like to inform you that your reviews would find a place in our website too.

With 'Friends', Vijay scored a hat trick of successful films. Yet the film fell short of logic at many places. There were three clear-cut drawbacks in the film. We would like to throw light on those big flaws only.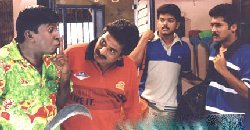 There are two heroes in the film, Vijay and Surya. They have the Kerala beauties, Devayani and Vijayalakshmi as their pairs too. These were the captivating factors of the film. But the film is silent about the vocation of Vijay and Surya. All through the film, a doubt lingers in our mind. "What are these guys doing? Are they studying? Is there a job for them?" We simply fail in our mission to find an answer to this question. But the twosome are happy-go-lucky to the maximum extent. They find pleasure in their 'IIl Thak Ka Sai Aa' and 'Rukku Rukku Rookkaja'. Will it suffice with these idle pleasures? Vijay and Surya ought to have cared about knowing their characters when they listened to the story from the director. (Even Vadivelu has a job to do!)

What do we do when we white-wash or paint our houses? Either we would vacate half of the house or we would change the articles from one place to another. But 'Friends' presents a different spectacle to be seen. There is a virtual crowd in the house and they invite Vadivelu to white-wash. To add to our confusion, Devayani and her team enter into the house as guests. And it is shown that they get the house white-washed by Vadivelu. Incredible!

Did not the director hit upon any other idea to bring Vijay into the house? There is no rhyme or reason in the scene. The scene served just to show the fun created by Vijay, Vadivelu and their company in the name of whitewashing the house.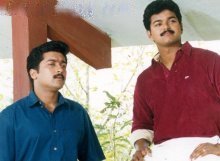 To cap it all, there is a big blunder in the climax. Vijay is shown as a coma victim of five years. Although Vijay does not have any food and remains incapable of thinking anything, we see no changes at all in his physique. He just lays there on the cot as hale and healthy as ever. Mere cropping of hair and sporting of a beard of five days cannot do the trick. Vijay's physical attributes do not depict him to be a sick person at all. Wonder of wonders, when villain attacks Surya - and exactly at that point - he gets his thought process functioning again. Quite unbelievable!

Director Siddique might have arranged to offer us all a basket of flowers, when they issued tickets to us at the theatres. How gullible they think that we are!


---
Ah, this actors!
Sakshi:

They have unleashed many rumours against me and my sister. But I owe my gratitude to them all for having given free publicity to me and my younger sister. The net result is the boost in my market.







---
This week's felicitation
Jothika:

Kamal is like a sea. We see just a few things about him on the surface. There are many hidden treasures and wonders in him. One would get a new enthusiasm when Kamal is around on the shooting spot.



---
This week's accusation
Nagma:

I have taken some decisions which went wrong. When I was requested to act in 'Muthu' I refused because of my fear that I many have to come down from the height of a grand success. I forsake the opportunity of acting in Suryavamasam as I wanted to put an end to the rumours that linked my name with that of Saratkumar. But the movie turned out to be a super hit.






---
T I T B I T S

Abbas has acted along side Rajini in Padayappa. Next, he is going to act with Kamal in Pammal Sambandham.








---

'Citizen' is going to be released on the birthday of Ajit. Similarly, Balachander has planned to release his movie, 'Paarththale Paravasam' in July ... on his birthday.






---

Kutti Padmini is going to make a move from a small screen to a mainstream film, following the footsteps of Radhika. Soon she would be producing a feature film.





---

Saratkumar, Prakashraj and Raghuvaran act as friends in 'Dosth'. The separation in their friendship changes the very trend of the film. All the three actors have become one with the storyline and give off their best.




---

An actor's wife to this field, sooner or later. Vijayakanth's wife also has joined in the list of woman who have married actors and turned into costume designers. She tried her hand as a costume designer in her husband's forthcoming film, 'Narasimha'.


---

Silambarasan renders two dance numbers in 'Sonnal Than Kadhala'. But T.Rajendher has decided to utilise him as his hero in his next film.



---

Music director Dina of 'Siththi' s fame is going to make giant's strides in the film industry. Already he has made his dent into the filmdom with his music scores in movies like 'Middle class Madhavan' and 'Naan Pesa Ninaippathellam'.