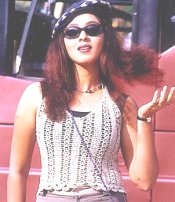 "Hi! Why do i see a trace of grief on your face?"

"Naturally! Last week was a bad one for the Tamil filmdom? So to say, the Cine industry came to a standstill. The demise of Tirupathisamy was the first blow and Sarika had a fall from the stairs and got her backbone injured. There were confusions in the producers association."

"Yes, I agree with you. But our actresses continue to be happy forever, no matter how big the problems are for the other film persons. Meena has just returned from her jolly tour in America. Jyothika is busy with the preparations of the film to be produced by her. Monal, the sister of Simran, is also in a happy state of mind." "Why? Is Monal elated because she bagged the opportunities to act in two films?"

"That is one reason. There is also another reason. Formerly there was no proper understanding between the sisters. Therefore Simran kept herself aloof from the problems connected with her sister. But she has grown sympathetic over her sister as she could not make a good name in both her films. So…"

"Wait, wait. I shall tell you a thing in this connection. She wants Monal to become the dream girl of the Tamil fans the same way as Jyothika, the sister of Nagma, has already become. So she has now started giving suggestions to her sister on costumes, allocation of call sheets and selection of characters. Am I right?

"You have caught the point. How is it possible for you"

"Doesn't a woman know the mind of another woman?"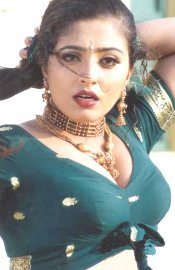 "Is it so? Then, can you tell what's there in the mind of Mumtaj?"

"Hey are you trying to outbeat me? I shall reveal my view afterwards. Come on, tell me fast. What is there actually in her mind?

"She has a very good mind. She has said that she is going to contribute her might to the people of Tamil Nadu to the maximum extent possible…"

"Halt please. She is displaying her glamour in ample measure. Already her song has found its place in 'Midnight Masala'. What else she has by way of new stock to offer to the masses? What is she is going to lavish upon the public?"

"Oh, You ought not have said that a woman knows the mind of another woman. Don't be a boaster. Don't blame Mumtaj. Her birthday falls on the fifth of next month. So she has planned to offer her help in a big way to the poor and needy apart from her fans. The associations of her fans would help her in fulfilling her plan. She has assured that she would always be extending her helping hand to the Tamil fans who enable her to lead a grand life as an alluring actress. So please don't criticize her."

"Madhan! Don't be carried away by the image of Mumtaj. Don't place so much ice on the actress for she may catch cold, fall sick, get admitted in a hospital and stay there for a month or so!"

"Wash your mouth. Now I am going to break some divine news to you!"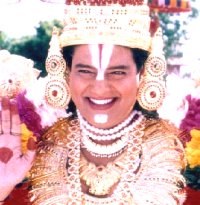 "Ezhu kondala wada, Govinda, Govinda!" Come on tell it to me. Now I have become Miss Clean!" "So far Vivek has been cutting jokes at the expenses of the blind beliefs that are prevailing in the society. But, in the film, 'Viswanathan - Ramamoorthy' he gives darshan as Venkatachalapathy and showers his blessings on the pious and devout people. To act as the role of a God, he has sacrificed sporting his romantic moustache itself…."

"I see. So who is Aandal?"

"Without any doubt? Who can it be? It is Kovai Sarala, you know."

"Madhan! Vivek is known to remove a thorn with the help of another thorn. Will he be asking, even as he is appearing in the garb of Lord Balaji, whether a God who does not reside in Pazhani Malai or Thiruththani could be living in Tirupathi alone? Like that…?

"It could be. In the present trend, people are going to laugh heartily and enjoy whatever he does or says. It is not the get up. It is the actor who matters most to the moviegoers. But one has to pity Prabhudeva…"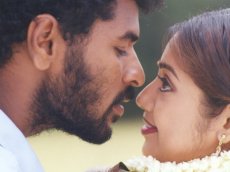 "Why? What happened to him? Has he not returned recently from his American tour. Has he not earned a good name for him? Has he not increased his fame because of his visit to that country?"

"I can't deny those things. He is a highly talented dancer. But there was a big craze for him during the days of 'Kadhalan'. Now people are not that crazy for him. He is unable to bag the chances of acting in the films of big directors. So he wants to act in films which feature some rich heroines. For this reasons he is strongly recommending the name of Laila. There is a heavy hearsay about it. The dancing tempest is trying to sweep away Priyanka Trivedi who is figuring in 'Suvasam' and 'H20'"

"Oh, my God! It is but natural that a tree with ripe fruits would be aimed at with stones. Similarly, Prabhudeva always find himself in the midst of gossips. All of it started with his marriage with Ramalath, a co-dancer, then his love with Meena, his divorce from wife and now, recommendations to Laila. The list of Prabhudeva's connections grows longer day by day. He too becomes a subject for controversies because of his utterances. Why is it like that, Madhan?"

"There is an adage in Tamil, meaning, 'A frog would cause danger to itself with its own mouth'. He would have read that proverb in his school life?"


---
Vijay takes the place of M.G.R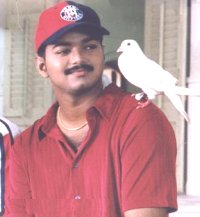 News was around sometime back that Vijay would be starring in the new film of A.V.M productions. Further details about the film were kept in the dark . Now things have come to light.

Suresh Krishna, who is directing the film did not narrate the film's story to Vijay. Instead, he gave him a video cassette of the film and told him that they have planned to remake the film. Vijay presumed that it would be an English film and elated to act in its remake.

When he pressed the 'Play' button of the video player with high spirits he was in for a disappointment as the film was not an English film, but actually an M.G.R starrer, 'Mattukara Velan'!

Vijay has a dual role to play in the proposed film because there are two M.G.Rs in the original film. One M.G.R hails from a village and the other belongs to a town. So we would be seeing a rustic Vijay as well as a sophisticated Vijay in the film to be remade.

Vijay is not fully satisfied with the old film to be remade now. Yet, he has agreed to act in the remake film reposing his confidence with the two titans, A.V.M and Suresh Krishna.

Lets hope that the film to take shape would not earn a black spot as 'Bhadri' has done.





---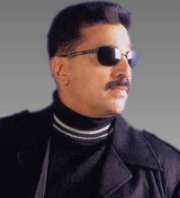 Balachander, the centurion

K.Balachander, wanted to give a facelift to his one hundredth film, so he approached Kamalhasan and asked him to act in a guest role in that film.

But Kamal and Balachander are not the best of friends. They have not seen 'eye to eye' in several matters for quite a few years. The director has failed to turn up for the inauguration of the shoots for Kamal's dream picture, 'Marudanaayagam! Kamal is not happy over that.

But the differences have sunk now. The titans are joining hands once again to offer a feast for the eyes of the moviegoers.

Kamal has said 'yes' to act in Balachander's film, 'Paarththaale Paravasam' as the director himself had gone in person to request him to do so. He is going to don a comedy-role which would be an added advantage to the picture which is a highlight as Balachander's one-hundredth movie.

In the mean time, many attempts are being made to feature Rajinikanth also in the cast list for this film.





---
Changing Roles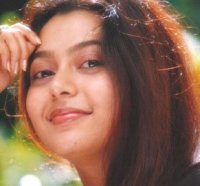 Suvalakshmi who has studied law had donned respectable characters alone right from her debut film 'Aasai' to this date. Unable to hold herself in the glamour-based celluloid world she planned to jump over to the position of a director. But it was not to be. She could not surmount the stumbling blocks placed on her path. Her directional dreams were not be realized. Now she has turned her eyes to the small screen. Soon she would be vying for honors with television actresses like Banupriya, Radhika and Monika.

Presently, she is playing the main character in the T.V serial, 'Soolam'. She is not giving importance to roles shedding tears, but she has decided to give priority to roles having scope for majestic and confident traits.

Suva! Ensure your position and carve a niche for yourself in these roles at least.

---
Duplicate rules the roost!!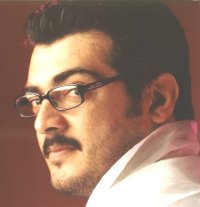 With the release of the audio cassette of 'Star', the tamil film world expects that the masses would become crazy for the songs because the music has been scored by A.R.Rahman.

But the public has fallen for the songs of 'Citizen'.

Today the songs of 'Citizen' have swayed over the psyche of the covers of film music, so to say. The song, 'I like you' has captivated the attention of many like 'Vasegara'. Today, 'I like you' is here, there and everywhere from the famous T.V Channel's to the tea-shops in the street corners.

But it has been copied from the 'I feel lonely' of the famous English music director Shasha. Eventhough Deva is a master at copying tunes, none can beat him at making the songs a super-hit.





---
Ramba, the Producer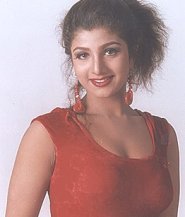 When you have Ramba in the cast list of a film, the producers can rest assured of the triumph of glamour in their film. Her thighs alone can do the trick. She easily scores as a glamour queen.

'Maams', the film in which she is acting alongside Prabhu was about to be kept in abeyance because of financial stringency. But Ramba has stepped in to resource the film by dragging out the mire of pecuniary hardship. She has given the clarion call: "Wait, wait. Do not panic. Hereafter, I shall take care of the film!" The alarm is over now.

What has made Ramba turn into a producer? Why this sudden desire? Maybe, she is following the foots steps of Jyothika, Ramya Krishnan and Meena. When all these established actresses themselves are making their own films, will Ramba who is standing on the edge of the Cine field lag behind? Is it a quest of survival ...or is it a comeback bid?





---
Silambarasan - a chip of the old block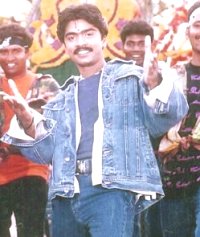 Failure is not new to T.Rajendar. Push him into the deep sea and he will emerge safe soon out of the shallow waters, unhurt.

He released his film 'Sonnaldhan Kadhala' immediately after his failure in the polls. The film cannot be termed a super hit. But the statistics of the commercial circles say that it is one of his successful films. No doubt, the profit is there.

T.R has been grooming his son Silambarasan from his childhood days, by training him to blossom into a full-fledged hero in due course. The two dance numbers rendered by Silambarasan in 'Sonnaldhan Kadhala' have received rave reviews from all the film-goers. The son has brought laurels to his father. He has made him proud. Silambarasan has arrived for certain. T.Rajendhar has decided to introduce his son as the hero in his next film, 'Kadhal Azhivathillai'.

He is on the look out for the right pair for his son. His table is now replete with the photographs of many models of Mumbai.

---
Research of Shakeela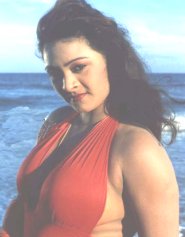 Shortly, you can see Shakeela of South India(!) on either B.B.C or Star T.V(!!)

So the clippings of Shakeela seen hitherto on the screen can be viewed hereafter from our drawing room (Hi!)

How?

An entertainment company, 'XY T.V' of England is going to make a documentary film with the title, "In the subject of the films which have degenerated the virtues of Indian Society", They are going to show the clippings of Shakeela as proof of the the degeneration of the society. For this, XY T.V is gathering the details about Shakeela through a team of investigators. After finishing with its through research 'XY T.V' would be selling the clippings to B.B.C or Star T.V.

By the quirk of fate, despite all this fame, Shakeela could not ensure a firm place for her in Tamil films. What attraction Mumtaj has, more than Shakeela, one wonders!!





---
Enter the dragon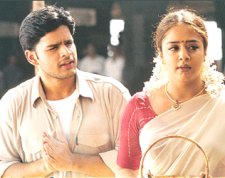 Who is the next Madhavan?

Today, this is the most absorbing question in the tinsel town.

Those who are in the race for the title are Shyam of '12B', Srikanth of 'Rojakoottam' and Richard of 'Kadhal Virus'.

As Srikanth is sharing the screen with Bhoomika, Richard is featured alongside Sridevi Vijayakumar and Shyam with Simran and Jyothika.

Shyam is a lucky lad. He has hit a jackpot in his very first film. The director is very famous. Nothing is to be said about the heroines (Simran, Jyothika). The subject is about the youth. The talk of Kodambakkam today is that Shyam would be the 'Snehithan' and 'Vaseegara' in the near future for our womenfolk.





---
A shot in the arm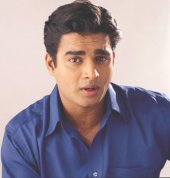 Madhavan has become the favorite actor of Manirathnam (Formerly it was Arvind Samy!). He has now been booked to act in the next venture of Madras Talkies. The name of the film is 'Pepsi'.

Susi Ganesan of 'Virumbukiren' has been signed to direct 'Pepsi'. 'Virumbukiren' is a long drag. It is tattering for the past two years to find its way. Susi Ganesan is in low spirits as the film is groping in the dark. Now that he is going to make a film for his alma mater he can heave a sign of relief.


---
Mumtaj

I have been pleading with people to recognize my acting skills and also i have requested them to give me ample chances to prove my mettle. Now I have got the required break. Until now I was branded as a glamour queen. From here onwards, I will earn titles like 'Action storm' and 'Acting star'. I can surely do so.



---

This Week's Tribute

Vikram:

Director "Sethu" Bala is a hard worker. He will work his way to the finish and see the talk undertaken fulfilled. Therefore I like him very much.


---
T I T B I T S

Sathyaraj is going to reel out another film like 'Ennamma Kannu'. The name of the movie is 'Sound party'.






---

Now Murali has been booked to act in the role originally allotted to Karthik in the film, 'Alli Thantha Vaanam'.






---

It is Mumtaj who is acting in more films than others in the current season? She has a dozen films to her credit.






---

In 'Narasimma', Vijayakanth would be fighting against four stunt masters instead of the usual stuntmen.






---

P.Suseela had left the Tamil film world in the lurch by announcing that she won't sing again. Now she is going to act some scenes in the film 'Manadhai Thirudi Vittaai'.


---

Once the Ajay - Malavika pair was creating a sensation by acting together. Now the pair has parted. At present, they are acting separately in Tamil films.





---

Mumtaj is going to sing in the film name 'Mumtaj'.







---

R.B.Chowdhry is going to give a new lease of life to the movie, 'Kamarasu' which was shelved some two years back.