Will you follow suit?

Many people don't believe in numerology. But the craze of our film people for numerology is very strong. The range of their craze makes us also tend towards the science of numbers.

Many examples come readily to our mind. Many cine people who have changed their names according to numerology have turned their lives into successful ones. One person entered into the tinsel world with the name, Praveen Gandhi. When his film 'Ratchagan' flopped, he chose to change his name into Praveen Kanth. Now, his name is one those which are widely talked about among the film personalities of Chennai.

Rasika came to feel that it was her name 'Rasika' which proved a hurdle to her, despite her beauty. She promptly changed her name into Sangeetha. What a wonder! Now she can't stay in her house at all. Opportunities are pouring in now for her, both from Tamil and Telugu film industries.

Same is the story with Director Shakthi Chidambaram . It was he who wrote the dialogues for the films Kottai Vaasal and Padhavi Pramanam, with the name, Dinakar. As Dinakar, he had directed the film, 'Samrat' too. All his ventures failed, one by one. With his change of name as Shakti Chidambaram, he directed the film, 'Ennamma Kannu'. That film was a thumping success. The film catapulted the name and fame of Sathyaraj to great heights.




---

The Circle is Completed

For many years, S.A.Chandrasekar has been making films on themes like romance, action and comedy. But nothing clicked. Success was hard to come by. After consulting his friends he has now returned back to his pet theme, law, which has earned him laurels at the beginning of his film life.

Hitherto, he was busily engaged in the construction of a Three Star Hotel, which he was building for his son Vijay , now he has diverted his attention in full on the making of his new film. As the film would be based on the theme 'law', he has frequent meetings with law expert.

He has selected Sarathkumar as the hero for that film, as it requires a fiery person who can deliver his dialogues with all force at one's command. The name of the movie is 'Dhosi'.




---
The Winner takes all!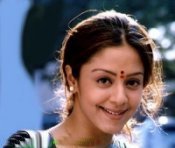 Jothika has reached the number one spot among the Tamil film heroines. But she is not willing to rest on her oars. She has determined to eliminate Simran totally from the competition.

It was Simran who was looked first for 'Thenali' . But the tremendous success of 'Kushi' and the intervention of Jothika spoiled the chance of Simran. Simran was looked alongside Prashanth for the film, 'Star'. Even the posters have been printed. The filming of the movie got delayed because of the bickering in between Prashanth and Praveen Kanth. Jothika found the breathing time to poke her nose now. She could once again dethrone Simran and usurp the big chair form her. Thus, she became the star of the 'Star'.

If you want the call sheets of Jothika, you should go straight to her and tell that you have come to book her instead of Simran. This lie would do the trick. She would immediately start noting down the details about the movie,which you are planning to make.

All this in all seriousness!




---
Read in between the lines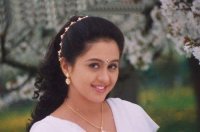 Devayani and Divya Unni have come form kerala. They were found in deep conversation during a recent function. Some close friends of Divya Unni from the film world enquired her about the content of their conversation. Plain spoken, as she is, Divya Unni, unwittingly revealed the secrets they exchanged. "Akka is very good. She explained in detail the reason for the failure of my film. She advised me to act glamorously in my future films as it won't do in Tamil films if you hesitate to bare your body little". The friends were shocked to hear this.

"Don't pay head to her words. Presently, you are giving stiff competition to Devayani. In as much as she wants to eliminate you from the scene, she has ill advised you. Don't follow her advice, for heaven's sake. You won't be received well as a glamour queen. Only family roles would suit you. Your face and physical structure will let you down if you try to make a mark as a sex bomb!"

A nice advice indeed! Friends are for keeps no doubt.




---
Vijayakanth Sits in Judgement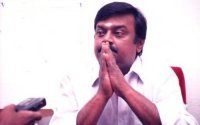 The position of the President of the Artists' Association keeps Vijayakanth very busy. He is doing all the spadework regard to the settlement of the debts incurred by the association. Each member obeys his remote control in this respect. All the office-bearers carry out his orders faithfully. But he finds it a headache in sitting as a judge while settling many disputes that crop up among the members of the association.

The problem in the dubbing of a Murali film, the Shalini's refused of acting, the hike in salary, Sneha's refusal of acting, the hike in salary, Sneha's breach of contractů the appeals are galore before him.

Ravali came to him with her grievance. She had actor alongside Babu Ganesh in the film 'Nagalingam'. Salary was not settled to her. When she related her story, Vijayakanth invited Babu Ganesh to the association's premises. His stern words were obeyed by Babu Ganesh. The grievance of Ravali was redressed.

The joy of Ravali knew no bounds. Sharing her joy afterwards with those who were waiting outside, she declared, "Now only I have reaped the fruit for my toiling and moiling in rain and shine!"

Who would dare ask the master to change his Verdict?




---
Meena's eye donation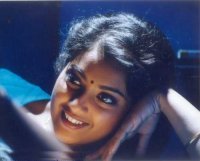 In recent times, rumours have caused great pain to Meena . But now two things have gladdened the hearts of her, her family members and her fans. The accolades earned by her for her excellent performance in 'Rhythm' have given jubilation to her. Furthermore, she has come forward to donate her eyes. This is a laudable thing. People talk high of her, because of her helping tendency.

The eyes of Meena were certaining her plus points. Leave alone her fans. Her eyes make the other actresses to grow green with entry. When she returned from London where she celebrated her recent birthday, she went straight to Shankar Netralaya to donate her eyes.

The following is her opinion in this regard. "My eyes are beautiful. They should be useful for others too. I have my predecessors in this respect, in the cine field itself. Rajini Kanth, Kamal Hasan, Aishwarya Rai and the all have already announced about the donation of their eyes Parthiban and Seetha have gone one step further. They have, in fact, donated their whole bodies. First I thought to keep this matter as a secret. But on second thought, it struck me that some more people may come forward to make such donations taking due from me.

The Vivacious heroine certainly has set a good example.