Chinna 'Thirai'

Courtesy to the trailer segment of Vijay T.V. and about 'Love channel':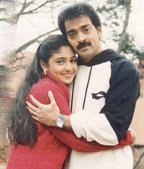 Currently no director wants to take credit for 'Story, screenplay, dialogues and direction'. Director A.L.Raja chose to indicate 'Thoughts, Words and Creation' before his name in the title card for 'Ninaikkatha Naalillai'. The director of 'Love channel' has now opted to mention 'emotions and creation' alongside his name. It's all right. It would do a world of good for the present - day directors to utilize the same amount of imagination in the actual execution of the film as a whole.

The trailor presents the merry-go-round of the happy-go-lucky lovers, Eshwar and Baby Monisha. There arose a review about 'Kadhal Desam' that Tabu looked like the elder sister of the heroes. Similar Seathing criticism can crop up about this film also.

We happened to see the retelecasting of the programme in which Radhika participated for 'Pepsi Ungal Choice'. The programme that was filmed in a single day was shown for four, five weeks. It was dull to see Radhika in one and the same dress. Had she changed the costume for each week, we might have felt new experiences.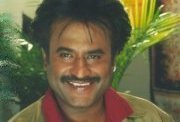 Once again it is election time. When the elections come can Rajini films be far behind? Sun T.V has started displaying Rajini movies. This has come as a solace for the eager fans whom long very much to see a Rajini stirrer, which has become a rare feature in these days. Sun T.V has presented 'Badshah' and 'Mannan' for the view of the countless fans of the mega matinee idol, Rajini. These two pictures actually took Rajini to the mountain-top. Rajini has spoken sharp dialogues, which had a political undercurrent, face to face, against Vijayashanti in 'Mannan'. Wonderful penmanship! Let this election picture be released again and again in the ensuring elections too.



Sun T.V's screen review on 'Little John'. The review was to the print and meaningful as Bently Mitchum, the hero, has connections whatsoever with an political party. Bentley's action was upto the mark. His Tamil pronunciation was also interesting. He cuts jokes at the expense of the saint who tries to do magical feats but miserably fails to do so. "He does this and that. But nothing comes. The result is zero!". We are provoked to think that he would be a sure success as a hero of comic scenes in an endearing, natural way.



---


S H A N T H I - M A D H A N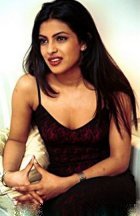 "Hai Shanthi!"

"Hai Madhan! Atlast, Sneha has given fitting replies to all the allegations leveled against her, in interview with her. Isn't it?"

"By all means! All these things are common in the Cine field. I have a latest news for you now, and that too is about Vijay!"

"Nice of you. Come on, break the news at once"

"You are well aware that he is going to act in the film 'Velan'. Who do you think that he is going to act with as his pair? It is none other than the current Miss world, Priyanka Chopra!"

"Wait a little. Fresh faces like these beauty queens of the world are generally being paired with Prashanth in their maiden ventures. Is it not the practice in existence for quite some time?"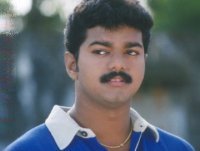 "Ppchh........ will you please listen to me? These days, Vijay dreams of starring in films made on a big scale. Now he is for glitz and grandeur. As if to turn his dream into a reality, producer Viswas Sundar disclosed his plan to him of making a mega film with Priyanka Chopra as the lead actress. Taken by Surprise, Vijay gave his instantaneous consent to act in the ambitious film. The producer gleefully flew to the place of Priyanka Chopra and obtained her approval to act in the film by saying that Vijay is the 'Hrithik Roshan of South India'. Learning this from the producer Vijay had jumped for joy, it seems!"

"Quite Naturally!"

"Vijay felt very happy even for having dances with Shilpa Shetty in 'Kushi'. Will he not be overjoyed now as he would now be sharing the screen with no less a person than the latest Miss world, Priyanka Chopra?

"I feel like putting some sugar in your mouth for you have told a super news. By the by, I have a doubt. Is height is a plus point or a minus one?"

"Obviously, it is a plus point! Why do you doubt that?"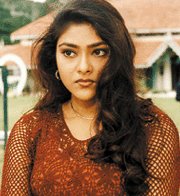 "For Abirami, her height proves a disadvantage, however. Now she is pairing with middle-aged heroes like Saratkumar, Prabhu and Arjun. The younger heroes do not take her seriously. They just avoid acting with her by saying, "No, no. Abirami would look like a big girl!"

"What can I say Shanthi?. The very same height is advantageous for people like Amitabh Bachchan and Aishwarya Rai. By being tall, they are able to amass crores and crores of rupees. But Abirami's lot is different. It all depends upon luck!. Time can change things!"

"Madhan! Some directors thank their stars now. They attribute their success to the time of their birth. Their joy knows no bounds!"

"What for?"

"They are happy that they were born in a good span of time. The very thought that he is going to marry an actress who is looked at with awe and wonderment by lakhs and lakhs of people gives boundless joy to one particular director who had been struggling in the post to make both his ends meet........."

"Oh..... now I understand. Stop your story-telling and come to the point straight away".

"Madhan, in the present-day Tamil Cinema field, five directors are in love with five actresses. They are moving about secretly. Two pairs among them may jump the gates and culminate their love in wedlock's."

"I agree with you. Recently a marriage has taken place between the art director of the film, 'Aanandham' and the sister of Sneha. The director of 'Ennavale' had married actress Meera of T.V Serials without the knowledge of anybody. These things have happened in the last week. I don't know how things would develop in the times to come....."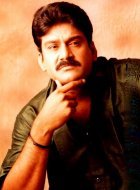 "Let's turn our attention to the election fireworks. It seems the election fever has caught all the members of the public......"

"Why not? After all the assembly elections come once in five years. You know, it is said that Napolean who contests in the biggest constituency of Tamil Nadu, Villivakkam, would surely make his entry into the Legislative assembly. He has so much popular support, they all!"

"But the opposing parties question the necessity of the Cinema actors' entry into politics........"

"But Napoleon has a clear reply for this. He has said that he would be acting hereafter only in two films per year where as he had been figuring in to 10 films a year in the past...."

"Madhan I have a wish. I offer my prayers before God that Rajini should make the announcement about his next film at least after the elections are over. I hope the ardent fans of Rajini all over India would be joining with me as all of them are desperate to see the super star again on the Silver Screen."




---
Crouching Snake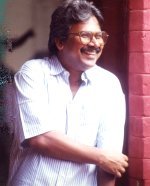 Step-by-Step, Manirathnam is launching his next film.

After deciding that Madhavan would be the major star, he had selected Rani Mukherjee to be the lead actress.

But She had to cut the golden duck that came her way because of the non-availability of call sheets. So Manirathnam is casting his net further around Mumbai.

He has been straining every nerve of his in the by gone year in writing down his new script simultaneously while concentrating on giving shape to the story and screenplay for his film, 'Dum Dum Dum'. His new venture would be a quick - time production. The highlight of that film also would be the music of A.R. Rahman.





---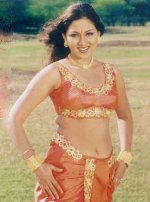 She is not abundant in acting talents. Nor she is breathtakingly beautiful. Yet Monal was successful in bagging acting chances in 'Samuththiram' and 'Lovely' following the ordinary runs of 'Bhadri'. This has caused a surprise in the film circle.

Truth to be told, Monal is not acting as a heroine in those two films. The film units say that she would appear at the most for 20 minutes in each of those films.

'Less remuneration, more glamour' is the motto of Monal. Therefore the directors and the producers opt for her. Thus there is no secret in the matter of her frequent selections as an actress.

She has now reconciled with her sister Simran. Paying heed to her sister's advice, the upcoming actress has made it a habit to be present at the shooting spot on the dot. According to knowledgeable circles, she may sustain herself in Tamil film industry for at least two more years.





---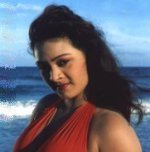 After the sensational run of 'En Aththai', another movie of local beauty Shakeela is going to be release in our city.

The name of the movie is 'Raasa Leela'.

In case this film also fulfills the expectations of the movie-lovers, she may land in a guest role in a good Tamil film.








---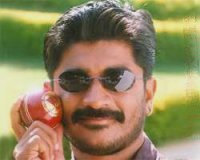 No movie falls by the wayside if it bases itself on true-to-life incidents ('Iruvar',, however, is a notable exception).

The oncoming film 'I love You da' would have its foundation on some actual incidents of life.

Raju Sundaram is a cricket player. His father Raghuvaran is prone to match fixing. The row between the two is the central theme of the film's story. What for is Simran there, then? Have we ever seen a cricketer without a ladylove? Hence the role is played by Simran. But contrary to the happenings in real life, Raju Sundaram has just only one sweetheart, that is, in Simran!

Many famous cricketers would be finding place in the film. Necessary approval of the board of control for cricket in India also has been obtained. Yet, producer Manojkumar refuses to announce the names of the cricketers whom we would see on the big screen. Nevertheless, there is a probability of viewing the cricketers of South India viz. Srinath, Kumble, Dravid and our own Ramesh Sadagopan.. It is also said that either Tendulkar or Ganguly would feature in that film, for certain.



---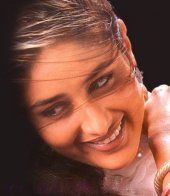 All are having an eye on Hindi film actresses. But all of them, in turn, eye on a single film celebrity. who is that big shot?

He is none other than Manirathnam.

On comparison, Hindi actresses have more fondness for Manirathnam than their Counterparts in Tamil Nadu. True to that tradition, Kareena Kapoor, Sister of Karishma Kapoor has given a flashy statement recently.

"When Manirathnam directs a Hindi film next, I would certainly be figuring in it. I will try my level best to ensure a place in his film!", she has vowed.

Manirathnam is known to think and act in a soft, calm manner. It is not known hero this girl who talks high and loud would reap the benefit of his favor.





---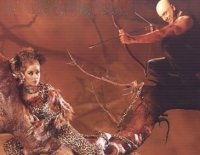 Producer Thanu had brought Raveena Tandon and Manisha Koirala from Mumbai for the sake of the Hindi version of 'Aalavandhan'.

Both these actresses are entrusted with great characters in the film.

Raveena Tandon appears as a media person of Star T.V. Manisha Koirala acts as a high-handed woman. The beauty from Nepal enthralls Kamal in a scene by removing her dresses.

After doing through the scene the actress sat to wonder: 'Oh my God! I have never acted in this way in the past!"





---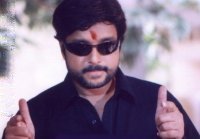 There is a perpetual lament in the tinsel world: "Goodness cannot thrive here. It is bad to be good in this field!"

For quite some time, Karthik too had to curse his lot in that fashion. But, of late, he has come out of his travails.

He had been hoodwinked in the matter of utilization of his call sheets. But this didn't come to light to the public. He was made the scapegoat and blamed for creating call sheet problems. Now he is doubly careful in saving his image things clear in this respect with the producers of 'Lovely' and 'Azhagana Naatkal'. He has given his acceptance to act in those films, only after getting the assurance from them that there won't be a black marks on him in this respect.




---
Astrology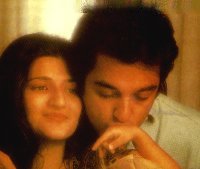 People of Tamil Nadu resort to occult sciences such as Palmistry, astrology or numerology to know the unknown things about themselves. But Pandit Purushotham Swami of Mumbai is different. He has made some predictions about star couple in 'Cineblitz' magazine. He could make his prophecies after a careful study of the photographs of those stars. This marks the uniqueness of the Mumbai Swami.

He has some shocking revelations make about Kamal Hassan and Sarika on seeing their photographs.

Let us see what he has to say about our top actor and his better half.

"Kamalhasan is a hard worker, a self-made man. He has never depended on his father or family members. He has been through a rough time in his efforts to establish himself as a performer. His fortunes have been on the rise since the age of 28. He was destined to have two marriages.

Sarika has brought peace into his life. They have a good life together. Sarika has always led an unhappy life. Happiness has either eluded her or has been short-lived. Someone in her family, perhaps one of her parents, has been the primary reason for her unhappiness. She is not happy even today. There are several unpleasant things in her mind that she is unable to let go of; hence she suffers mental agony.

Kamal will be a very successful filmmaker. Sarika is not lucky by herself. She will never be able to achieve her goal. She has been blessed with good looks, talent and intelligence, but she remains an unhappy Soul. She has even contemplated ending her life. She is likely to be addicted to alcohol."

These are the findings made by him on Kamal and Sarika.

He doesn't stop with this. As a man who goes deep into occult practices, he has made elaborate analysis about all the dignitaries of the Hindi film world also.

Here are his statements:

Shah Rukh Khan will grow to be an outrageous personality in two years from now. All would effect detest his ways of behavior then. Within two years thereafter he will enter into the arena of politics and score a stupendous success therein.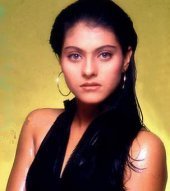 Kajol will bid goodbye to Cinema within four or five years hence.

During the span of time, 2001 - 2002, Hrithik Roshan stands a chance to meet with an accident.

Now Govinda is in love with one girl. That love is growing by leaps and bounds. Problems are aplenty in his house, because of this love affair. Moreover a member of his own family is planning to misappropriate his properties.

The famous Cricketer Mohammed Azaharudin would be marrying again. That woman also would be hailing from the world of arts.

Pandit Purushotham Swami could make these predictions by glancing over a single photograph of the persons concerned.

Whether his prophecies would come true in actuality?

Time and the aforementioned actors and the actresses alone can provide the answer.



---
Hurrah!!!
Prashanth

I am fond of 'Thamizh' (Tamil). I love reading and studying in that language. Tamil has captured my imagination when I became a film actor. I didn't have the good fortune of enjoying that great language during my student days. For I studied in an English medium school. French happened to be my second language and Hindi, the third. I was not talking in Tamil in my neighborhood unless and otherwise it was essential to do so. The language most spoken by me invariably was English. But things changed when Tamil Cinema adapted me. At my age 17, I became a first standard student of Tamil. I have to start from the scratch.


---
Boast of the Week:
Ajit

People would talk widely about me through the length and breadth of India, because of my film, 'Citizen'. That film would be my masterpiece. I am delighted and satisfied to the tune of 1000 percent on seeing the film. I hope I will stay put in the world of films for ten more years.


---
Accusation of the week:
Prabhu

"I don't have any fresh news to share with as I don't have anything tangible to tell, I don't prefer to give interviews to media people. I believe in meaningful interviews. Some magazine persons pose certain questions in an amateurish way. They cause me irritation when they field dull, drab, humdrum queries. "What was your first film? What are your hobbies? Whom do you like most among the actors and the actresses?" These questions refuse to tug at my heart. It is sheer boredom!".


---
T I T B I T S

The much-awaited film, citizen, is going to be released on May 18.






---

Both Rajini and Kamal would participate together in the felicitation function for the successful run of 'Tenali' for 175 consecutive days.





---

Vairamuthu has been insisting in the past that he should write all the songs in a film for which he pens his lyrics. Now he has relaxed this condition. Nowadays, lyricists like P.Vijay and Muthukumar are also writing down songs in films in which Vairamuthu's songs find place.



---

Cinematographer Thankar Bachchan is going to direct a film with the beautiful title, 'Azhagi'. Parthiban and Devayani (oh!) are going to co-star in that film.




---

Ajit has been signed for two new films, namely, 'Vaamana' and 'Red'.






---

Whereas some people wage a long-drawn struggle of one-and-a-half years to finish a film, P.Vaasu has accomplish the fact of completing his movie, 'Asaththal' within the record time of 37 days.



---

'Naan Paada Ninaippathellam' a Ramesh Arvind - Swarnamalya starrer would be a re-make of Amitabh movie 'Abhimaan'.


---

In the field of films, it is boom time for heirs. Now Keerthana, the daughter of Kutti Padmini, has stepped into the film industry through her debu movie, 'Kaadhal Sokkuthe'.