An Interview with Actor
Vikram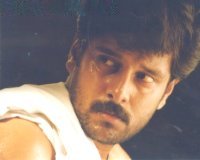 The Movement of time is so swift and strong.

There was a 'Barasakthi' for Sivaji Ganesan.

Kamal had his turn around with 'Pathinarru Vayathinile'.

And it was 'Mullum Malarum' in the case of Rajinikanth.

Really some pictures bring about transformations in a great magnitude. They change the very course of the lives of the central actors in those films. They are so powerful.

'Sethu' also has brought about a metamorphosis.

It has given a new lease of life to Vikram at a time when he was about to leave for America, lock, stock and barrel, losing all hopes of making it big in the film world here. Today he is acting as a hero in fifteen films.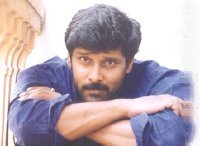 This sensational and tremendous turning point in the life of the actor indicates that he has lucky moles all over his body. No doubt, Vikram has come a long way in giant's strides.

He talks on and on about the film, 'Dil'. He is growing to be a stiff competitor to Kamal Hassan. He has planned to wear different kinds of make-up in all his successive films. We are in to witness many Vikrams in the times ahead.

We had a rendezvous with him on an enchanting evening, stealing time when he was engaged in dubbing his voice for 'Dil'.


"Does Sethu help you still in growing from strength to strength?"

"I cannot forget 'Sethu' ever. It was a great hit. It brought out my capabilities to the limelight. They say that my potential had been wasted in Vinnukkum Manukkum. The problem is Vinnukkum Mannukkum was preceded by Sethu. Obviously the public expect more and more from me since the phenomenal success of Sethu".


"Do you hope to come across the chance of having another 'Sethu' in your life?"

"Sethu has a special merit. It has commercial values as well as an artistic touch, all at once. No doubt, it is a rarity among films. I would like to say that the many films in which I am acting now would certainly measure up to Sethu both in their commercial and artistic aspects."


"Vinnukkum Mannukkum didn't offer you a big scope to prove your mettle. Why did you accept to partake in that film?"

"Some people narrate a story in a particular way and picturize the same in a different manner. It so happens once in a while. One out of ten films are like that. In 'Dil' all of us work with team spirit as members of a team. But Vinnukkum Mannukkum was different... it was the brainchild of a single person.

Vinnukkum Mannukkum was an apt film for the fans of B and C areas. It was a matter of abiding interest that a village youth had fallen in love with a film actress. Of course, we discussed a lot before starting the film. But what happened actually turned out to be different from what I expected".


"How did you react to losing a national award for your performance in Sethu by a whisker for want of just one vote?"

"I didn't worry much on that account. I have already bagged about ten special awards. I was aware that I may not get the national award, but when I learnt that I missed the bus just by the narrowest of margins I became a little happy. The fact that only one vote separated me from the national award contributes to the growth of my self-confidence. That day is not far off from my winning the national award."


"Is it true that you are donning varied characters now?"

"I am playing a mild role that would be endearing to all the members of a family in 'Kadhal Sadugudu'. I am donning the character of a police officer in 'Dil'. In another film, I would be a blind man. In 'Autograph' I would be depicting the four stages of life. Almost all my films have different dimensions. In another film, I am playing a negative character. There is a thriller. Another film is filled with love, through and through.

Nobody would refuse the inflow of money. I, too, am after fortune. But I require fame too and that too, through acting in films. Therefore I remain choosy in selecting the roles to be played by me. I am playing a heroic role in 'Samrai'. Mine is a jester's role in 'Vikatan'. Despite my comic gimmicks in that film, grief would linger in my mind. As a college student, I would be donning a mischievous character in the movie, 'University'. One scene from that film stands out. When I alight from a bus, the checking inspector would demand me my ticket. I would take to my heels. The official would come running after me. When he catches hold of me, I would promptly hand over the ticket. He would enquire: "Why do you run so fast when you have the ticket?". I would retard back calmly: "Why do you run after me when I have a ticket for Rupees two? After all, you are known to run after those who never take any ticket."


"Anything special about 'Dil'?"

"I have reduced my body weight for acting in 'Dil'. I have also trimmed my hair and grown lean. You would be shocked to see me. I adhered to strict diet control, managing with fruits and juice. Immediately after this, I had to put on more weight to act in 'Kadhal Sadugudu'. I had to eat a lot and ended up with diarrhea.

I have to give justie to the role of a police officer in this film. Until I finish with that film, I will continue to turn down further offers, however big the directors may be, because I am not sure of being different in between the two films. At first I thought of increasing my weight for 'Dil'. But when I learnt that Kamal Sir had inflated his physique very much for 'Aalavandhan', I have changed my opinion. Definitely, I can't compete with him. So, I had to reduce my weight. Isn't this different too?"

Why are you in a hurry in this prime time of your youth to don various and varied characters that are different from one another?

I was always after acting in characters which are unique in their own way. Previously there was no choice for me, practically no chance at all! As I had acted in the films directed by big ones, I couldn't ask for the stories except for "Houseful" and "Sedhu". I just relied upon the confidence on the directors, delivering the goods required of me. As I was resolved to act in films with a different hue, I could act only in just eight films during the course of the last ten years. Now I am in a comfortable position and I can also be choosy about the films I act. I am ardent lover of good acting. I had been a stage actor too. These days, I don't give much importance to the fame of the production nor to the reputation of the director. My primary consideration is whether the character would suit me or not. I give my nod if only something in me compels me to accept a role as a must. Otherwise, I won't be carried away, however big the director may be. The role should provide ample scope for me to exhibit my histrionic talents.

The capacity to act well is in my power. Why I should I waste my gifted talents over trivial things?


Have you not taken another incarnation as a singer by the virtue of singing in Meena's album?

As an artist, I am interested in many spheres. I was asked to sing the song, "Unakkena Unakkena" in "Vinnukkum Mannukkum" itself. Lack of time prevented me from doing so. I was invited to sing in Manoj's album, Pathinaru Vayadhinile also. But I didn't oblige as there was Manoj already in the project.

I never experienced any difficulties in singing for the album, "Kadhalism". Even Kamal's voice is not that great. But it would convey the emotions as they should be. For a new picture, I have sung alongside Shankar Mahadevan who is one of the best singers in India. Despite the fact that I am not qualified to sing a chorus song even, my voice has mingled well with his voice as it is able to convey the required emotion.

I will never opt myself for the profession of singing. But I will never refuse to sing in the event of suitable chances. I will definitely accept songs modeled on the lines of 'Strawberry Kanne' of Minsara Kanavu. The song should be something like a piece of conversation. The song 'Strawberry Kanne' might have come out better had Prabhu Deva sung it in full instead of merely uttering the dialogue 'Nose than konjam Oversizaa irukku' in the middle of the song. The voice of the song might not have changed if the actor himself had rendered both the lyrical lines and the dialogue. So, I will be singing when I land upon such chances.


What do you expect of Citizen?

It is something that must be applauded that an actor appears in nine different make-ups in a single film. That Ajith dons nine characters in a film is a difficult task to perform when compared to the trouble taken by me in these two months to justify my single role. I hope 'Citizen' would be an instant success. If the film turns out to be a blockbuster, another actor of a different kind would be arriving on the scene of Tamil Cinema. So far, we have not seen any such actor after Kamal. The success of 'Citizen' would encourage many more actors and induce them to do such great feats like Ajith.


How do you feel about the yeomen services rendered by the associations of your fans to relieve the pains of the quake - afflicted people of Gujarat?

From the very beginning, myself and my fans contemplated about making our actual presence at the scene of the Calamity rather than sending certain goods of value to be of help to the quake victims. But I never expected that my fans will actually rush to Gujarat. They were brave enough to start on their committed mission. When they landed in the railway station there, they themselves experienced the impact of an earthquake. But my fans were an undeterred lot. They rushed to the devastated areas and offered their utmost help to the God - forsaken people there. The general public as the red cross society voluntary, who operated in the disastrous area have praised my fans for having journeyed a long distance all along from Tamil Nadu to participate in the rescue work. My fans have worked hand in hand with the Red cross people. I don't claim credit to my fans for this. I am proud of them that they have done their bit on behalf of Tamil Nadu.


Were you ware that you were in fact doing the real-life character of Rajakumaran in "Vinnukkum Mannukkum"?

(Smilingly) "Of Course I know. Rajakumaran has filmed my birthday scene based on his own birthday celebration. All of us were aware then that Rajakumaran was in love with Devayani. When we learnt about the news of their wedding subsequently we were all elated.


You have attained success after persisting for a long time with patience. What will become to your film life hereafter? Where are you heading for?

When Sedhu became a hit I thought that my dream has been realized. I am so much in love with Cinema. But merely loving Cinema and not getting any chance to prove your mettle will serve no purpose. But cinema too is fond of me. It gives me ample chances. I will certainly prove worthy of the confidence the cinema people have reposed on me. I shall act in good characters and give good films to the movie-lovers. I will make the public know there is a very good actor in Vikram.