"AN INTERVIEW WITH COMEDIAN Vaiyapuri"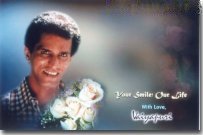 Vaiyapuri is distinguished for his silent revolution among the present-day comedians of Tamil films. He was dishing out his comedy, in the bygone days, in partnership with other comedians. Of late, he has ventured to display his unique comic talents in his own individual capacity. Hereafter, he may deal it single-handedly, too. The growth in his career has given him enough reasons to be jubilant. But the actor is brimming with happiness more as he is going to enter into wedlock shortly. His marriage has been fixed recently. True to his self, the comedian speaks below about his feelings and experiences in the context of his marriage ahead.



What are the thoughts that run across your mind following your betrothal?

The film personages are generally known to get married late. But the trend has changed nowadays. When the young film stars like Ajit and Vijay got married, I too yearned to get married. I have lived the life of a bachelor for sixteen long years. Where to go and what to eat was the perennial question before me. Now that my wedding is going to take place, I have a feeling of delight as a woman is going to enter into my life to look after my interests and to take care of me. At last, there would be a person in my house to question me if I return there late.



Was it very difficult for you to choose your would-be wife?

To be precise, I have experienced untold sufferings in this connection. In Chennai, it is very hard for a bachelor to find a housing accommodation. It is doubly hard in the case of a film person. They would pose umpteen questions to him. As it is, it is most hard to get a life-partner. Parents do hesitate to give their daughter in marriage to a man of the tinsel world. But this much is certain; a film person has to fear his conscience as well as the society around him. The print media is very much there to publicize the mistakes committed by a filmy person, blowing them out of proportion. They make a mountain out of a mole.

Anything is news about the cine person. If he drinks tea at a wayside shop the media would advertise that the person is very simple and unassuming. With all this publicity behind him, no one comes forward to accept him as his son-in-law. Reconciling myself to the prevalent state of affairs I continued with my practice of patience. On being questioned, I have been stating I would be getting married soon. There is one more reason for the delay of my marriage. I was resolute that I would have a house of my own before becoming a husband. Till now, I don't have a permanent address. My visiting card contains just my telephone number. But there was an intuition in my mind that I may take the hand of a girl around January - February of this year. And my dream has come true now. It has always been a distant dream. Even now, I could not believe that my marriage has reached a final stage.

When I started taking earnest steps to get married, I received many letters. I can't say that those alliances were not up to the mark. Only I have fallen short of their expectations. My marriage was not to be. A friend came up with a suggestion to garland the deity at a temple on the way to Mamallapuram. I did as he said. After exactly 32 days thereafter, I could locate the girl of my life.


Is it so? How came that...

The director of 'Ennavale' who happens to be a good friend of mine did the introduction. At the beginning itself I made it clear to the father of the girl that I am not desirous of receiving dowry. The photograph of the girl was sent to me. I was impressed with the appearance of the girl. I met the father of the girl and talked at length about the life in Cinema. He too spoke open -mindedly. We liked each other. In finalizing my marriage, I did not check up whether my horoscope tallied with that of the girl. There was oneness of opinion between the girl's people and me. I was satisfied with that. I gave the message about my marriage to the media persons on the first instant of this month and year. The betrothal followed suit and went on very well.



Will you get married only after building a house of your own?

It was my initial thought but I have changed my mind subsequently. I paid heed to the words of wisdom from my well-wishers who insisted that I need not postpone my marriage until my building is finished. After long deliberations, I have fixed February Eleventh as the date of my marriage and it will take place at Vadapalani Murugan temple. I am not going to hold any reception. I have planned to visit some orphanages along with my partner in life and to feel the hapless children sumptuously on my wedding day. I am sure that those who want to greet me would definitely come to the temples, though there won't be any reception.


Today, you serve to make us all laugh. Did you undergo many hardships to grow into your present exalted stature?

Mine was a humble beginning. My parents were unable to give me proper education. But God is known to open a door when he shuts up another. Though I lack in education, I am endowed with histrionic powers. Many people felicitated me for my acting talents. I came to Chennai harbouring the desire to act in films in my heart, with just Rupees ten. Opportunities were very hard to come by. I strained my nerves in my search for a chance to act in a film. I even doubted whether I had made a wrong decision. I have worked in hotels. Slowly, my life became somewhat steady. Now I have grown to a considerable extent. For the past three years, I remain a known figure to the general public. (While he was saying tears roll down in his eyes.)

'Kadhal Palli' gave me the break of my life. It was a good beginning. 'Raman Abdullah' followed next. But 'Thullatha Manamum Thullum' was my real breakthrough. That film introduced me to the world on a grant note.


Are you not interested in donning different kinds of roles? Why can't you act as a single comedian?

Yes, I long very much to provide comedy in my individual capacity. But where are the people who would give me such an opportunity? Yet, there is a ray of hope. I am the lone comedian in the movie, 'Veettoda Mappillai' directed by V. Sekar. On seeing the rushes of 'Dum dum dum', Maniratnam had a word of encouragement for me. "I am not an expert in setting up scenes of comedy. So I am avoiding the comic element itself in my pictures. You have acted exceptionally well in the comic role of this film. Your performance has impressed me a lot. I will definitely use your talents in my next film," he told me.

I am eager to play in various and varied characters. But I will have to vary my facial expressions to do justice to those roles. But there is a lingering desire in my mind to act as a villain.


Whom do you like most among the comedians?

I rate Nagesh, Chandra Babu and M.R. Radha very high. I like Vadivelu very much. He has an expressive face and all the demeanors that go to make an actor. His voice culture is praiseworthy. The modulations of the dialogues delivered by him are wonderful. He has given miraculous performances in the pictures, 'Friends' and 'Manu Neethi' of late. I am yet to act in association with him. We were about act together in 'Kadal Pookkal'. But it could not be, as the screenplay of the film was changed subsequently. Finally the responsibility of acting in that film fell on my shoulders alone.


How do you feel as a comedian?

I would like to recall at this juncture an interview given by the able film director, Mahendran "In the films of the rest of the languages of the world, much money is drained on filming the comic scenes. But comedy is inexpensive in Tamil films and it is available in ample measure too what our comedians really want is a tea shop with just two benches in front of it. They will easily dish out high-class comedy with this simple backdrop. Comedy comes naturally to them. They can do wonders with their thoughtful comedy. They can turn anything into an object of comedy. Even ordinary things will serve their purpose. A tender coconut or a blade of grass will do. It is more than enough for them!". This was the tribute paid by him on our comedians.

On hearing his opinion, my job knew no bounds. I have cause to be happy as my name is also found at an edge in the list of comedians of the day. People come to theatres to forget their myriad problems and anxieties of the day-to-day life. And we, the comedians, are able to make them happy. This thought fills my heart with joy. I owe my thanks first to God, for having made me a comedian".

Vaiyapuri speaks from his heart...