Prabhu: The comeback story

by A swamy



Prabhu is one of the few actors of Tamil screen who have given mega hits in their career and who have carved a name in the history of cinema. When Chinna Thambi was a mega hit, Prabhu was at the peak of his career. But a controversy and a few bad films made him slide down. He was down and out.

The son of veteran Sivaji ganesan was written off till last year he came back to reckoning with Tirupathi Elumalai Venkatesa and followed it up with four more films to be the actor, who did the maximum number of films in 2000. He speaks about his new avatar and his outlook to films at the location of `Moms' in ooty.

How did Tirumalai … happen?
It was Ramanarayan's 100th film and he was adamant that I do his film. I felt that the subject was quite suitable. It had comedy and humor, which was always there in my films. I took some hard decisions according to the market trend. I took a cut in my price and in turn my films were priced as to give everyone money.

The film clicked and Kanda Kadamba, by the same director, followed it but it was a hit only in B&C centers and not so much in cities. Next was Budget Padnambhan and this led me to other films, which were all money-spinners.

This showed that if you are a good actor you can always make a comeback if given the right subject and it does not matter to the public whether you are a brother of Ram Kumar or son of Sivaji Ganesan. To the public it was no comeback but only that Prabhu was again in a good film after a long time. It was only for the industry a comeback.


How did you agree to act with S V Sekar and Vadivelu as costars in Tirupathi…?
I have always acted with many other heroes and as long as I had a prominence I never had any ego.

You have emerged as an ideal hubby; do gooder role, a slot for which you have no competition…
Quite right. My audience base has always been a woman who has liked me as the soft bubbly guy and today after China Thambi they have liked me again in the new avatar, in Budget Padnabhaman. But it's not so always. I have a film with Roja combines, which is an action film. Like this film `Moms ' in which I have also fights as well as humor. See today the situation is to be in a film that runs or be the one who makes the film run. Middle Class Madhavan is one in which like Budget, a film meant for my family viewers and the trade talk is that one woman brings along with her five others from the family and that way I am happy to get this section of the viewership back.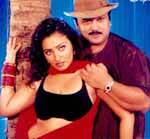 Were your shifting tracks from the action hero with larger than life image to a married hero, a planned strategy?
In fact I have never lost that image (larger than life) but it just happened and if anyone knew which film ran than the hero would have 100 silver jubilees. The `thalaivaa' shouting fans of mine are also present now but again it the family audience that loved me once that has come back to me.

A set of personal setbacks and getting jacked from both sides I started clearing up my problems that I gave up many things including cigarettes and took to a physical training. One hour on the treadmill daily and I have come back to shape and fighting fit. Once again you are back in circulation working with your colleagues and it makes you feel good.

Speaking about silver jubilees, some heroes run their movies for 100 days to boost their image. Does it help one's career?
It can fool the public maybe but not the trade because they know how much a film collects and the trade is the one who puts the money. To pull a film to 100 days the actor loses out money and it's going to do no one any good.

What do you say about today's scenario of competition?
The competition is good and it keeps you on your toes. Today a winner can go home with crores of rupees and in no time. I would say one of the best times for the artistes. Similarly you have lot of new directors with creative ideas. The director of this film put the title Moms (a short for mama (uncle)). Another director for another film of mine has put Click as the title.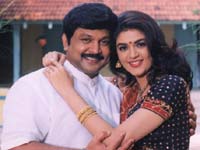 Today very rarely is a film hit in all centers why is it so?
The reason is that audience in towns and villages still look for something, which is different from the city viewers. A film like ` Tirunelveli' by Super Good did good business in areas outside the city like wise, Kanda Kadamba too did business in B& C centers. Some films too do good business in all areas like `Friends' starring Vijay.

With satellite TV explosion the barrier between the cities and villages have come down. You have to today bring out the women from the clutches of ` chithi ' (TV serial) and we used to have matinee shows so that women could come with their neighboring ladies and children but then you have ` kokila engay pokkirar" at 12 noon and several such serials on the tube. It's a Herculean task today to bring audience to the theatres.

What are your forthcoming films?
Middle Class Madhavan, which I am sure of being a winner. I play a responsible brother to my unmarried sisters. Next are Superkudumbam, another family subject, and K Subash's film, which I am confident about because Subash and me together have given hits like Uthaman Purushan, a film with Prabhu Deva as costar. The future looks bright.