Roja Makes A Century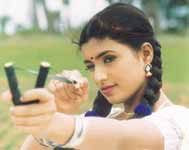 Roja who has completed her 100th film Pottu Amman in Tamil and Telugu began her career as a heroine in Chembaruthi opposite Prasanth directed by R K Selvamani. And incidentally her 100th film too has been directed by Selvamani. She was conferred upon the Tamilnadu Kalaimamani title and best actress from TN state govt for Unnedathil Ennay Koduthean. She also won three Nandi awards from Andhra govt. On December 31st, the Nadigar Sangham Artistes Associatation would felicitate her in Chennai and a committee comprising of Vijaykanth, Sarath Kumar, Sathyaraj, Prabhu, Kushboo and Ajith has been formed to organize a function. She speaks about her career and life:

Out of your 100 movies, which are the films that you cherish the most and why?
Two films. My first Chembaruthi and Unnedathil Ennay Koduthean. My first film because it got me recognition as a glamour girl and a heroine in Tamil films and Unnedathil ... because it had me in a non glamour role and gave me the scope to perform after which the directors started offering me roles with performance.

What do you attribute to your long sustenance at the box office as a heroine?
My fans and the public at large, my mother who gave birth to me as a beautiful girl and my brother who takes care of me.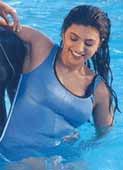 Did you think that you would act in 100 films?
Not exactly! But now I feel very happy and I hope to make a double century or till the public rejects. The happiest part of this achievement of having acted in 100 films is that in all my films I have been the heroine.

Who is your best friend?
Uma my classmate in school and college. She is now happily in love with cricketeer Venkatapathiraju.

In between you attempted to do action roles, was it to give a change of image?
An actress has to do all kinds of roles and it was a part of it.

Any role not done by you?
Yes, that of a lunatic.

Any regrets in your career?
The day I turned producer and blew a hole in the pocket.