Jothika: ĎCritics have compared my acting to Savitriísí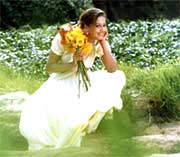 Jothika started her career with the Tamil film Poovellam Kettupaar , opposite Surya, which bombed at the box-office. However, a song sequence in the Ajith-Simran starrer Vaalee , got her instant recognition. Next followed Mugavaree opposite Ajith. But Kushy in which she is paired opposite Vijay turned to be a turning point in her career. Currently, she is working with Kamal Haasan in Thenali and with Surya in Uyirallay Kalanthu . Her Priyadarshan directed film Raakilipatu in Malayalam, Kannada and Tamil is due for release. The new oomph girl is giving the current numero uno Simran a run for her money.

Excerpts:

Kushy has got you acclaim as an actress. Comment.
The whole credit goes to director S J Surya. He used to act out every scene well for me and explain the characteristics of the role too. It is because of him that I did well. I think the critics compared my acting to that of Savitri. Naghma was very happy to see me in Kushy and I too am very happy.

Does it mean you will hereafter not do glamorous roles?
The career of an actress who does performance-oriented roles is longer than that of a glamorous actress. In Vaalee , Mugavaree and Poovellam Kettupaar I did glamorous roles. I feel one has to look glamorous in songs, so in Thenali and Uyirallay Kalanthu I look glamorous in the songs. In fact, for Uyirallay Kalanthu I appear in swimsuits in a song. But, at the same time, I am acting in a four-language film directed by Priyadarshan in which I play a strong character. And in a Singeetham Srinivasa Rao film being made in English, Tamil and Hindi I am playing a village girl for the first time.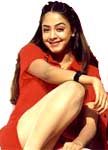 Why are Simran and you grabbing each other's role??
(With shock) Believe me, I never knew that Thenali and Kushy were also offered to Simran. Since I had the dates, I agreed to do them. In fact, Simran and I are good friends.

Your dance movements are ditto in all films - an impish smile, followed by a swing of the ponytail and bum shaking in front of the camera.
(Laughs) Thanks for pointing it out to me. I think my chubby face and prominent backside is the reason. I did this in Vaalee and the dance masters might be repeating it since it is a hit. I will see that I donít repeat it.

How was it working in Thenali?
I still find it hard to believe that I am acting opposite Kamal Haasan and working with a director like K S Ravikumar. The way Ravikumar explains to me and the manner that Kamal Haasan acts it out is a wonderful experience. I have learnt a lot from this great actor.

What about your kissing scene with Kamal?
Yes, I did kiss him but because itís part of the story. I also kissed Vijay in Kushy because it is part of the story. However, in future I will not make it a habit.

You said in an interview that you would go in for a love marriage?
(Angry) Does that mean that I have been married? Donít worry I will inform you before I get married.

Does your sister Naghma advise you?
The only thing she told me is that I should never lose my cool and always be polite.

I can see you following it
(Laughs).....