I have glamour and performance skills too---Meena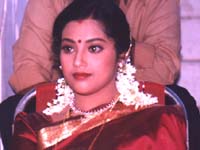 Meena is one of the few heroines in the south who has got popularity in all the south languages films. Every year she manages to give at least one hit film one of the languages that too, with top heroes. Last year, she starred with Mohanlal in Anthony Adam and had a few films with top stars in other languages also. In Malayalam, she starred in the box office hit Friends with Jayaram and Mukesh. However, she started off with a bang again Tamil when she starred in Vanathepol the all time hit starring Vijayakanth - Prabhu Deva directed by Vikraman.


You donít seem to be acting in many Tamil Movies off late...
I have gave so many hits in other languages that the offers there kept me busy. I had to forgo Harikrishnanís (Juhiís role) and Unnedathil Ennay Kodithaen (directed by Vikraman) and later I had to forgo Paataali (directed by K S Ravikumar) and another telugu film for Vanathepol. Ravikumar had asked me to act in Suryavamsham and I could not accept it due to dates problems and then came Ummedathi ... and this time I decided that I will accept one of his films.

Is it true that Shilpa Shetty was the first choice for Vanathepol?
Yes, In fact, Vikraman had doubts whether I will be able to do justice with my role and the kind of modern costumes that go with it. In the film I am a city girl who comes to the village. After they finalised me for the role, Viksraman wanted to see how I look in modern dresses. It was only after he finished the shooting of the first day with me in a modern costume that he heaved a sigh of relief. Since he had not seen any of my films in which I wore modern costumes, he had this doubt lingering in his mind.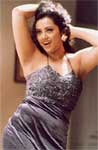 What are your new assignments in Tamil?
Vetri Kodi Kaatu by Cheran who gave two super hits in Bharathi Kannamma and Poarkalam with me has given me a very different role of very family girl type image. He has extracted a very good performance from me. Next is Mayee with Sarath Kumar in which I have a role to play in the climax and it is a suspense. Next in line is Rhythm with Arjun and Sriramajayam with Sarath. I have signed a Prabhu Deva film Doubles. A Malayalam film and two telugu films on the cards in my engagements for 2000 AD. For April 14, I will have two releases - Vatri Koti Kaatu and Mayee.

Which is your favorite film?
Seetharama Kalyanam, Muthu, Yeshuman, Varnapakittu, Allari Alludu and Oru Orilla Rajakumari.

The film that disappointed you the most?
Panjaram, a telugu film in which I played the role of a young girl married to a 60 year old widower who is a sadist and even his sons torture me. I worked very hard and shootings were from 5 am onwards but the film bombed due to release at a wrong time.

The lesson you have learnt...
Never to be frank and see that you are not a headache to the producer. All I ask from a producer other than my remuneration is a cornflake in the morning and a bowl of vegetables for lunch.

The secret of your long innings in the industry?
Combine performance with glamour. If you are good in only one aspect then you are soon bound to fade out. But if you combine both then you will remain in the mind of the viewer- See Avai Shanmughi, Yeshuman, Natammal or even in Snehamkosam, all of them are combination of glamour and acting talents.