(Nasser - Roja, Ranjita, Revathi)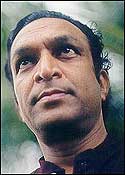 A dependable actor, Nasser has wielded the megaphone for two films 'Avatharam' and 'Devathai'. But both the films were disasters at the box office. Nasser, who is now into his third attempt at direction with 'Mayan', also produces and plays the lead. Paired with Nasser is Roja. Ranjita plays a crucial role. Revathi, who was Nasser's heroine in 'Avatharam', has been signed for a cameo role. Titled 'Mayan' the story centres round a man who courageously fights for the downtrodden and the outcastes of society. Labelled a murderer, he becomes an outlaw, with the police hot on his heels. Nasser plays the role of Mayan.
The first schedule of the shooting was held at Chennai and Chengelpet. The second schedule is planned at Tiruvannamalai. Two songs are to be picturised in Sri Lanka. While the first part of the story is set in a rural ambience, the second part has the forest as the backdrop, where the outlaw takes refuge. Circumstances make Mayan take to arms. Branded an outlaw, and hounded by the police Mayan takes refuge in the forest. The police chase him there too, both sides opening fire and strewing a row of dead bodies in its wake. Finally only one cop is left, and Mayan takes on the unarmed cop in a one-to-one fight.
The fight scenes were shot in the forest area of Thalaikkonam. The cop is played by Pasupati, a new comer, who had incidentally shot a few scenes for Kamal Hassan's 'Maruthanayagam'. Cinematography is by Dharan, and the stunts are choreographed by Kripa. Deva composes the songs and the sets are designed by Krishnamurthy. Editing is by Suresh Urs. The film's story and dialogue are by Sundara Thirumal.
Apart from the main cast, the film also has Vadivelu, Thalaivasal Vijay, Bala Singh, Thyagu, Vadivukkarisi and K.R.Vatsala