Poonkuyilay: Rustic love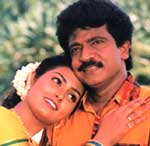 Poonkuyilay , produced under the banner of Manithan cine arts by T M Jaymurugan, who is also the director - music director of the film, tells a story of love triangle between Udaya, Vindhya and Livingston. It's a usual story of a rich girl falling in love with a poor cousin Udaya and the girl's father Vijaykumar is a terror and once he chopped the hand of Curran who got hold of Vindhya's hand. To add to this, another cousin Livingston too woos her. Cinematography is provided by Kichas. The film has Manivannan, Rithika, Vyapuri, Illavarasi in the cast. Jayamurugan denied reports that he had fled the locales of Pollachi without paying for the hotel and cars. He showed vouchers signed by his manager for the cash that he has paid to him for the hotel and transport.

Pukazh: Sarath Kumar in dual role
One of the films that established Sarath Kumar as an action hero in Tamil filmdom was Soriyan, which was directed by Pavithran. The film showcased the talent of Sarath as an action hero and since then the image has stuck on to him. I love India, which was made on a big canvas with shootings in high altitude Ladakh and with many risky action shots strengthened his image as an action hero further. Though the movie was a flop as the director lost out on the story element. Now after a gap of five years, they (director of I Love India and Sarath Kumar) are coming up with an action movie Pukazh. The film has Sarath Kumar in a dual role of father and son.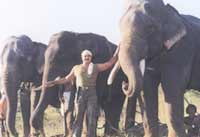 Winding up the dense forests in Manthavady (Kerala), Sarath Kumar was seen on an elephant in the hills. He was astride the tusker that was being used to tame a tusker trapped in a pit. This action scene had its risks too because the four tuskers were pulling out a tusker to whom they were roped. This needed the expertise of mahouts and Sarath was atop the tusker that was trained to listen to a mahout and was compelled to stay out of camera range. Many a time the elephants showed signs of getting restless and the milling crowds around ran helter- skelter. Cameraman Ashok Kumar and his crew had to once pick up the camera and lights and run for safety from the elephants who kept on walking up to the camera .All the while Sarath enjoyed this tamasha from the top of the tusker. After the shooting Pavithran and Sarath and other artistes Sanghavi, Poonam Sengar, Ashish Vidyarthi got together for a chat. "Sarath and I were in touch all these years and each time we decided that we would not come together unless we have a subject that will keep our reputation. Our effort this time is to live up to our reputation " was Pavithran's remarks of the film.

And he added further that Pukazh (fame / prestige) is all-important to every man and to achieve it or retain it is difficult.Sarath Kumar, a zookeeper and a lover of animals hears from his grandmother that his father a rich estate owner was killed by his friends in a trap to usurp the wealth. Grand mom urges Sarath to take revenge on the murderers who are enjoying the wealth of his dad. He goes incognito as the elephant catcher and takes a job in the estate owned by Ashish Vidayarti who has a sister (Ponam Sengar). This mystery man's activities in the night puzzle Ashish since some strange murders take place in the estate. Sanghavi, a girl who runs a teashop in the region is a heartthrob of everyone but she loves only Sarath.Poonam too loves Sarath. This love triangle-action film has Ashish Vidyarthi making his debut as villain in Tamil filmdom. Ashish says, "The story line impressed me very much and the names like Sarath and Pavithran were enough for me to say yes. I think today the world is shrinking and we have Bollywood directors directing Hollywood films and south artistes and directors doing Hindi movies. I think we are all being know as artistes and not identified by the region we come from. I have a Malayali father and a Bengali mother but was brought up in Delhi and I work in Mumbai.

I think my interactions with my father and his talk about Vallathol poetry got me inspired to do films in the South. I have worked in Telugu films before but a Tamil film is a new experience since we all are treated like equals. " Pavithran said that after seeing Ziddi, he and Sarath wanted to sign him up and in Sooriyan too they introduced Rajan P Dev to Tamil cinema as a villain. The director and hero who saw Poonam in Vanatamizh Paatu decided on casting her. She has already acted in two Telugu films before. Cinematographer Ashok Kumar who has worked with Pavithran and Sarath Kumar in Sooriyan and I love India feels that the old magic will be repeated. Music by Deva the film is produced by K Ramu who owns theatres in Andhra and is a distributor of Sarath's films dubbed into Telugu. Co produced by Ramesh Babu under the banner of Sri Venkatagiri Yendra Creations, the film is scheduled for a release in January.

Jothika in illicit liquor sale?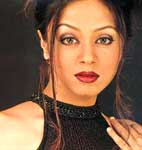 Prasanth, whose career was on the down swing with number of flops, pickedup after the success of Parthean Rasithean in which he costarred with Simranand Laila. The film has given this young hero a new lease of life.Director Pravinkanth, who directed Jodi with Prasanth and Simran, had got an offer from A R Rahman that he would do the music for his next film and thus 'Star' was launched.It's all about love between two youngsters who are mad in their own way but love for each other is what they share. The start of this love affair was recently filmed in Chennai streets. An auto driver and Jothika are having a verbal battle. Jothika accuses the driver of transporting arrack in the auto that she traveled while the driver accuses her of carrying the arrack in his auto.At this point Prasanth walks and hears both sides and decides that the driver is innocent and that it's Jothika who was carrying arrack and tells her to boil milk instead of brewing arrack.The first meeting leads to further conflicts and slowly it turns to friendship and love. Priyan who has worked in Kamalhassan's Thenali is the cameraman and lyrics are by Vairamuthu Manivannan, Vijaykumar, Rameshkana, Raghuvaran, Srividya, Madanbob, Mumtaz, Chinni Jayanth and Raj Kapoor play supporting roles in the film. It is produced by Vijaykrishna under the banner of Srisubha Jothi movies.

Vinnukum Mannukum : Bondings of blood and soil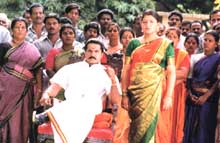 Sarath Kumar and Vikram of Sethu fame co-star as brothers in R B Chowdhury's Vinnukum Mannukum, being directed by Rajakumaran. The film, set in rustic surroundings, is about the affection between the brothers and their attachment to the land they till. Sarath plays the role of Saktivel Gounder and Vikram plays his younger brother Selvam. Khushboo acts as Sarath's wife in the film. A scene shot recently had Sarath looking out for a suitable bride for Vikram and rejecting all of them as they are too good for his carefree brother. Vikram too is shown to be disinterested and hints about his dream girl, who turns out to be Devyani.

Ramesh Kannan, M N Nambiraj, Vinu Chakravarthi and Manorama are the other artistes in the film. Music is by Sirpy and cinematography is by Rajashekar.

Prabhu-Roja in Mitamirasu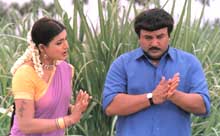 Udayam Arts' Mitamirasu directed by Mukalanjiyam is a film dealing with martial relations. Prabhu and Roja play the lead pair. The film set in rural backdrop, has Prabhu playing the village head. The shooting for the film was recently held amidst sugarcane fields at Pollachi and had Prabhu, Roja and Ashwini taking part. The light-hearted scene had Roja hiding in the fields and Prabhu and Ashwini pulling her out. When questioned, she gives a naughty answer, which embarrasses them.

Napolean, Manivannan, Vadivelu and Kovai Sarla are the other leading artistes. Cinematography is by K V Mani and lyrics are by Vairamuthu. The film has noted pop singer Aslam Mustafa making his debut as music director.


Prashanth and Amisha in Ennna Vilay Azhagay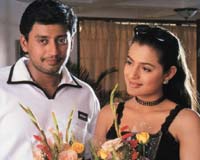 Prasanth is an advertising agency owner who is known for his offbeat ideas. A textile shop owner asks him to advertise for him and says that his ad. should capture the fancy of the public. The hero comes up with a design which he has drawn out on the hoardings and asks the personnel to have it erected upside down. The textile owner fumes and frets at the idiotic idea but when his friends appreciate it, he realizes that Prasanth's idea was captivating. As the public has got attracted to it. Amisha plays a pretty model with which Prasanth falls in love. The price he has to pay to get this beautiful girl as his wife forms the storyline. Manivannan, Vadivelu, vivek, vijaykumar, Raghuvaran, Jaysudha, Rajiv, Rovaisarla, Madan Bob, Ponnambalam, Balaji, Balasinghe, Y G nirmala, Fatima Babu, Sabita anand, Janvi are the pother artists in the movie. The director Rajkapoor has also acted in this movie. Cinematography by Ravivarman, music by Deva the film is produced by C H V apparao.