Pirantha naal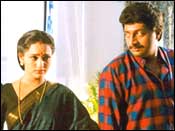 He is a rustic who comes to the city in search of a job. He encounters some city slickers who try to manipulate him and the two girls who play a crucial role in his life. 'Pirantha naal' is the name of the film and playing the main role is Prakashraj. Co-starring with him is Sangita and Abita of 'Sethu' fame. This is also one of the few films that Sangita had signed before she got married.
Produced by M.G.R. Pictures, some scenes were shot with Prakashraj and Abita, who play Surya Kumar and Janisha respectively. When Janisha first meets Surya Kumar, her impression of him is not very favourable. But soon she realises that her first impresseion that he was an unsavoury character was wrong, and that he was in reality a good man whom she had misunderstood. Janisha falls in love with him and even expresses her feelings to him. But Surya laughs it off. He admits that he liked her too and that he thought of her as a good friend. But he definitely did not love her. "I myself will speak to your father and get a good guy for you to marry," he tells her. A shocked Janisha bursts into tears, rushes home and consumes poison. Her neighbours rush her to the hospital where she hovers between life and death. This scene was directed by debutante K.P. Rajiv while the shots were canned by Saroj pady.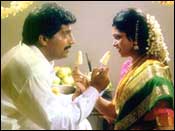 Yet another scene was shot with Prakashraj and Vadivelu in Chennai. Prakashraj bumps into Vadivelu when he comes to the city. Vadivelu had borrowed some money from Prakashraj earlier. So when he sees Prakashraj approaching, he tries to slip away. But Prakashraj traces him out and demands that he return the money that he owed him. Vadivelu being jobless, expresses his inability to repay the debt. Prakashraj then tells him that he was willing to forget the whole matter, provided Vadivelu helped him out in a matter. Prakashraj was hunting for a bride and he wanted Vadivelu to find a suitable bride. Vadivelu seeing a way out of the situation agrees.
The film's music is composed by Deva. The supporting cast consists of Manivannan, Ponvannan, Kiran, Sanjay, C.R. Saraswathi, Dharini, and Jaiganesh.