Rishi: Sarat Kumar in dual role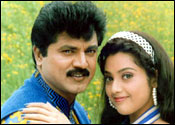 Sarat Kumar plays a dual role in 'Rishi'. His other name in the film is Velu. Paired with him are Meena and Sanghavi. Directed by C Sunder, the film's story and dialogue are by veteran Panchu Arunachalam. He is also the producer of the film. His banner P A Arts had earlier produced successful films like "Kalyana Raman", "Guru Shishyan", and "Engeyo Ketta Kural".
The cast includes Prakashraj, Arun Pandyan, S V Sekhar and Devan.
Rishi is a bad character, and look-alike Velu gets hauled up for all the wrongs that he commits.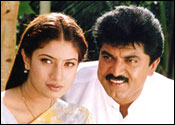 The first schedule of the shooting was held at Switzerland, where some songs were picturised on Meena and Sarat Kumar. The second schedule was at Chennai where some scenes were shot on the lead pair. Meena plays Gayatri, a girl who has complete faith in palmistry and astrology and does nothing without consulting an astrologer. Once she happens to meet a palmist and asks him to read her hand. He tells her that though she is from a middle class background, she would get married to a prince. Gayatri is thrilled to bits and when one day she crosses a shop and sees a mannequin dressed as a princess in the showcase, she goes into raptures over it. She crosses the road in a distracted fashion, and hit by a bus. Someone leaps out and pulls her away from danger and she sees herself in the arms of a stranger.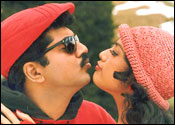 It is Velu. "This is my prince", she thinks as she stares at him.
Yet another scene has been shot between the duos. Gayatri, who had seen Velu each day in a new car, thinks he is a rich man and falls in love with him. She tells him that she would visit his house the next day. Velu, scared that the truth about him would come out, asks his friend David for advice. Velu is actually an employee of a "Seth", and not a rich guy. His work is to get back money from defaulters who had borrowed from the 'Seth' to buy new cars. If they failed to repay, he would take away their cars.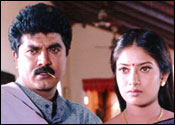 David asks Velu to invite Gayatri to Seth's bungalow, which he can then pass off his own. "Tell her they are your guests. Since the Seth can't hear and his wife cannot understand Tamil, you won't have any problem". Shekar plays the part of David.
As Sunder C guided his artistes, U K Senthil Kumar canned the shots. Editing is by Sai Suresh, dance choreography by T K S Babu and Brind and stunt arrangement by Rajasekar. Shanker Raja sets to tune the lyrics written by P Vijay, Pazhanibharathi and Panchu Arunachalam.