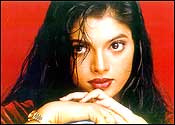 It was as director that Ramarajan entered the film Industry. But he donned the grease paint in his second film. Acting took most of his time and direction took a back seat. And there was a time when almost all his films, coming in quick succession tasted success at the box office. "Karakattakaran" was his biggest hit. "Gramarajan" they called him, for all his films had a rustic base. Then the actor-director stepped into politics, was rarely seen on celluloid, the couple of films he did not finding favour with the audience. Suddenly there were no takers. Now, the actor-director returns in a dual 'avatar' as hero and director. Produced under his own banner Kanna Cine Arts, the new film is titled 'Seeri Varum Kaalai'. And teamed with him is Abita of "Sethu" fame.
Ramarajan plays Kalaiyan a mechanic who repairs pump sets in the village. One day an astrologer tells him that he would get married soon and his wife would be pretty and educated. "How will I find her?' enquires Kalaiyan. Just then Kamatchi (Abita) crosses their way. 'Your wife will be like her. For all you know, it may be her!' says the astrologer. Kalaiyan admires the beauty of the girl and naively asks her if she would marry him. When she looks at him stunned, he asks her, "Why are you looking at me like that? Did I ask you to elope with me? I just asked you to marry me". Kamatchi runs away in fear. Canning the shots was cinematographer K.S. Selvaraj.
There was another scene shot on the lead pair. Present were Manorama, Mansur Ali khan and Vichitra who play the roles of mother, brother and sister-in-law of Abita. Muthappan (Mansur) loves his sister Kamatchi, but being scared of his wife Rukmani (Vichitra) does not show his affection openly for her. An avaricious woman, Rukmani arranges Kamatchi's marriage with a man of dubious reputation. When Kamatchi's mother Chellathai (Manorama) hears of it she pleads with her daughter-in-law to stop the engagement. But Rukmani turns a deaf ear to it. Kalaiyan hears of the matter and comes to the girl's rescue. When the henchmen of the prospective groom try to stop him, Kalaiyan and his friends release some tear-gas and carry away the girl to safety.
Also in the cast are Anandraj, S.S. Chandran, Senthil, Alex, Chaplin Balu, Alva Vasu, Kavita, Satyapriya, Vasuki and Damu. Ramarajan, apart from wielding the megaphone and playing the hero, also pens the story-screenplay and dialogues. Seven songs were composed under the baton on Sirpi. The film is being produced by Selvaprakash and Selvasaroja for Kanna Cine Arts.