(Ramki, Roja, Udaya, Radhika Choudhry)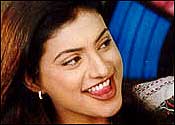 The popular song composed by A.R. Rehman and sung by Vasundara Das, becomes the title for a Ramanarayanan film. 'Shakalaka Baby' has Ramki playing the hero and Roja the female lead. Ramki, who was without films for a long time, is slowly making his way back into the Tamil film arena. So what if it is either a negative or secondary role in some 'Goddess' film? Manivannan, Vivek, Sorna, Vadivelu, Kovai Sarala, Ponnambalam, and Anu Mohan form the supporting cast. Produced by Shivakami Productions Private Ltd., the film's story is by Kalaimani, while Ramanarayanan pens the screenplay and directs the film. It is a love story told in a humorous way, typical Ramanarayanan style.
Some scenes were picturised inside a building that had a departmental store and a line of other shops. Roja, Manivannan, Vadivelu and Vivek participated in the shooting. The huge shopping complex has a departmental store run by Aruchamy. Right next-door is a textile shop and provision store run by Aruchamy's two nephews Pandi and Sundara Chozhan. The trio, idling away with nothing much to do, one day get a pleasant surprise, when they see a beautiful girl getting down from her car, and making her way towards them. She goes into each of the three shops and makes her purchases. The trio hardly realise what she is up to; so immersed are they in their fantasies about her. A dream song was picturised on Roja and the three men Manivannan, Vivek and Vadivelu. While Ramanarayanan guided the artistes, cinematographer N.K. Vishwanathan canned the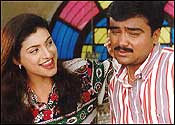 shots.
A sensuous song was picturised on Roja at Mohan studio, where 30 dancers accompanied Roja, dressed in a sexy outfit. The film has music by S.A. Rajkumar, editing by Raj Keerthi and V.K. Padmanabhan designs the sets. The film has been a long time in the making with the director busy with other projects.