Jyothika- Simran In 12 B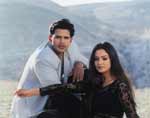 Jeeva, the noted cameraman of many successful films in the South turned director with 12B and is making a history of sorts, by getting Jyothika- Simran to come together for the first time, in full length roles.The search was on for the hero and finally its Shyam, a model from Mumbai. " I studied in Madurai and went to Mumbai to be a model, " says Shyam, who is being ragged by his friends for being cast opposite two beauties.

Jeeva however clarifies that Jyothika and Simran have no scenes together except for one shot where they just cross each other and say Hi. " No one asks whether the bus to Mylapore has gone but everyone asks has12 B come? I have in me lots of P C Sriram and Priyadarshan in me.

I am trying to break out of a formula and my film has lots of Fire in it. Let's see. Anyway after this I am going back to cinematography " says Jeeva. The film has music by Harris Jayraj and is produced by Vikram Singh.


Yellolo: Kamalhassan's Rare Appearance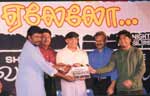 Parthipan, who started out as a director- actor after a stint with Bhagyaraj hit the limelight with his first film Puthiya Pathai. The movie's theme created a lot of sensation as it told about a woman who is hell-bent on marrying the rapist. Parthipan played the rapist and Seetha, the victim. They later became husband and wife off screen, is another matter.

He always comes up with novel ideas and Houseful is a very good example of it and which got him national award for best regional film. Now he comes with Yellolo and it has A R Rehman, as the music director. This was a pleasant surprise as Rehman is very selective and scores music only for few and off late he was turning down offers in Tamil.

Next was the launch of the film. It turned out to be a function to honor the national award winners and the Padmashri recipients of the State. Kamalhassan, who sports a bald pate and is racing against time to finish Abhay, off late has not attended any public functions including the TN state film award function presided by the Chief Minister himself.

And for Yellolo's launching ceremony, surprisingly, he was present. Padmabhushan recipient Bhanumathi, Ganan Rajasehekaran (director of Bharathi), singer Bhavathrani, master Udayaraj, and many other important cine makers of Tamil cinema were given mementoes by Rehman at this function.

Kamalhassan said that when Parthipan has said Yellolo, it was the duty of everyone to say hailasa to Parthipan and make his project a success. Parthipan, who is known to be a great fan of Illayaraja used to put in the titles as Music= Illayaraja. Parthipan appreciated Rehman and said that his fame has spread all over the world and the music of his movie would have a fusion of the wonder boy's modern music and the local Tamilnadu music.


Lovely: Kaarthik's Next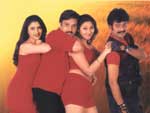 V A Durai who started out as an assistant to S P Muthuraman, the director of many Kamalhassan- Rajanikanth films turned into a producer with Yennamma Kannu with Sathyaraj as the hero and it was a hit. Next was again Sathyaraj in loothy, which also hit gold and thus Evergreen Movies were a name to reckon with, in Tamil filmdom.

Now Durai has signed Karthik to play the lead and this was a matter of concern to many. Karthik never keeps up his dates nor does he honor any agreements. A very troublesome artiste of Tamil cinema. Why did Durai sign up Karthik then?

Durai says, " Karthik heard the story from director Shakthi and the next was his reaction which stunned me, he told me and the director that he was all for doing the film because he felt it was something different like his hit movies Varsham Pathirnaru, Kizhaku Vassal and Gokulathile Seethai. He took interest in every minute details including his costumes.

His involvement has amazed me. In fact I got lot of calls asking me whether I had gone mad in signing Karthik ". Yet another strong point was the financiers' (Chandraprakash Jain and Pankaj Mehta) total backing to the project.

Initially, the director had signed up Devyani as one of the heroines. Deva also composed a song for Devyani-Karthik pair. The marriage of Devyani with director Rajakumaran made headlines, so Malavika has replaced her.

The second heroine in the movie is Monal." Durai also adds, " The film is humorous and also a love subject". The movie is supposed to start a shooting schedule soon in Ooty, Kodai and Thekadi. The film has cinematography by P Kannan and it also has Manivannan, Vivek, Vinuchakarvarthi and N Ravi, in the cast.