Actor Surya: Big break with "Nandha"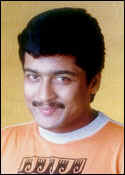 Surya is a star son with a difference. Though his father was a respected actor in Tamil films, Surya had no home banner to launch him, no production unit or friendly filmmakers to back him when the going got rough. But Surya, the son of actor Shivakumar has managed to stand on his own feet. In the recently released film "Uyirile Kalanthathu" Surya made his presence felt among veterans like Shivakumar, Raghuvaran and Radhika. And now getting a coveted role in "Nandha", director Bala's film after "Sethu", Surya is at centre stage again. Given below excerpts from a chat with him.

How much an advantage is it being a star son?
Surya: When one is a star son, one doesn't need any introduction. My father being an established actor, publicity was automatically generated when I stepped into acting. But then again, expectations are high, comparisons are made, and the responsibility is a little more than in the case of a newcomer.

For a star son your's was a late entry into acting?
Surya: I never thought I would enter the acting profession. My interest was in the export garment business. I studied for that, and I even worked in a firm for about two years. It was by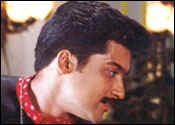 sheer accident that I got this acting offer from director Vasanth and producer Manirathnam to play one of the heroes in "Nerukku Ner", where Simran too made her debut with me. If not for this fantastic opening, I wouldn't even have dreamt of acting as a career for myself. I wouldn't have accepted any other acting offer. This was the one offer I couldn't refuse.

Did it bother you that there was no home banner to launch you and you had to struggle all the way?
Surya: I never expected anything from my father. I never wanted him to invest any money or put in any recommendations for my sake. I wanted to do things on my own. In fact when I ventured into the export garment area, he knew of it only much later. So I really don't expect him to back me up. But we are a close-knit family and my parents have always been of great moral support.

How much does your father contribution to your career?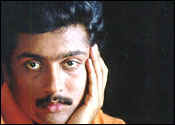 Surya: When I have any professional problem I go to him. He tells me about the pitfalls of the profession, his experiences and how he coped. He has gone through the whole gamut, and it's all good learning experience for me. "Sincerity and punctuality" are his key words, which I too try to abide by. I do discuss with him any new offers, but once the shooting stars I am on my own.

Ever wanted to give up when the going was rough?
Surya: Never! It made me work all the harder. I took it as a challenge. Whenever any negative criticism was levelled or my films flopped, it just made me reassess my career and rectify my failings. In my first film a magazine had written about my inability to dance. I took it positively and worked hard on my dancing. I was vindicated when the same magazine wrote about how well I danced.

"Nandha" must be a big break for you. How is the role?
Surya: "Nandha" comes at a time when I really need a good break. Everyone is looking forward to Bala's second film and I'm fortunate to get this offer. He is confident and meticulous. It's a violent story with a college campus backdrop. I'll be shooting for it shortly.

The new crop of heroes seems to share camaraderie unlike their seniors?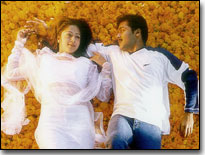 Surya: That's true. We meet each other often. We call up, get together, and meet somewhere. I'm doing this film ("friends") with Vijay. If I have any problem I sort it out with him then and there. He too does the same. Even when there is no shooting we do meet socially. There may be healthy competition, but there is no jealousy or one-upmanship.

Your criteria for picking a film? Any "dream role"?
Surya: When I started my career I really didn't know where I was going. I wasn't very focussed. But after my first film "Nerukku Ner" I started getting my bearings, understanding the profession and its' demands. Director Vasanth was a good teacher. Now, I would pick a role that poses a challenge to me and brings out my acting potential. I am still a learner, have a long way to go, and the "dream role" is still miles away.