Budget Padmanabhan
Director: T.P.Gajendran
Cast: Prabhu, Karan, Ramya Krishnan, Mumtaz, Kovai Sarala, Vivek, Manivannan.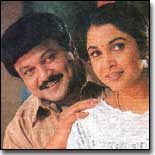 This is a film that could be described as a wholesome family entertainer. It has lots of sentiment, a bit of action and comedy, all meant for a type of audience. A film that a discerning viewer would give the miss.
He is tightfisted, ridiculed for his stinginess and is known as 'Budget' Padmanabhan. But the man has a goal to achieve. To get back the house his mother had mortgaged to a moneylender a couple of decades back. Tearful flashback to those unhappy times. Scenes which the director repeats for the audience again and again. Padmanabhan even accepts the marriage proposal of office colleague Ramya, who for some strange reason has eyes only for him. But the man's hope that she would help him achieve his goal faster come crashing to the ground. Far from being able to economise, his expenses start mounting, with her and a horde of relatives descending on him.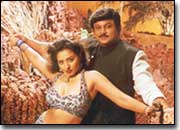 Enter a maid from Kerala. Why Kerala? So that she can be made to wear dresses that leave very little to the imagination. Mumtaz playing the role looks quite comfortable in it. Almost taking off from where she left off in her sizzling 'Khushi' dance number. Naturally the wife is suspicious, but finally all ends well. Padmanabhan gets enough money to redeem his house and also the trust of his wife.
Prabhu fits the role well, though one notes that in almost every recent film of his, he seems to have been doing the middle-class guy with various problems. Ramya Krishnan has to make a little more effort to look the homely, traditional wife. The comedy track of Vivek-Sarala-and Manivannan literally scream for attention.