Ennavale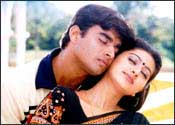 After his zestful performance in 'Alai Payuthe' Madhavan is flooded with offers. On the floors are 'Minnale', the new Balachander movie, and 'Ennavale' for Sri Saideva productions. The banner has produced films in Telugu, like the remake version of 'Porkkalam' and 'Poove Unakkaga'. This is the banner's first Tamil-Telugu bilingual venture. Paired with Madhavan is Sneha the Dubai girl who is already acting with Prashant in 'Virumbukiren'. Wielding the megaphone is J. Suresh who also pens the story-screenplay and the dialogues. Suresh has earlier directed a small budget film titled 'Velai' which the audience didn't quite take to. The supporting cast consists of Manivannan, Thalaivasal Vijay, Anand, S.N. Lakshmi, Ashwini, Venu Arvid and Joti. Charlie, Vyapuri and Venu Yadav play the hero's friends. Venu Yadav, a popular comedian in Telugu films makes his debut in Tamil with this film.
The stubborn stove and chicken smell
A scene was shot with Madhavan, Sneha, Charlie, Vyapuri and Venu Yadav. Sunday and it's time for revelry for the guys who share a room with Vasanth. For, Vasanth cooks deliciously. But that Sunday the stove just refuses to burn and while Vasanth is venting his irritation on it, he sees his friends with their nose turned towards their neighbor's kitchen. Lakshmi is cooking a chicken dish. She notices this and takes some to their room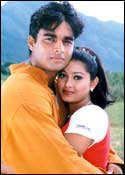 While the rest gobble it up greedily, Vasanth's eyes fill with tears. "Is it spicy?" asks Lakshmi "No, but your concern and kindness has touched my heart", says Vasanth. Canning the shots was cinematographer Ashokarajan. S.A. Rajkumar sets the tune to the lyrics penned by Vairamuthu. While editing is by V. Jaishanker, fight sequences are directed by Kanal Kannan and art design is by Mohan Mahendran. S. Nagai Ashok Kumar and N.V. Prasad have produced the movie, it is shot at locations in Chennai, Ooty, Hyderabad and Gopichettipalayam .
Madhavan who plays the leader of a music group that sings at weddings says that he liked the subject narrated by Suresh. "The film portrays the sentiments of the lower middle class," says he. It's the first film that he signed after 'Alai Payuthe'.
Maniratnam liked the story
Says director Suresh, "Thought it's a story that has love, comedy and sentiment, I've tried to give it a new dimension. After 'Velai' I had prepared a new subject. On learning that Maniratnam was planning to produce a film with an outside director, I approached him. He listened to the story and liked it. But he suggested that I approach other producers since he was launching his venture six months after the release of 'Alai Payuthe'. I told him that I was willing to wait. Then I got to know Madhavan through him. He too liked my story and introduced me to producers Ashok Kumar and Prasad. I am lucky to get such producers. They have a very professional attitude.
We have completed the shooting of all the scenes in 18 days. The songs would be picturised soon at Ooty and Hyderabad. Madhavan has done an excellent job and so has Sneha. The film has shaped up well. And when it is released I am sure all the girls will wish that they had a lover like my hero Vasanth, and the guys that they had friends like my hero had".