Friends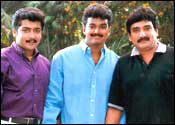 After their fairly successful teaming in 'Nerukku Ner' (Surya's debut film), Vijay and Surya come together again in a new venture titled 'Friends'. The film is a remake of a successful Malayalam film of the same name that was produced by actress Sarita, and had her husband Mukesh co-starring with Jairam. Siddique who penned the story-screenplay and directed the original version, wields the megaphone here too. This is his first Tamil venture. Popular actor-writer-director Srinivasan had a crucial role in the original, and Siddique, in his search for an actor of that calibre, has zeroed in on Ramesh Khanna. It was like a game of musical chairs for heroines. First Jothika was signed, with Suvalakshmi. Then Simran replaced Jothika. Both Simran and Suvalakshmi too backing out, it is finally Devayani and new girl Vijayalakshmi from Mysore. Pyramid Natarajan, more into acting than production work, plays Vijay's uncle. Vadivelu, Rajiv, Satyapriya and S.N.Lakshmi form the supporting cast.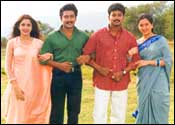 Shooting is progressing at a fast pace on location in Ooty, Pollachi, Pazhani and Udumalaipettai. Some scenes were picturised on Vijay, Surya and Ramesh Khanna. Arvindan, Chandru and Krishnamurthy are friends. Arvindan's sister Amudha loves Chandru. But Chandru does not encourage the girl as he thinks it would be betrayal of a friend. But Aravindan, who comes to know of it, puts the whole matter before his uncle, who gives his blessing for the marriage. Vijay is Aravindan, Surya plays Chandru and Ramesh Khanna is friend Krishnamurthy. A bullock cart race was picturised at Pazhani and it took four days to shoot. A huge platform where the elders would sit was erected. Some acres of land were cleared of bushes and weeds with a bulldozer. The area for the spectators to stand and watch the race was also prepared. Bullock carts were brought in from neighbouring areas. Vijay takes part in the race and though the villain's men put hurdles in his way, he finally wins. Canning the shots was cinematographer Anandakuttan.
The story centers round the deep friendship between Vijay and Surya. Devayani marries Vijay, and unknown to him, has taken on the challenge of separating the two friends. When some unpleasant events occur, Surya suspects Devayani's hand and tries to explain his innocence to the family. Are they co-incidences, or was Devayani really responsible for Surya being shown in a bad light? The film answers these questions. "Though Vijay has more footage and is there in almost all the frames, I too have a crucial role," says Surya. "Friends" is being produced by Appachan ('Kuttichathan' fame) for Swarga Chitra films. Illayaraja composes the tunes to the lyrics of Pazhanibharathi , Gokulakrishna has written the dialogues. Mani Suchitra designs the sets while editing is by Shekhar-Gourishanker.