Little John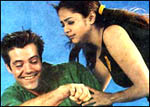 Starring:Jyothika,Bentley Mitchum
Music: Pravin Mani
Lyrics:Vairamuthu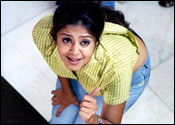 Bentley Mitchum, grandson of the legendary Hollywood actor Robert Mitchum, acts in an Indian film, a multilingual made simultaneously in English, Hindi and Tamil. And co-starring with him is Jyotika, the brightest actress on the horizon today. And bringing them together is Media Dreams, makers of serials for the small screen. The banner entered feature film production with `Bharathi`.
Directing the film is Singeetham Srinivasa Rao who has also written the script. Bentley Mitchum has already faced the camera in films like `Shark Attack` and `Different Strokes`. Singeetham has earlier directed films like `Pushpak`, `Mayuri` and `Apporva Sahodarargal`, Films that were critically appreciated and commercially successful. The supporting cast consists of artistes from other languages too. Anupam Kher, Nasser, Anjan Srivastava, Ash, Mohanram, R.S. Shivaji, UBG Menon, Master Yogesh, Fatima Babu,Bharati Akshaykar and Soumya. Prakashraj plays the evil Bhairav.
The story centres round an American youth who comes to India to do research on temples and folklore and stays with an Indian family. John meets a swamiji who tells about a temple he visits and the powers it has. He also tells John about some evil force that was out to destroy mankind. Bhairav is that evil force. John is arrested for a theft committed by Bhairav. The swamiji uses his powers to transform John into a midget who is just six inches tall. After that it is a fight between good and evil.
Computer graphics and special effects have a large part to play in the film, and Penta Media has done these. The film has some 45 minutes of computer generated effects. Bentley is a trained martial arts exponent. He has even sung a song in Hindi for the film.
For Jyotika it is a challenging role to perform with such talented people. ``It was a little uncomfortable acting with Bentley at first. But later we got along very well`` says the actress.
The film`s other credits include Crazy Mohan who has penned the dialogue in the Tamil version.The lines in Hindi are written by Sushma Ahuja and the English ones by Mark Jaslov. Cinematography is by Thiru of `Hey Ram` fame.Vairamuthu`s lyrics have been set to tune by Praveen Mani.Praveen who had earlier arranged the music for private albums of Sreenivas and Vasundhara Das, had worked for A.R. Rehman. Art work is by Mani Raju, editing is by Satish and choreography by Prasanna.