Mitta Mirasu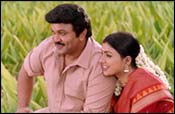 Prabhu and Napoleon team together in 'Mitta Mirasu'. And playing the female leads are Roja and Mumtaz. Manivannan, Kovai Sarala,Vadivelu, Ravi Rahul, Satya Prakash, Sunder, Alex,Chaplin Balu, and new face Shakthi form the supporting cast. The film is produced by C.R.Karunanidhi, N.Rajendran and M.Kalanjiyam. Kalanjiyam, who earlier directed films like 'Poomani', 'Poonthottam', 'Kizhakkum Merkkum' and 'Nilave Mugham Kaattu', has written the story, screenplay and dialogues apart from directing the film.
Shooting is on at locations in Ooty, Gobichettypalayam, and Pollachi. Set in a rural milieu, the story centers round two families in a village and the conflicts and happenings there. Says Roja, "This is my fifth film with Prabhu and all our films so far have been successes. I am acting for director Kalanjiyam for the first time. It was like a happy family picnic. I am a boisterous girl in the first part. Then I marry Prabhu, have two kids and it's a mature character in the second half."
A scene was picturised on Prabhu, Roja and Ashwini. Chellaiya is the zamindar of the village. One day as he and his mother Chinnathayi are walking in their fields they see a girl and some other children stealing their sugarcane. When questioned, the girl retorts impertinently that she is looking for a bridegroom for herself. A verbal duel follows, with an amused Chellaiya watching the scene. K.V.Mani canned the shots, while Kalanjiyam guided the artists. Taking part in the scene was Prabhu, Ashwini as his mother, and Roja.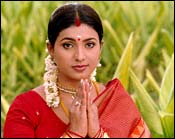 Yet another scene was shot on Prabhu and newfind Shakti. Chellaiya's niece Valli comes of age and her parents ask Chellaiya to perform the customary rituals. He does the rituals, but Valli's uncles, Thangamuthu and Singamuthu, who feel left out, haul him up before the panchayat leader and accuse him of taking away the 'honour' that was rightfully theirs. The panchayat leader being Masilamani, father of the two rogues, he gives his verdict against Chellaiya. The latter has to go to each house and apologise. An unperturbed Chellaiya does so. Apart from Prabhu and Shakti, who played Valli, present were Manivannan as the Panchayat chief, Satyaprakash and Thalaivasal Vijay as the two uncles.
Ravi Rahul plays the younger brother of Prabhu and a lawyer. He gets married to Mumtaz from the city. Says Rahul, "It's a good break after a long gap." Mumtaz says of her role, "I belong to the city and marry this village guy. My problems in coping with rural life forms the rest. I feel happy about the cooperation I get from my seniors." Alex plays the villain and Napoleon his elder brother.
The film has art design by Uma Shanker, dance choreography by Lalitha Mani, Stunt arrangements by Super Subbarayan, and editing by Lenin-Vijayan.Vairamuthu has done the lyrics, which are tuned by new music director, Aslam Mustafa. Mustafa has earlier sung some songs for A.R.Rehman and earned appreciation for his songs in 'Malli'.