"We Rise fast, fall fast": Jyothika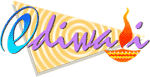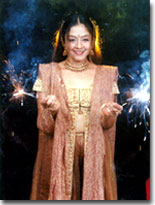 Jyothika - one of the brightest stars on the Tamil filmdom today. She has acted in just five films: 'Poovellam Kettuppaar', 'Kushi', 'Mugavari' and (in supporting roles) 'Vaali' and 'Rhythm'. Bright, bubbly and cheerful, she is one of the most sought-after heroines. Her rise to the top can only be described as meteoric.
We met her at Prasad Studios, where she was shooting for a dance sequence with Kamal Hassan for the new film 'Tenali', slated for a Diwali release.
Q: Old-timers like Padmini and Savithri reached stardom only after some 30 films. But you have reached the same heights after playing the lead in just three films. Doesn't that make you feel nervous?
A: True but you have to remember that those artists remained heroines for 15 to 20 years. In Hindi films, Nargis, Madhubala, Hema Malini and Rekha continued as heroines till they were 35. Today, we lose our market as fast as we soar. It is the Internet era. I am fully aware of this, so there is no nervousness.
Q: You have starred with leading Tamil heroes like Ajit, Vijay and Kamal. What is special about them?
A: Ajit is like fire, always animated. He is enthusiastic. He is like a college friend, very casual and gets along very well. Vijay is very shy and speaks little. He is very simple and much driven to remain in the top spot. Kamal Hassan is a genius! One can talk to him about anything under the sun. I am very proud to have got this chance to act with him.
Q: Acting in an English film gives you new status, isn't it?
A: Yes, of course. The film is "Little John" and is a commercial film directed by Singeetham Srinivasa Rao, for Pentafour. Like 'Jurassic Park', it relies heavily on graphics. In this film, my lover John suddenly shrinks to the size of a pen. Hence the title. It is similar to the film 'Willow' and I am sure people of all ages will enjoy it.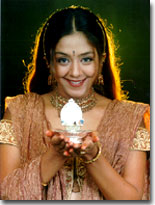 Q: After reaching this position, you have taken a supporting role in 'Rhythm'. Was it a way of saying thanks to Director Vasanth or was it because it was a good role? Have you decided to accept any small, but good, role that comes your way?
A: My role in 'Rhythm', though small, has been widely appreciated. Yes, it was Vasanth who introduced me into Tamil films. But it wont be correct to say I did 'Rhythm" out of a sense of obligation. In fact, I am much obliged to him for having given me this wonderful role. The size of the role doesn't matter, only the importance of the role does. My role in 'Vaali' was very small, but it was a good break.
Q: Any advice from your sister Nagma about the industry?
A: She has told me to concentrate on acting and not get involved in gossip.
Q: You do not seem to have signed any other films. Is it because you demand a hefty pay?
A: This is the first ever piece of gossip about me! I am not at all strict about payments. In fact, I was paid a very meagre amount for my second film 'Uyirilley Kalanthathu', which has just been completed. They felt they had to pay me in line with my present position. But I assured them I didn't want more. They were overwhelmed and even praised me in some magazines. All I am looking for is a good banner, team and story. The money is not so important.
I am committed to work in a film for Maniratnam's Madras Talkies. Maniratnam's associate Azhagam Perumal is directing the film and I am paired with Madhavan. An earlier film by Azhagam Perumal, in which Vijay plays the lead role, has been under production for long and hence he got labelled as an unlucky director. But I don't bother about such things.
As she pauses for breath, the break is over and it is time for her to get back to the shooting! Well, we wish you the very best of luck, Jyothika.